Posted on
Sat, May 12, 2012 : 5:59 a.m.
Deported father's children may be listed on Michigan adoption website
By Amy Biolchini
Editor's note: The names of the family members have been omitted to protect their identities.
Though their father risked his freedom to regain custody of them, two of his three children are poised to be advertised on Michigan's website for adoption.
The man, an undocumented Guatemalan immigrant, had returned to the U.S. after being deported from the country to fight for his family: a girl and two boys, all under the age of 10.
He's since lost them to the state of Michigan: His daughter is living with a foster family that intends to adopt her, and it is unknown when his sons will find a permanent home in the system.
The case garnered the attention of the public in April when advocates from Washtenaw Interfaith Coalition for Immigrant Rights brought the issue to the press.
During a procedural review hearing Friday morning in front of Washtenaw County Trial Court Referee Molly Schikora, the children's lawyer, Margo Edwards, gave the court an update on the condition of the three children, who have been wards of the state and in foster care.
A recent report has estimated that nearly 5,100 children are living in foster care in the U.S. as a result of their parents being detained or deported.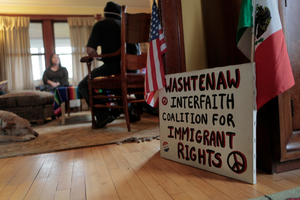 Chris Asadian | AnnArbor.com
The man's daughter had been placed in a separate foster care home from her two brothers, and her foster parents are moving forward with adoption paperwork, Edwards said during the hearing.
"Overall, they're doing pretty well," Edwards said of the boys.
However, for the two boys, they won't be able to stay with their foster family much longer -- a fact Edwards said the boys don't currently know.
The foster family with whom the boys have been placed cannot adopt them - of which Edwards said the Department of Human Services already knew for some time.
A sister of the children's deceased mother who lives in the U.S. has been ruled out as an option to place the brothers.
"I was very distressed about some of the information (the father) had expressed to me (about the aunt)," Edwards said during the hearing, indicating it was an unsafe environment to place the brothers.
Officials deported their father to Guatemala several weeks ago.
The man had presented himself to the county's foster system last year to regain custody of his children. He soon came under government scrutiny - and was picked up by immigration.
He sat in detention for about a year before he relinquished his parental rights in March in front of a judge, according to Laura Sanders, co-founder of the WICIF.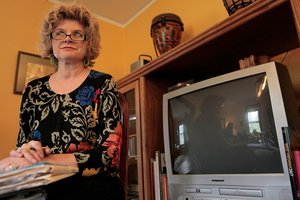 Chris Asadian | AnnArbor.com
Returning to the country as an illegal immigrant after being deported is a felony offense.
The boys will soon be placed in the Michigan Adoption Resource Exchange - a website that lists profiles of children whose case workers are actively seeking adoption.
The site lists first names, ages, photos and sometimes videos - as well as a brief description of personal information - to attract potential adoptive parents.
Currently, there are 294 children listed on the MARE site - 175 of which are boys. About 40 percent of them are age 14 and over.
MARE Program Manager Heidi Raubenolt said children's photos are listed on the website until they find a family.
"There are more children available for adoption in the state, but not all need recruitment," Raubenolt said.
Raubenolt said there are typically about 300 children listed on the website at any given time - and it's subjective as to how long a child's profile will sit on the site.
At the age of 14, when children have to consent to their adoptions, children can ask that their picture not be listed online.
The father's case has garnered international attention, as Spanish-language TV network UNIVISION has produced a segment after an AnnArbor.com article appeared in April. The TV segment will likely include the children's names and photos, which Sanders said had been provided to the network by family friends distressed at the "discrimination" in the case.
The two-part piece will air May 21 and 22. UNIVISION has reportedly interviewed the father in Guatemala.
While it appears little can be done to reunite the children with their father, Sanders said it has opened policy discussions.
In the muddy waters at the convergence of child welfare and immigration, there are no rigid guidelines for DHS workers to follow.
Potential parents must have a verifiable, legal income.
According to the state's foster care placement policy, "When children must be removed from their home and placed in out-of-home care, preference must be given to placement with a fit and willing relative." Review the state's policy by clicking here.
DHS does not have an official policy in its Childrens Foster Care Manual on returning children to undocumented relatives.
Placement is prohibited if there is a felony conviction for child abuse/neglect, spousal abuse, crime against children, crime involving rape, sexual assault or homicide, and convictions for assault, battery or drug-related offenses within the last five years.
However, the policy does state that in "exceptional circumstances, a waiver may be requested for a relative caregiver to forgo licensure when it is determined to be in the child(ren)'s best interest to be placed or remain with an unlicensed relative caregiver."
Schikora scheduled a review hearing for 10 a.m. June 22 for another update on the children.
Amy Biolchini covers Washtenaw County, health and environmental issues for AnnArbor.com. Reach her at (734) 623-2552, amybiolchini@annarbor.com or on Twitter @amywrites_.