Posted on
Mon, Jul 26, 2010 : 2 p.m.
Investigation continues into fatal shooting outside Kmart in Ypsilanti Township
By Lee Higgins
Update: Sheriff's detectives arrest man sought in connection with Sunday's fatal shooting in Ypsilanti Township
Washtenaw County sheriff's deputies continue to search for a man wanted for questioning in Sunday's fatal shooting of a man outside Kmart on Washtenaw Avenue in Ypsilanti Township.
Michael Dshawn Crockett, 20, of Ypsilanti Township, is being sought for questioning in the death of 20-year-old Chris King, sheriff's department spokesman Derrick Jackson said.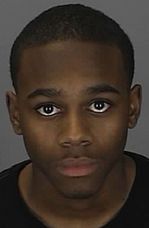 So far, no charges have been filed, and deputies continue to work to identify another man believed to be involved, Jackson said.
King, who lived in the township, was shot at about 4 p.m. on a sidewalk near the store's parking lot after a fight with two men, deputies said. Jackson said he did not know what the fight was about.
King collapsed roughly 200 yards from the shooting and was taken to St. Joseph Mercy Hospital, where he was pronounced dead, deputies said. According to Jackson, at least three witnesses near the busy intersection of Washtenaw Avenue and Golfside Road called 911.
Court records show Crockett is wanted on two arrest warrants. He is being sought by Ann Arbor police on a retail fraud charge and by Pittsfield Township police on a charge that he failed to show up in court after being accused of driving with a suspended license.
King's friend, 22-year-old Tyreese Franklin, often played basketball with him at West Willow Park in the township.
"It's messed up because that's one of my good friends," he said. "It's kind of sad somebody would do that."
Anyone with information can call the sheriff's tip line at (734) 973-7711.
Lee Higgins covers crime and courts for AnnArbor.com. He can be reached by phone at (734) 623-2527 and email at leehiggins@annarbor.com.