Posted on
Wed, Jan 20, 2010 : 11:03 a.m.
Developer lays out vision for "the Fifth a2" on Library Lot
By Ryan J. Stanton
Three different groups that have competing proposals for a hotel development on the Library Lot in downtown Ann Arbor are meeting with city officials today.
The city's RFP review committee has just finished interviewing the first of the three groups - leaving two more to go.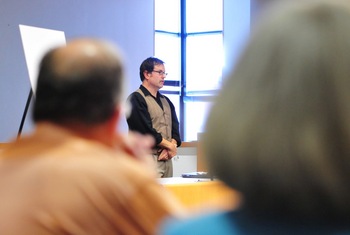 Ryan J. Stanton | AnnArbor.com
First up today was a proposal for a mixed-use development called "the Fifth a2" by Jarratt Architecture, a Metro Detroit design firm that's been involved in several large hotel projects in the Midwest. The Ann Arbor Country Club and the Sheraton Ann Arbor are included in its portfolio.
Bill Jarratt, one of the architects that would be involved in the project, said the Fifth a2 would include an 84-room hotel with meeting rooms, 50 to 60 condo units, affordable housing, an outdoor market, and retail and restaurant space. He laid out a vision for a Chicago-style restaurant and a large environmentally friendly plaza with sculpture, landscaping and a water garden.
"I really think it's an opportunity to create a landmark," Jarratt said.
Jarratt said his development would offer a benefit to the city by providing a ballroom and meeting space that could be used for public gatherings, conferences, weddings and musical performances. He said the development cost for the building would be about $35 million to $40 million, and interested investors and financial institutions are ready to work on a finance package once the city chooses the design.
Jarratt made known that he's not a developer, but has approached several "big players" who like the Fifth a2 idea and think it could be economically feasible in another year or so - but he acknowledged now is not the time for a project like this. He said it would be ideal to attract a hotel brand name - one of the "hipper" ones like Hotel Indigo or W Hotels & Resorts.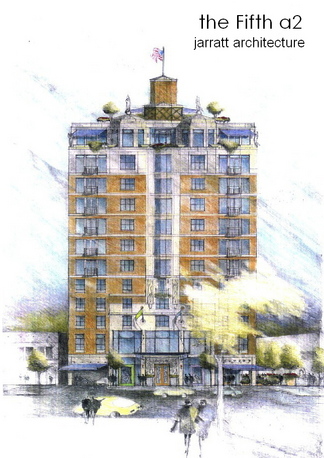 "I'm actually kind of underwhelmed," said City Council Member Stephen Rapundalo, chairman of the RFP review committee. "I don't think it's been creative enough in trying to provide a lot of flexibility in terms of the public usage. You have a great concept, but we've heard that you have no developer commitment you have no finance commitment, you have no hotel commitment. I'm struggling to find any meat on the bone."
Council Member Margie Teall, one of the review committee members, said she likes the scale of the outdoor plaza and the restaurant overlooking the garden. However, she said she doesn't know whether the proposal addressed pedestrian interests - she said the plaza appeared to stand on an island.
Asked whether he knew of any hotel and conference center projects in similar-sized cities that are making money or paying their own debt service, Jarratt said he wasn't sure but would look into it and report back. He said the fact that two other developers are fighting for the chance to build a hotel and conference center on the site suggest there's demand.
Josie Parker, director of the Ann Arbor District Library, expressed concerns that Jarratt favored more traditional architecture for the Fifth a2, while the library has designs drawn up for a new building of its own next door that includes a very modern, contemporary design.
Yesterday's interviews: Urban park concepts for Ann Arbor's Library Lot get second look from committee
Ryan J. Stanton covers government for AnnArbor.com. Reach him at ryanstanton@annarbor.com or 734-623-2529.