Posted on
Sun, Jul 1, 2012 : 5:58 a.m.
Ann Arbor residents and officials anxiously await demolition of 8 blighted houses on Main Street
By Ryan J. Stanton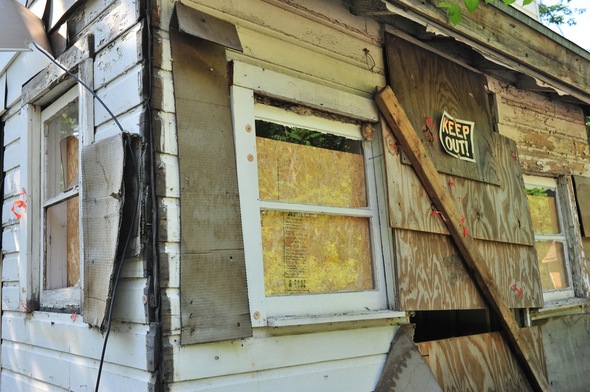 Ryan J. Stanton | AnnArbor.com
Hannah Bailey
has lived on North Main Street near downtown Ann Arbor about four months, and until recently she couldn't figure out the eight boarded-up houses on her block.
"I've always wondered why there are so many abandoned houses on this street because it's Main Street downtown Ann Arbor," said the 22-year-old from West Virginia.
The blighted structures have been a sore point for residents and city officials. They were supposed to be torn down last year, but demolition still hasn't occurred.
Michael Appel, senior developer for Ann Arbor-based Avalon Housing, said the long-awaited Near North affordable housing project is still moving forward, though.
Slowly but surely.
Ryan J. Stanton | AnnArbor.com
Avalon, a nonprofit housing corporation, and its for-profit partner, the
Three Oaks Group
, are planning to demolish the houses to build a 39-unit apartment complex, potentially with ground-floor retail. The City Council approved the project nearly three years ago, and for a while it was
expected to break ground in early fall 2010
.
"Our Near North project is still working through final financing and some remaining regulatory questions," Appel said this past week. "We hope to resolve them this summer and move forward."
Bailey, who moved here from West Virginia for a substance abuse treatment program through Dawn Farm, welcomed the news.
"It's great that they're putting in that complex," she said. "I think it will be good for the area."
She's been living in a transitional house owned by Avalon Housing and said making more affordable housing units with supportive services available in Ann Arbor is a good thing.
The Near North project includes 39 one-bedroom units, 14 of which are supportive housing units that are subsidized with project-based Section 8 vouchers and restricted to special needs tenants with incomes at or below 30 percent of the Area Median Income.
The other 25 are normal affordable housing units restricted to tenants with incomes at or below 45 percent or 50 percent of AMI.
The Downtown Development Authority last September renewed its financial commitment to the project, pledging up to $500,000 in grant assistance from its housing fund.
Mayor John Hieftje offered hopes at a DDA meeting in early June that Avalon Housing and Three Oaks would be moving forward with demolition for Near North by July.
"They expect at this time to wrap up financing and close on the deal by the end of June and begin demolition," he said at the time. "It shouldn't take very long to wipe those houses off and start to improve that property and start the construction."
Appel said on Friday he didn't have a specific date for when the demolition could happen, but he said his team is working with city staff to bring down the houses in a timely manner.
Wendy Rampson, the city's planning manager, said Near North's development team is waiting for the city to sign off on plan revisions at this point. That includes minor changes to the building footprint and a 2,791-square-foot increase in the floor area for mechanical systems.
"We waited months to get their revised plans," she said, noting they came in June 7. "Once those are signed off on, then we can move forward with issuance of permits."
Appel confirmed that retail remains part of the plan, but that's still a second phase that requires its own financing and some additional site plan approvals.
Bill Godfrey, a co-founder and principal Three Oaks, could not be reached for comment.
Hieftje said he thinks Near North will be an attractive addition to the North Main Street corridor, which has been the subject of increased focus by the city.
The city recently started a task force that's looking into ways to improve the corridor — a major gateway to Ann Arbor — and to rid it of blight like the eight houses at 626-724 N. Main and a former Greek church that's crumbling down the street at 414 N. Main.
"We'd like to see something happen with the Greek church but it's not easy," Hieftje said. "We have to build a case so that if it's challenged, we'll be able to answer that in court about why it needs to come down. We'd love to see it down."
The city also has been pushing for a long time to get rid of an abandoned gas station at the corner of Depot and Main, but the city was denied by a judge.
The City Council voted in February to establish a $250,000 blight fund to secure and demolish buildings the city deems unsafe under Chapter 101 of the city code.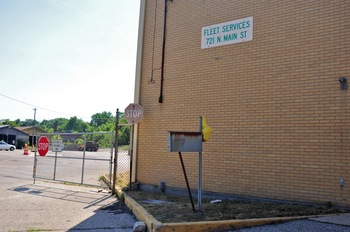 Ryan J. Stanton | AnnArbor.com
Hieftje noted the city has a grant from the Federal Emergency Management Agency to pay for demolition of two buildings in a floodway at the former city maintenance yard across the street at 721 N. Main. The city hopes to turn that into a greenway anchor park eventually.
In addition to Near North, Avalon Housing has plans for a 32-unit affordable housing complex and a community center on the city's west side. The site is located just east of Arbordale Street at 1500 Pauline Boulevard — a stone's throw from Fritz Park.
"We have closed on the Pauline project and are moving ahead there," Appel said. "We expect demolition to begin in the fall."
That project includes six one-bedroom units, 14 two-bedroom units and 12 three-bedroom units. Sixteen of the units are subsidized with project-based Section 8 vouchers and restricted to special needs tenants with incomes at or below 30 percent of AMI.
Another 15 units are restricted to tenants with incomes at or below 40 percent of AMI. One unit is restricted to tenants with incomes at or below 60 percent of AMI.
Rampson said the city is close to issuing a building permit for 1500 Pauline.
Ryan J. Stanton covers government and politics for AnnArbor.com. Reach him at ryanstanton@annarbor.com or 734-623-2529. You also can follow him on Twitter or subscribe to AnnArbor.com's email newsletters.