Posted on
Sat, Dec 26, 2009 : 10:40 a.m.
Dexter business owners assess damage after Christmas Day fire
By Amalie Nash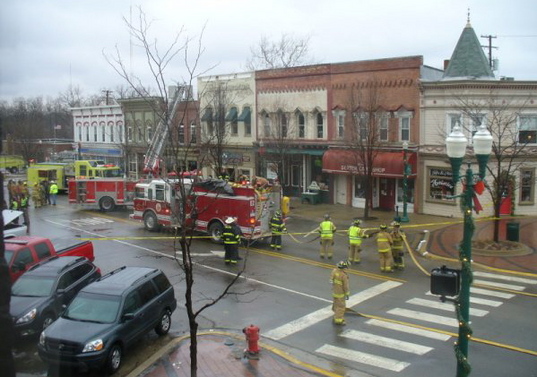 Photo by Elise Troczynski
Several Dexter business owners are spending the day assessing damage and cleaning up in the aftermath of a fire downtown on Christmas Day.
The cause of the fire has not been determined, but authorities say it appears to have started in Fancy Stitch Apparel at 8118 Main St.
That store had significant damage and isn't expected to open for some time, officials said.
Other businesses damaged in the 8100 block of Main Street included:
• The Family Barber Shop next to Family Stitch Apparel. The barber shop had some fire and significant smoke damage, Dexter Firefighter Michael Grissom said.
• The Dexter Pub at 8114 Main Street. It had smoke damage.
• A consulting business above the downtown businesses. It had smoke damage.
• The Home Store at 8122 Main Street. It had smoke damage, Grissom said.
The Lighthouse Cafe, also in that block of businesses, was not damaged.
Firefighters were sent to the businesses before noon Friday after a smoke alarm activated. The Dexter Area Fire Department's main station is less than a block away.
A tenant who lives above Fancy Stitch Apparel pointed out haze in his apartment, Grissom said. That tenant was taken to the hospital for smoke inhalation and was released Friday evening, Grissom said. He is staying with friends.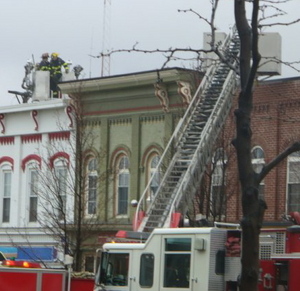 Photo by Elise Troczynski
Tracy Lambert, who owns Fancy Stitch Apparel with her husband Kevin, said they were home on Christmas when they heard about the fire. When they arrived, everything in the store was "black," she said.
"Everything was sooty and smoky and black," she said. "It didn't look like the fire was roaring - it was just sooty."
The couple opened the business on Main Street just six months ago after operating it out of their home for several years. Lambert said the business was seeing an upswing before the fire.
"It's horrible - we had the best month ever in December and had so many positive things, and then this happened," she said.
They can't enter the store until Monday, after fire investigators are able to get inside. The Lamberts hope to salvage what they can - including a $15,000 embroidery machine - and reopen in a temporary location if possible while the downtown store is being repaired.
Lambert said they expect to know more in the next couple weeks and urged customers to check the store's Web site for updates.
Peter Theocharakis, owner of the Dexter Pub, said one of his employees - who is also a Dexter firefighter - alerted him to the blaze. His family had just finished opening Christmas presents, and said he immediately headed downtown.
"It could have been worse," Theocharakis said. "I'd say it's about 60 percent smoky. I just feel bad for the others whose businesses are more damaged."
A catastrophe cleaning crew was inside the Dexter Pub cleaning it this morning. The business, which was originally expected to open at 11 a.m. today, will open its doors at 5 p.m., Theocharakis said.
A total of about 50 firefighters from several departments responded to the scene. Grissom said a large response was requested as a precaution since many of the buildings are nearly 200 years old and don't have adequate firewalls to stop the spread of fire.