Posted on
Fri, Dec 25, 2009 : 4 p.m.
Downtown Dexter businesses damaged in Christmas Day fire
By Amalie Nash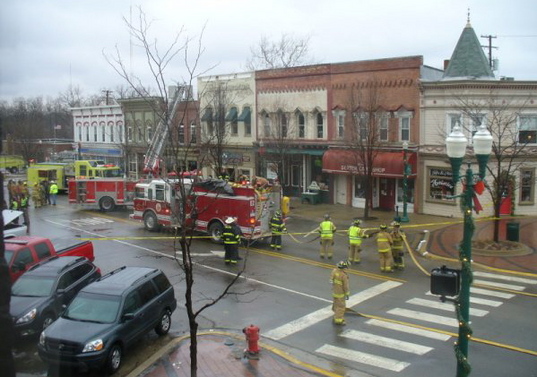 Photo by Elise Troczynski
Update Dec. 26: Dexter business owners assess damage after Christmas Day fire
A downtown fire damaged four Dexter businesses on Christmas Day and sent one resident of an upstairs apartment to the hospital with smoke inhalation, authorities say.
But officials say the fire, which broke out at 12:30 p.m. in the 8100 block of Main Street, could have been much worse.
"There was the potential that it could have been a lot worse since many of those buildings are almost 200 years old," Dexter Firefighter Michael Grissom said. "We were nervous since several of the businesses have apartments above them, so we called for mutual aid quickly."
Firefighters were sent to the businesses after a smoke alarm activated, and a tenant who lives above one of the businesses pointed out haze in his apartment, Grissom said. Firefighters forced entry into several of the businesses, which included the Dexter Pub, the Lighthouse Cafe, a sewing/embroidery shop, a barber and consulting business.
The fire was traced to an office in Fancy Stitch Apparel. Grissom said the cause of the fire is not known, but the state fire marshal's office is investigating.
Much of the inventory of at least two of the businesses may be damaged, and one of the restaurants also had smoke damage, officials said. It's unclear how long they will be closed.
The renter who pointed out the haze in his apartment was taken to an area hospital for smoke inhalation, Grissom said.
A damage estimate was not available, but Grissom said damage is likely to be significant.
Dexter was assisted by firefighters from Scio Township, Chelsea and Putnam Township. Northfield Township also handled calls for medical assistance and a fire alarm in the Dexter fire district during that time.