Posted on
Wed, Oct 26, 2011 : 11 a.m.
Robber attacks Jenny's Dexter Market owner, steals cash
By Cindy Heflin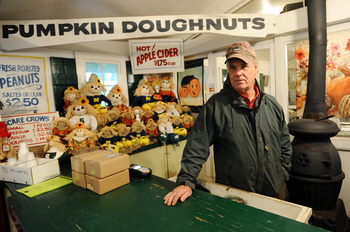 Melanie Maxwell I AnnArbor.com
Editor's note: This article has been updated with additional details about the incident.
Someone assaulted and robbed Jenny's Dexter Market owner Burton Hoey after the business closed Tuesday night, an employee said today.
Washtenaw County sheriff's deputies said someone came up behind an employee walking in the dark on the grounds of the business at 8366 Island Lake Road about 9 p.m. Tuesday and hit him on the head with an unknown object. Sheriff's Sgt. Thomas Pennington said two suspects were involved, but he could not provide more details.
Manager Jessica Reeve said Hoey was the person attacked at the business west of Dexter and is in the hospital today. She said she spoke to him today, but declined to say more about the attack or the extent of his injuries.
The robber fled with an undisclosed amount of cash, deputies said. No suspect description was available. Hoey was admitted to a hospital with non-life-threatening injuries, deputies said.
It's been a tough fall at the market, a popular weekend destination for families looking for pumpkins, cider, hayrides and pony rides. A worker was seriously injured in a hayride accident last month. Shortly afterward, Webster Township served the market with a stop-work order, citing violations of township zoning ordinances. Hoey has vowed to stay open and fight the order. Earlier this month, a child fell off a pony at the market.
Reeve said she did not know how much cash the robber got. Employees at the market are feeling worried and a little scared today, she said.
"I just feel bad for him. We've had so many problems and now this happens. It's the last thing he needs."