Posted on
Sat, Nov 17, 2012 : 6:37 p.m.
Michigan's deer hunting season means busy days at Dexter store's buck pole
By Lisa Carolin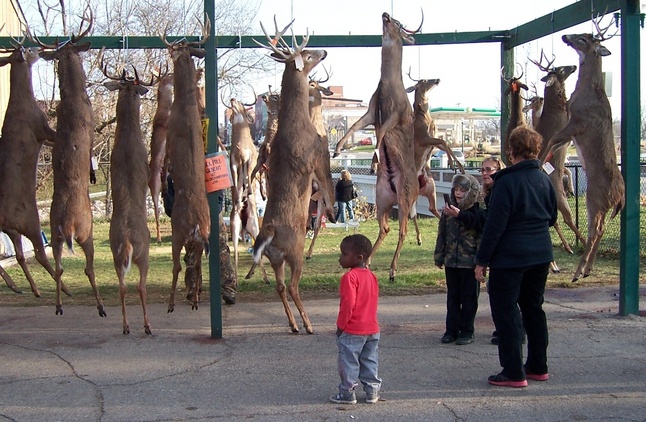 Lisa Carolin | For AnnArbor.com
A total of 38 deer made their way to the Mill Creek Sports Center buck pole in Dexter by late afternoon Saturday. The group included one of the largest store employees had ever seen: A 220-pound, 14-point buck.
The buck pole is a long-time tradition at the store. This year it started on Thursday, opening day of firearm season, and ended Saturday.
Dexter resident Max Laski proudly hung his 8-point deer at the buck pole.
"I took it at 25 yards as soon as the sun came up," said Laski, who was hunting in Dexter Township.
That's also where Jerry Evans of Dexter was hunting.
"I killed an 8-pointer this morning," said Evans. "We have a full freezer."
This time of year is always busy at Mill Creek Sports Center.
"The buck pole is like Christmas at the store," said Cassie Purdy, a clerk. "Hunters have to be silent while they're out, but they love to tell their stories when they're here!"
"We have to chain up the bucks so people don't try to steal them," said Glen Bolling, a gunsmith at the store.
"We have to make sure everyone gets the right buck back," added clerk Lauren Creason.
The store also receives venison donations that staff cooks in a caldron so they can offer stew every day during the buck pole.
It added to the ambience for hunters Dave Boyko and Oscar Foust, from Detroit.
"I've been out for two days and am going out again tomorrow morning," said Boyko, who was surprised at how few hunters he'd seen.
Saturday was Faust's first day of hunting for the season.
"It was like a barnyard out there," said Faust. "We saw tracks everywhere."
But the soon-to-be 67-year-old came back empty handed.
"I've been hunting since I was 12," he said. "If I'd have got one today, it would have been the first one I ever got."
Deer firearm season runs through Friday, Nov. 30.
Watch a live-stream of the buck pole.
Are you a hunter that had success in the field this year? Send us a photo of you and your deer using the form found here and we may feature in an upcoming gallery.