Posted on
Thu, Nov 15, 2012 : 1:35 p.m.
Deer season: DNR restricts permits, expects killer virus EHD to hamper hunt in southern Michigan
By John Counts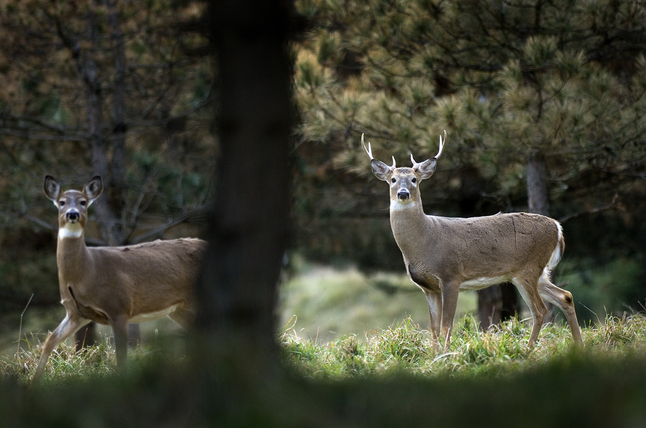 Courtesy of the DNR
Hunters taking to the woods in southern Michigan for firearm deer season may find fewer deer as a result of a disease that is killing off the herd, officials with the Department of Natural Resources said.
Russ Mason, wildlife chief for the DNR, said hunters are being asked to report any deer who have died due to epizootic hemorrhagic disease (EHD), a virus passed via a midge or fly. Last year, cases were only reported in a few counties. This year, however, cases were reported in 30 counties.
Mason said last year's mild winter and excessively hot and dry summer has led to an increase in the virus, especially in southern Michigan. The DNR has even changed restrictions this deer season due to the disease. On private land in part of southern Michigan, a hunter is only permitted to have five antlerless licenses instead of the usual 10; on public land a hunter will be permitted two of the same license as opposed to the usual four.
"We are asking hunters to exercise restraint where EHD has had a serious effect," said Mason.
The deer die-offs are not being reported in any one concentrated area.
"It's in pockets," Mason said, adding that in some areas the herd has been thinned by 50 percent, while a nearby area won't have any deaths.
Jackson and western Washtenaw County have been especially hard hit, officials said. Lynn Mida discovered two deer that had died from EHD on his six-acres in Lyndon Township.
In late September, Mida recalled finding a doe and a buck on his property that had perished due to EHD. He said the deer population in Jackson County has been especially devastated.
"The deer numbers are down from where they used to be," he said.
Still, Mida and his 22-year-old son, Erik, were planning on being out on the property at 5:30 a.m. Thursday morning for the opener.
"We'll sit down and see what we see," he said.
Mida's brother, Bill, who is the president of the Washtenaw Sportsman's Club, is at a Cheboygan County deer camp in northern Michigan where, due to the same weather conditions that have increased cases of EHD in the southern counties, deer populations are up.
"They're moving pretty good up here," Bill Mida said Wednesday night, adding that he and the family members he's with saw around 10 to 12 deer that evening.
The Upper Peninsula, which had seen decreased numbers in recent years, is expected to produce more bucks this year.
"Their season is looking sunny," Mason said.
Not so for southern Michigan.
"Some guys will have a terrible season because they're in an EHD hot spot," Mason said.
The DNR has an online reporting system for tallying up the dead deer and keeping track of where they were found.
John Counts covers cops and courts for AnnArbor.com. He can be reached at johncounts@annarbor.com or you can follow him on Twitter.