Posted on
Tue, Mar 27, 2012 : 3:58 p.m.
Dexter Area Fire Department receiving post-tornado donations to help with needed life-saving equipment
By Lisa Allmendinger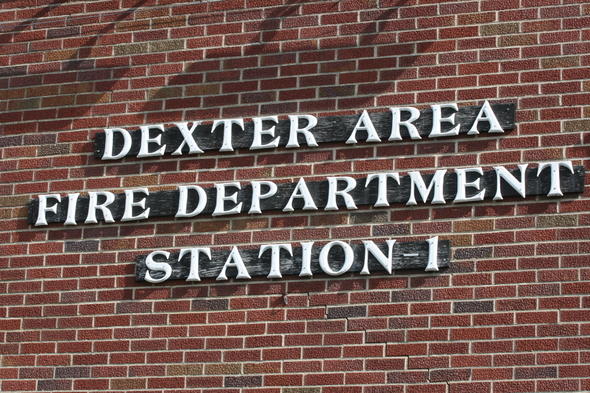 Lisa Allmendinger | AnnArbor.com
The people of
Dexter
and
Dexter Township
aren't the only ones that are receiving an
outpouring of support
following the March 15
tornado.
The Dexter Area Fire Department has received donations of both money and equipment to make its work a little easier.
On St. Patrick's Day, two days after the EF-3 tornado ripped through the Dexter area, Stephen Reading of Ann Arbor took Assistant Chief Bob Wagner on a shopping trip to equip firefighters with "whatever we needed," said Dexter Fire Chief Loren Yates.
Yates said Reading "just loves Dexter and rides his bike through the area and wanted to help, so he offered us a shopping trip."
The fire department now has two specialized K-12 saws, two additional chainsaws, two Honda generators and an assorted new cutting tools, Yates said.
In addition, the Grainger Co. donated more than $1,000 in equipment, including diamond-tipped blades that are used in the specialized saws.
Then, following AnnArbor.com's story about the fire department's loss of a custom-made tarp for one of its engines, an outpouring of donations began to arrive.
"It probably ripped when it came off the truck," Yates said. "But we don't know and no one has found the specialized item."
However, he said by noon on the day the story ran, Dexter businessman Gary Klapperich had collected $1,250 from five businesses in town.
Lisa Allmendinger | AnnArbor.com
Yates said Suburban Chevrolet, Cadillac, Saab of Ann Arbor also donated $1,000 to the fire department.
In all, about $2,250 in money and equipment has been donated since the tornado, which will help with the purchase of additional equipment that's needed for a new pumper, which is expected to arrive in October.
Jim Seta, president of the fire board, said Monday night that in addition to hiring another full-time firefighter by the end of April, the board authorized the purchase of a new $369,000 pumper truck.
The donations will "really help us to outfit our new pumper,'' Yates said.
Included in that wish list for the new truck is the purchase of a thermal imaging camera, at an estimated cost of $10,000. The camera is used to help find bodies or an area of intense heat. Yates said one was used during door-to-door searches by firefighters in the aftermath of the tornado.
The chief said since the tornado, he'd received an email from someone asking about the price of a thermal imaging camera, so perhaps funds will be donated to purchase it.
Also needed is a new electrically generated Jaws of Life, which one person can operate, at an estimated cost of $15,000. Yates said that the new pumper is expected initially to be sent out with one firefighter and this piece of equipment will make it easier to single-handedly extricate someone from a vehicle.
Another important need for the new pumper is another AED, a type of defibrillator, at a cost of about $5,000 to $6,000.
"These are all lifesaving pieces of equipment that we knew we would need for the pumper and we decided we'd just piecemeal them together when we have the money,'' Yates said. "Like all fire departments, our budget is strained."
Yates said the pumper is something that the fire department does not currently own. Since it's not as wide as Engine 5-1, which currently goes out to many calls on narrow rural roads in Dexter Township, it was a needed apparatus.
Engine 5-1 will be moved to Webster Township once the new pumper arrives, Yates said, and the pumper, dubbed Engine-2, will be housed in Dexter Township, where it's most needed because of the terrain there.
Lisa Allmendinger is a regional reporter for AnnArbor.com. She can be reached at lisaallmendinger@annarbor.com. For more Dexter stories, visit our Dexter page.