Posted on
Mon, Dec 3, 2012 : 5:50 p.m.
Dexter High School to accept limited School of Choice students
By Danielle Arndt
Dexter Community Schools will open up the high school to out-of-district students interested in participating in the district's International Baccalaureate program in 2013-14.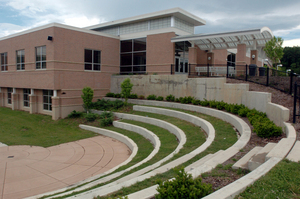 File photo
The district will accept up to five 10th-graders as
School of Choice
candidates, starting after the holiday break in January.
These students will be accepted with the intention that they will join the International Baccalaureate (I.B.) program as juniors next fall.
Dexter Superintendent Mary Marshall said district officials made the decision to open up these seats in order to be eligible for a portion of Gov. Rick Snyder's "best practice" funds.
Marshall said the I.B. program is new and therefore has some availability. Dexter accepted its first cohort of students into the I.B. program in September. The district is offering it to just juniors and seniors. Students can take a few I.B. classes or sign on for receiving a full I.B. diploma, Marshall said.
There were 25 students this fall that signed up and went the full I.B. route.
Dexter schools opted not to participate in the Washtenaw International High School, an I.B. program that opened in the former East Middle School in Ypsilanti in 2011. Seven school districts in the county currently send students to WiHi for I.B. diplomas.
Students interested in the School of Choice openings and in learning more about Dexter's I.B. program can attend an information night at 6:30 p.m. Dec. 10 at the high school media center, 2200 N. Parker Road.
Dexter schools will begin accepting School of Choice applications on Dec. 10. The application window will close at 4 p.m. Jan. 8.
Download an application here.
Applications must include a current transcript and a copy of the student's most recent report card in order to be eligible for a seat.
Contact I.B. coordinator Kim Lund at (734) 424-4240 with questions or for more information.
Danielle Arndt covers K-12 education for AnnArbor.com. Follow her on Twitter @DanielleArndt or email her at daniellearndt@annarbor.com.