Posted on
Sat, Oct 8, 2011 : 5:59 a.m.
Hayrides back at Jenny's Dexter Market following accident that hurt worker
By Cindy Heflin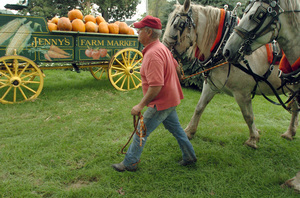 File photo
Weekend hayrides have resumed at
Jenny's Dexter Market
following an accident
that injured an employee nearly two weeks ago.
Market owner Burton Hoey said this week that the market started offering horse-drawn hayrides again last weekend. The market had initially suspended them after the accident.
But Hoey said the hayrides are safe; his horses are well trained and his equipment in good condition.
"Our equipment didn't fail; the wagon didn't fail; the horses didn't stand there and trample somebody," he said.
Hoey has said the Sept. 24 accident happened while the employee who was injured, a 23-year-old woman, was leading the hayride and holding tight to the reins. One of the horses tripped and lunged forward, pulling her off the wagon, he said.
Hoey said hayrides don't go on public roads so there's very little that can go wrong.
"There's no car traffic or other human traffic that can interfere with them," he said. "It's just about impossible for anything to go wrong."
Brittany Erskine, 20, leads hayrides at the market. She said employees are making sure the horses pulling the wagons go at a slow pace.
Erskine said she visited the injured woman, whose name has not been released by authorities, a couple of days after the accident. Erskine said she seemed to be in good spirits, though she said the woman wasn't able to move her legs at that time.
Meanwhile, the Michigan Occupational Safety and Health Administration continues to investigate the accident, a process that will likely take several weeks, said Elaine Clapp, safety and health manager for the General Industry Safety and Health Division,
Clapp noted that there are no specific regulations for hayrides, but general workplace safety standards would apply in this case.
"There's no agency anywhere in the country that addresses hayrides," she said.
Hoey said he thinks that should change. "I think that for anything that involves the public there should be regulations," he said.