Posted on
Sat, Oct 20, 2012 : 5:59 a.m.
Judge rules Jenny's Market straw maze can stay - for now
By Cindy Heflin
Jenny's Market proprietor Burton Hoey can keep a straw maze at his business open, at least for the time being, a judge ruled Friday afternoon.
Washtenaw Circuit Court Judge Timothy Connors refused to grant Webster Township's request for a preliminary injunction ordering the immediate removal of the straw maze.
The township had sought the injunction as part of a complaint filed against Hoey and his daughter, Jennifer Lambers, who owns the property, earlier this month alleging the maze is a public nuisance and unsafe and should be removed.
In order to win a judge's order shutting down the maze immediately, the township had to convince him it was likely to ultimately prevail in the case, and that it or the public was likely to suffer irreparable harm for which there was not adequate remedy. Connors was not convinced.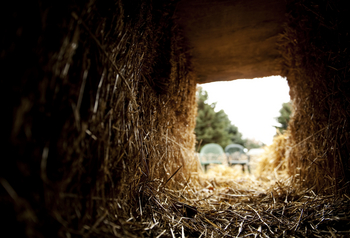 Daniel Brenner | AnnaArbor.com
Although the township failed to win the preliminary injunction, the larger case remains unresolved, and the judge noted that Friday's ruling doesn't mean he would ultimately rule against the township, but he suggested the parties not give him the chance. Instead, he advised them to seek a facilitator to reach a settlement in this case and another filed by Hoey against the township over its refusal to grant him a permit for a bathroom.
After the ruling, Hoey said it was a victory for the children who like to play on the free maze, which he says he's had for 18 years without an injury or complaint from the township. Hoey alleges the township wants to put him out of business and said it may succeed on that front.
"Because if the harassment by Webster Township keeps up, I'm selling," he said.
Hoey has been in a long-running dispute with the township over zoning and other issues. He's faced a string of problems in the past 12 months that began when an employee fell off a hayride wagon and suffered permanent paralysis. Most recently, Hoey was charged with animal cruelty after the Humane Society of Huron Valley seized several animals.
The market, at Dexter-Pinckney and Island Lake roads west of the village of Dexter, is a popular spot for pumpkins, cider, doughnuts and hayrides in the fall.
In making the decision Friday, Connors said he had to balance the interest of government in trying to protect citizens with the rights of parents and their ability to decide what's safe and acceptable for their children. He said he's driven by the market many times.
"It seems that people enjoy it," he said.
Earlier in the day, he went out and inspected the maze himself and brought his wife along. He said he wanted her perspective because over the years they have sometimes had different opinions on parenting issues.
During the hearing Thursday afternoon, township lawyer Helen Mills argued that the maze was unstable, that it could collapse on a child or that a child could fall and be injured or killed. She also said the maze appeared not to be regularly maintained or monitored.
She also argued that the maze is a fire risk and that children could suffer smoke inhalation if it caught fire. She said a cigarette could set the maze on fire or someone might light it on fire as a Halloween prank.
She said the matter was urgent because it's during the next several days, right before Halloween, that the maze is likely to get its heaviest use. . John Bredell, Hoey's lawyer, said children could be injured while participating in many kinds of activities, including swimming at the pool or the beach or playing football or baseball. He said there's nothing in life that's completely safe except possibly sitting on the couch and playing video games.
Mills countered that those other activities have rules and supervision. Pools and beaches usually have lifeguards, and football and baseball players use safety equipment, she said.
Bredell also dismissed the fire risk, saying parents are routinely watching their children when they're playing in and on the maze. He acknowledged that someone could start a fire at the maze, but said that's no reason to shut it down.
"Are we going to close down everything because of crazy people?" he said.
He also said the maze is supported by metal scaffolding and plywood and can support 2,000 pounds of weight. He said Hoey formerly had a builder's license and understands how to create sound structures.
After the ruling, Bredell said it was important to note that Friday's ruling was only about whether the maze was so imminently perilous that it needed to be closed down immediately. He said Hoey would abide by whatever decision is ultimately reached.
"If it's dangerous, I want it taken down," he said.
Cindy Heflin is associate news director at AnnArbor.com. Contact her at 734-623-2572 or cindyheflin@annarbor.com or follow her on Twitter.