Posted on
Thu, Sep 1, 2011 : 4:45 p.m.
Dingell announces $2.8M in federal funds officially secured for Fuller Road Station in Ann Arbor
By Ryan J. Stanton
U.S. Rep. John Dingell, D-Dearborn, today commended the Federal Railroad Administration for releasing $2.8 million in funding for a new train station in Ann Arbor.
The previously announced funding will allow Ann Arbor to begin engineering and environmental documentation required to design and construct a new intercity and high-speed rail station, drop-off areas, rail platform and other work, including track, switches and signals.
The city project, officially known as Fuller Road Station, has been in the works for several years and also includes accommodations for pedestrians, bicyclists and bus transit.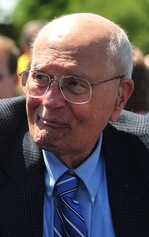 In a statement this afternoon, Dingell called the development of high-speed rail a top priority and said he'll continue to work with his colleagues to move rail projects forward.
"The obligation of this funding is of critical importance given that the House fiscal year 2012 Energy and Water Appropriations Act proposes to rescind all un-obligated high-speed rail funding," he said. "I would remind my colleagues who voted in favor of this rescission that high-speed rail is needed to make the United States more competitive, to attract and retain small business in our community, and to efficiently move people from one place to another."
The $43 million first phase of Fuller Road Station, as approved by the Planning Commission a year ago, includes a five-level parking structure with five built-in bus bays and 103 bicycle parking spaces. City officials say they're tweaking those plans to possibly include commuter rail platforms in the first phase now. However, city officials are considering doing the project in one phase if federal funding is available.
The University of Michigan has committed to paying for 78 percent of the Phase I costs and would have access to 78 percent of the parking spaces in the structure. The long-term vision for Fuller Road is estimated to cost $121 million, inclusive of planning and engineering costs, and city officials hope federal funding will be forthcoming to cover those bills.
In a press release this afternoon, Dingell's office identified the total cost of the actual rail station and platform to be only $25 million.
Ann Arbor Mayor John Hieftje and Diane Keller, president and CEO of the Ann Arbor/Ypsilanti Regional Chamber of Commerce, joined Dingell in issuing statements praising the release of federal funds. Hieftje said Fuller Road Station presents a one-time opportunity for Ann Arbor to advance into the modern age of rail.
"Ann Arbor is already one of the highest-ranked cities in the nation for the number of people who walk, bike or ride the bus on their daily commute," he said. "We need to continue to plan for a fossil fuel constrained future. Gasoline prices are only headed up over the long term."
Keller called it welcome news for Ann Arbor's business community.
"Construction of a new station is critical to Ann Arbor and will be a key tool in recruiting and retaining the vibrant small business community that already resides in Ann Arbor," she said, adding it also will create critical construction jobs.
Dingell said today's award comes at a time when passenger rail ridership is at an all-time high. He said rail transit would help reduce traffic congestion, improve road quality and daily commutes and assist communities with economic development.
He noted the current Amtrak station in Ann Arbor is the busiest in Michigan, but it's on single-track territory without passing sidings, forcing trains to stop and block the mainline while serving the station. Fuller Road Station includes construction of passing track that will allow trains to meet and for more than one train to serve the station at a time.
Fuller Road Station is expected to serve the Chicago-to-Detroit high-speed rail line as well as provide commuter rail service between Ann Arbor and Detroit.
Dingell's office said the commuter rail service planned for Fuller Road Station eventually will support four round-trips with station stops in Ann Arbor, Dearborn, Ypsilanti, Wayne/Westland (to serve Detroit Metro Airport) and Detroit New Center.
Ryan J. Stanton covers government and politics for AnnArbor.com. Reach him at ryanstanton@annarbor.com or 734-623-2529. You also can follow him on Twitter or subscribe to AnnArbor.com's e-mail newsletters.