Posted on
Wed, Feb 22, 2012 : 5:16 p.m.
American-Islamic council: Pittsfield Township's blocking of Islamic school is 'neo-Jim Crow'
By Danielle Arndt
The Michigan Islamic Academy hopes a lawsuit filed in federal district court Wednesday will result in a judge dismissing the decision of the Pittsfield Township Board of Trustees to deny rezoning for a new school.
Lena Masri, attorney for the Council on American-Islamic Relations, a partner in the lawsuit, said the court could rule in favor of the school and allow construction to go forward.
MIA would like to build a 360-student school on about 26.7 acres of land at the intersection of Golfside Drive and Ellsworth Road.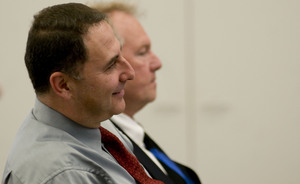 Tom Perkins | For AnnArbor.com
According to school officials, MIA purchased the land in September 2010 for $260,000 at a foreclosure auction.
Tarek Nahlawi, a board member for the private school, said Pittsfield's actions have imposed a substantial burden on the school community and that the new school is necessary to provide proper instruction to its students.
He said during a news conference Wednesday afternoon that MIA, which houses students in preschool through 12th grade, is in dire need. He said the school has an inadequate library and no gym or lunchroom at its current location at 2301 Plymouth Road in Ann Arbor.
The lawsuit further states trailers parked behind the school are being used to help ease the problem of overcrowded classrooms.
Nahlawi also noted MIA looked at the geographical locations of eight schools around that location. He said the schools are built in residential areas, among communities.
"Our students, our children are the ones losing in all of this," Nahlawi said. "They have a dream of a school with more room. … MIA once had a dream … but the township has made it a nightmare."
The lawsuit claims MIA representatives met with Township Supervisor Mandy Grewal prior to purchasing the land to express their intent to build a school and an Islamic community center at the site.
It says, "During the meeting with Ms. Grewal, Ms. Grewal gave assurances that so long as MIA follows the proper procedures to rezone the subject property, MIA should not have any problems gaining approval to rezone the subject property."
The lawsuit also alleges the township violated the federal Religious Institutions Land Use Protection Act (RILUPA) as well as the first and 14th amendments to the United States Constitution.
It says Pittsfield "has not identified any compelling government interest for denying MIA's application" and has unlawfully "implemented a land use regulation that imposes a substantial burden upon the rights of MIA and its students to the free exercise of religion by means that township officials themselves recognize are not the least restrictive means available." It claims these actions are "religious discrimination."
Grewal and other township officials did not return messages left by AnnArbor.com Wednesday seeking comment. In the past, township officials said their opposition was based on safety and traffic concerns and had nothing to do with the request being for an Islamic school.
The lawsuit further claims MIA tried to address every concern the township brought before them — including traffic, visual screening, parking lot lights and noise — but was still met with opposition.
Nahlawi said MIA offered to construct one building instead of two on the property, attempted to work with the township on a landscape plan to block the campus from view and even offered to build a row of homes to provide further visual screening from neighbors.
Masri added MIA also went above and beyond to provide proof that the school would not cause traffic issues in the area. She said MIA conducted traffic studies at four intersections and two miles of road on Ellsworth. It also did a traffic study at its current location in Ann Arbor, all of which were accepted by the Washtenaw County Road Commission, she said.
She said the township's reasons for denying the rezoning request have been "fabricated."
Dawud Walid, executive director of CAIR, said the arguments that the school will cause neighboring property values to drop and traffic issues to increase are the "same old, tired, bigoted arguments that have been made in the past." He said CAIR has a compelling interest to stand up against what it sees as a growing trend to block zoning for Islamic institutions.
"This will set a dangerous precedent if the community is allowed to block the construction of this school. … It is neo-Jim Crow in a sense," Walid said. "We hope and pray to God we are successful in this lawsuit because for us to fall short would set a very bad precedent for this area."
The township will have 21 days from the day it is served to respond to the lawsuit by filing an answer in federal district court.
Staff reporter Danielle Arndt covers K-12 education for AnnArbor.com. Follow her on Twitter @DanielleArndt or email her at daniellearndt@annarbor.com.