DISH subscribers learn U-M football game isn't airing due to Big Ten Network contract dispute
Posted on Sat, Sep 15, 2012 : 5:05 p.m.
University of Michigan fans expecting to watch the Wolverines battle UMass via a DISH Network subscription learned Saturday that they needed to find an alternative.
Due to unresolved contract negotiations with the Big Ten Network, DISH isn't airing at least eight Big Ten football games on Saturday for which the BTN is producing televised coverage.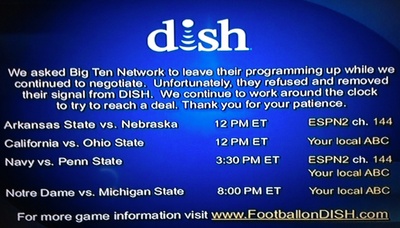 According to the BTN website: "Despite BTN's best efforts to finalize an agreement with DISH, we are disappointed to tell you that DISH decided to drop BTN. DISH customers will miss all 8 BTN matchups today. Find another BTN provider at IWantBTN.com."
The announcement reportedly came early Saturday, leaving fans of the day's Big 10 games looking for alternatives if they'd planned to watch them via DISH.
DISH subscribers in Ann Arbor are finding a screen on the BTN channel saying: "We asked the Big Ten Network to leave their programming up while we continued to negotiate. Unfortunately they refused and removed their signal from DISH. We continue to try to work around the clock to work out a deal. Thank you for your patience."
The screen also directs viewers to other televised Big Ten games if they want to watch football today. Among them: the Michigan State University vs Notre Dame game at 8 p.m. on ABC.
Elizabeth Conlisk, BTN's vice president for communications and university relations tweeted the news shortly after midnight Saturday:
"As of September 14th, BTN's distribution agreement with Dish expired despite our best efforts to finalize an agreement. We are disappointed that Dish does not see the value in the network in the same way that so many of their customers do, including Big Ten students, alumni, fans and viewers across the country who continue to pay Dish for a channel they no longer receive."
In a release on their website, BTN is saying DISH dropped the channel on Friday after attempts to reach a deal fell through.
"(DISH) continued to insist on preferential treatment by demanding better terms than our agreements with their competitors," the release said.
Last week, DISH signed a deal to air PAC-10 games, and reports had indicated a deal with BTN was getting close.
-- The Associated Press contributed to this report.