Posted on
Thu, May 3, 2012 : 5:59 a.m.
Deficit elimination: 97 layoffs, 3 school closings amid drastic cuts considered in Ypsilanti
By Danielle Arndt
Local control and employee paychecks could be at stake if the Ypsilanti Board of Education fails to approve a new deficit elimination plan (DEP) by May 8.
Ypsilanti Public Schools has until Tuesday to overhaul its DEP and submit it to the state, after botched figures and projections voided the plan the board passed in December.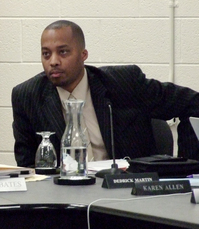 Ypsilanti was anticipated to have a combined two-year $6.38 million deficit at the end of 2011-12. However in March, school officials said Ypsilanti faced a deficit of about $9.4 million, including the district's original $4.9 million from 2010-11.
Superintendent Dedrick Martin said the board was skeptical in December that the numbers presented in the district's DEP could not be trusted.
The problems stemmed from figures provided by the former chief financial officer, David Houle. The board voted not to renew Houle's contract in November.
"We had to recast the entire budget. … When we figured out it wasn't a couple hundred thousand dollars (short), we self-reported the problem to the state," Martin said, adding that Michigan officials were willing to work with the district to set the May 8 deadline for remediation.
However, district business manager Kelli Glenn said the state's patience with YPS is wearing thin. She added school officials were told there could be no more delaying of the DEP as Ypsilanti has done in the past.
She said the consequences of not submitting a plan would be the state withholding Ypsilanti's state aid, in which case the district could not issue payroll due to its lack of funds.
Additionally, Board President David Bates said, at a recent meeting with Martin, State Superintendent Mike Flanagan and other Michigan Department of Education staff, he was told Ypsilanti school board members could be charged with a misdemeanor for not passing the mandated DEP.
But after four hours spent discussing possibly cutting 97 employees, closing one to three buildings, reducing athletics and changing transportation routes, Ypsilanti trustees could not reach a consensus. The board set a second special meeting for 7:30 p.m. May 7.
The overhaul of the deficit elimination plan has a target reduction goal of $16.8 million, which would need to be accrued by the 2014-15 school year to bring Ypsilanti out of debt.
So no matter how the cuts and reductions vary from what ultimately is passed as part of the DEP, if the district decides to keep money in one line item, that dollar amount would need to be taken from someplace else, Martin said.
Included in the $16.8 million is about $900,000 — the amount Ypsilanti would have in its fund balance at the end of 2014-15, provided the district follows its deficit elimination plan.
Glenn said the $900,000 figure was selected because that is the approximate cost of one payroll. It provides a cushion for the district and is only about 2.37 percent of the district's $38 million operating budget.
In the DEP proposed Wednesday, staff would take the brunt of the hit in 2012-13. A savings of $500,000 would be obtained by reducing custodial services. The district also hopes to negotiate concessions with unions to the tune of about $5.79 million.
Additionally, cutting 97 employees would result in a savings of $5.45 million. Of the total, 65 would be instructional staff: 11 elementary, middle and high school teachers; 51 para-professionals; and three Regional Career Technical Center staff.
The remaining 32 would be special education teachers.
Martin said although these specific staff reductions are spelled out in the deficit elimination plan, the board would be required to approve the cuts in a separate initiative, which has not been brought forward yet. Retirements and attrition could impact the final number of staff to be laid off.
Some payroll employees for athletics also could be on the chopping block for next year. These employees could include coaches, athletic directors or support staff, such as athletic trainers. The DEP estimates being able to reduce athletic costs by about $225,000.
Martin said some sports have multiple coaches and the district will need to consider whether the team could still function with one less coach. He said Ypsilanti is not considering pay-to-participate fees due to the number of student-athletes it has that qualify for free or reduced-price lunches.
An estimated $400,000 savings for 2012-13 is busing route changes, which the staff is working out with the Washtenaw Intermediate School District.
Closing Estabrook Pool would save Ypsilanti about $100,000, including $61,000 from the salaries and benefits for full-time lifeguards.
While closing Estabrook Pool generated no discussion from the board, a proposal to close Adams Academy, Erickson Elementary and New Tech High School in 2013-14 and move their students into other buildings took up a majority of the discussion time Wednesday.
Martin said the district's square feet-to-student ratio is greater than most districts its size and with steadily declining enrollment, it is time to "right size" the district.
But Trustee Ellen Champagne said telling the public that YPS is closing more schools is the equivalent of guaranteeing a loss in students. The board decided on some other options to make up the $1.7 million in savings that closing the three buildings would bring. The board will vote on the updated deficit elimination plan Monday.
Staff reporter Danielle Arndt covers K-12 education for AnnArbor.com. Follow her on Twitter @DanielleArndt or email her at daniellearndt@annarbor.com.