Posted on
Mon, Apr 30, 2012 : 5:56 p.m.
Police end off-leash dog frolic at Slauson Middle School
By Danielle Arndt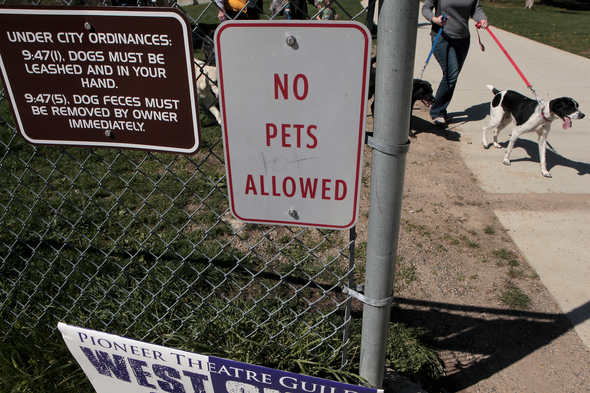 AnnArbor.com file photo
Ann Arbor
police officers issued a verbal warning to dog owners gathered at
Slauson Middle School
Saturday for the neighborhood's weekly "unleashed hour."
Police will be enforcing the city's ordinance pertaining to dogs and dog feces, school officials said Monday.
The city's code calls for pet owners to leash their dogs and for the pet's leash to be in the owner's hand at all times while on public property. Additionally, the code states dog feces must be removed by the owner immediately.
Slauson Principal Christopher Curtis emailed city officials Friday after an article and subsequent column from middle school athletic director Rusty Fuller detailing dog use at the school appeared on AnnArbor.com.
"He did send a letter to the city attorney confirming, yes, this is a problem at Slauson," said district spokeswoman Liz Margolis of Curtis. "The district is very happy that the police will be monitoring the situation. ... We were not looking to penalize anyone."
Ann Arbor Public Schools officials were told police would be at the middle school for the next couple of Saturdays to observe dog owners and to inform them of the ordinances and how the feces is affecting students' abilities to play and participate in physical education, Margolis said.
John Lawter, an Ann Arbor parks commissioner, dog owner and participant in the off-leash hour, said the police officer Saturday was very polite and courteous, but essentially said the unleashed hour could no longer go on.
"Everyone was pretty disappointed because we knew this was basically the end of this gathering," he said. "I hope the positive effect is that it can galvanize our group into finding a legal alternative."
Lawter added the officer told people at Slauson that if the party continued, citations would be escalated to trespassing complaints. Letting dogs off their leashes is a civil infraction, punishable by a $25 to $500 fine.
Saturday was cold and drizzly and not a well-attended day. Lawter said he hopes the police officers are as patient next week with people who may not have received word yet.
Daniel Rivkin, who has been living in Ann Arbor and participating in "dog days" for 19 months, created a Facebook page for people to share ideas about responsibly running their dogs in the city's open spaces.
"We asked the officer to look into the faces of our dogs and tell us if they looked like criminals," Rivkin said jokingly.
Margolis added Slauson is not the only school with a "dog poop problem."
"All of the playgrounds have issues," Margolis said, adding that's especially true of the schools located within neighborhoods. "This is not new. The poop cleanup (by athletic directors and school P.E. instructors) has been going on for a long time. … Every spring the issue is heightened."
She said while she could not judge whether Slauson is the most heavily used by dog owners for exercising their pooches, she recognized the Old West Side does not have many large open spaces for public use, and the dog park is on the south side of town.
"The fact that there's 50 to 70 people gathering every Saturday speaks to the need," Lawter said, adding people have been bringing their dogs to Slauson for about 10 years. "I agree that having it at a schoolyard probably isn't the best place, I agree that stepping in dog crap is not the best thing, but I disputed the athletic director's comments that we are the ones responsible for those cases."
In his April 27 guest column, Fuller writes, "Enough of the excuses and proclamations by dog owners that they clean up everything; this simple truth is THEY DON'T."
Lawter said this is simply not true of the off-leash group.
"I would anticipate that without us, there will be more stuff left behind because we were so diligent and paranoid."
A subcommittee of the Parks Advisory Commission is looking at developing off-leash options in central Ann Arbor parks, although the "where" and "when" have not yet been formalized, Lawter said.
AnnArbor.com reporter Pete Cunningham contributed to this report. Contact Cunningham at petercunningham@annarbor.com or by phone at (734) 623-2561.
Staff reporter Danielle Arndt covers K-12 education for AnnArbor.com. Follow her on Twitter @DanielleArndt or email her at daniellearndt@annarbor.com.