Posted on
Thu, Aug 30, 2012 : 5:57 a.m.
Some U-M freshmen luck out with renovated dorms: 'This is what $56 million looks like'
By Kellie Woodhouse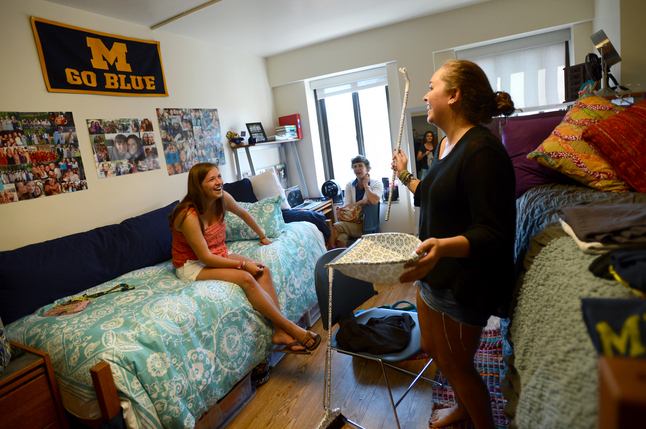 Melanie Maxwell I AnnArbor.com
Three years ago, then-freshman
Anna Peters
avoided the bathroom of her
University of Michigan
dormitory as much as possible.
"I would actually dread going to the bathroom it was so disgusting," the now-senior said of her residence hall, Alice Lloyd Hall. "And everything was dirty. The mattresses were old."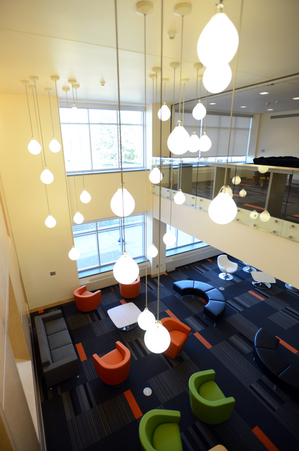 Melanie Maxwell I AnnArbor.com
But as Peters helped her sister Amanda, a freshman, unpack her belongings into her room in Alice Lloyd Wednesday, she said she barely recognized the residence hall.
"It looks like a hotel compared to what it was before," Peters said.
And it's true. With glass-walled meeting and conference rooms, flatscreen televisions tucked in the corners of hallways and 45 types of chairs scattered throughout the roughly 560-bed dormitory, Alice Lloyd is now one of the most-coveted residence halls on campus.
The residence hall underwent a $56 million renovation last year and reopened this week.
"This is unbelievable," Peters said, gesturing around her. Her sister's room has a large window and the beds have silver Michigan emblems on them. "Most freshmen don't live in this nice of a dorm."
U-M junior Serena Sana, one of 700 volunteers helping new students move into their residence halls, said students and parents are "shocked" by the renovated hall.
"They're like 'This doesn't even look like a dorm,' " Sana said. As a freshman, Sana lived in Alice Lloyd.
"I don't recognize any of the lower floors," she said. "The rooms are nice; they're huge. The bathrooms are amazing."
Alice Lloyd's renovation is part of U-M President Mary Sue Coleman's Residential Life Initiative, which will have invested $440 million in dormitory renovations over the course of seven years.
The current $116 million renovation of East Quadrangle is the latest project. Last fall Couzens Hall reopened after a $49 million renovation. In an interview earlier this year, Coleman called the initiative one of her top accomplishments since coming to U-M in 2002.
"I'm a great believer that it's the holistic experiences that students have at college and a university setting that really make them what they become in their careers," Coleman said.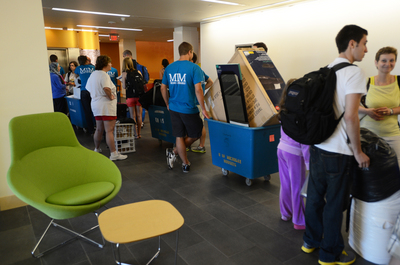 Melanie Maxwell I AnnArbor.com
"We hadn't done much with our residence halls in the previous 35 years, so when we really started this it was a huge task," she continued. "I am proud of the fact that we have marched down the heritage halls and made them much more interesting in terms of intellectual engagement."
The multimillion-dollar renovation equipped the dormitory with a new community learning center and living room, several lounges and study rooms —some equipped with new iMac desktops,— and an art room, a dance studio, a kitchen, a music room and a game room.
It's a setup that arguably rivals the two off-campus luxury student housing high rises that opened this summer.
"We got really lucky living here as freshmen," said Jessie White, who was thrilled that the shower stalls having changing rooms for privacy.
Freshman Carven Leong was assigned student housing at Bursley Hall, a 1,270-bed dormitory that opened in 1967 and has not had a major renovation since.
"Bursley is slightly older. Initially when I moved in I was like, 'OK?' " Leong said.
Patrick Baumhart, a sophomore, knows the feeling. He lived in Bursley Hall on North Campus last year. This year he lucked out with an Alice Lloyd assignment.
"The is what [$56] million looks like," he said. "The bathrooms are significantly better than everything about Bursley."
About 9,700 students will live on campus this year, the majority of them freshmen. Slightly more than one-third of U-M students live on campus.
This year nearly 2,400 students live in dorms that have been built or renovated since 2007. Most freshmen are assigned housing by lottery unless they're in an academic program that requires specific housing, such as the Lloyd Hall Scholars program, a residential learning community for students interested in writing and art.
Although many college graduates have stories of living in older, less flashy dormitories, colleges are now competing with one another to provide a top-notch residential life experience.
"It is a serious contender for the overall quality of a student's experience," U-M housing director Linda Newman told AnnArbor.com last year.
Nonetheless, as Baumhart puts it, the new Alice Lloyd Hall "is probably more amazing than anything [new students] could have pictured."
Kellie Woodhouse covers higher education for AnnArbor.com. Reach her at kelliewoodhouse@annarbor.com or 734-623-4602 and follow her on twitter.