Posted on
Sun, Dec 16, 2012 : 5:57 a.m.
Downgraded bond rating points to University of Michigan Health System's budget problems
By Amy Biolchini
The University of Michigan Health System's complex set of budget problems has had an implication on its bond rating.
At the end of November, Moody's Investors Services downgraded the University of Michigan Hospital's bond rating to Aa3 and Aa3/VMIG 1 from Aa2 and Aa2/VMIG 1.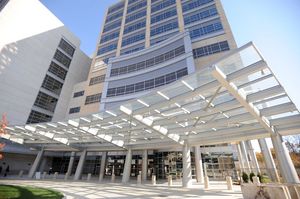 Angela J. Cesere | AnnArbor.com
Both ratings of Aa3 and Aa2 are of high quality and subject to very low credit risk. Aa3 is the fourth-highest Moody's ranking, out of a scale of 19 ratings.
The VMIG rating is for a short-term, variable rate demand obligations. The Health System still has the best quality VMIG rating, which is an evaluation of the degree of risk associated with scheduled principal and interest payments, as well as of the degree of risk associated with the demand feature.
Moody's reports the Health System is still stable financially with the new rating.
The bond rating also affects $281.4 million of outstanding hospital rated debt issued by the University of Michigan Regents, according to Moody's.
Pete Barkey, director of communications for the University of Michigan Health System, gave this statement:
"Our Hospitals and Health Centers (HHC) continue to be recognized in the highest ratings categories available from Moody's. Even with the new rating, we remain among the top 15% of the hundreds of hospitals and single state health care systems that have been rated. We have more than $1 billion cash on hand, and total assets topping $3 billion. We remain strongly positioned among other hospitals and health systems in the region. "While Moody's HHC rating changed to Aa3, Standard & Poor's reaffirmed our AA+ rating, taking into consideration our operating improvement plans. The HHC is not issuing any new debt, so our interest cost will not be affected by this downgrade. It will not impact the interest cost on existing debt, and we do not expect it to affect the interest cost on the new debt to be issued by the University. Therefore, we do not expect it to have an impact on future development. We remain firmly positioned among the strongest free standing hospitals and single state health care systems in the nation. And most importantly, we will continue to offer the highest level of patient care in the region and across the country."
The downgraded bond rating announcement came about a week before top administrators at the University of Michigan Health System sent out an internal email to all their employees, instructing them that additional departmental budget cuts would have to be made.
In November, the Health System asked all of its department heads to figure out how to cut costs.
Plans include attrition management, reduced appointments, reduced overtime, reduced temporary staff and contract labor, as well as "savings from improvements in supply chain efforts," according to the email.
As an explanation to what prompted the sending of the email, Barkey gave this statement:
"Like all hospitals and health systems, the challenge to remain financially strong is increasingly difficult with external changes in reimbursement and reduced research funding. Our expenses are currently exceeding our revenue, which challenges us to reduce expenses where possible. We have made great progress and will continue to look for ways to improve through the rest of this fiscal year and beyond."
The downgrade in the bond rating is a result of a "marked decline in operating performance" in the 2012 fiscal year, which extended from July 1, 2011 to June 30, 2012, according to Moody's.
The drop in cash on hand was due to the increased expenses of opening the new, $754 million C.S. Mott Children's Hospital and Von Voigtlander Women's Hospital in December 2011.
Additionally, Moody's has reported the University of Michigan Health System has had to transfer funds to U-M's Medical School to cover operating expenses.
The first quarter of the 2013 fiscal year, which began July 1, likely also had low operating cash flows because of the same pressures, Moody's reported.
Katie Oppenheim is chairwoman of the University of Michigan Professional Nurse Council, which represents nearly 5,000 registered nurses throughout UMHS.
Oppenheim said there have not been nurse layoffs in 2012, and that nurses have not experienced the implications of the Health System's budget problems.
"I don't see that there are going to be layoffs," Oppenheim said. "We're staffed appropriately."
Oppenheim said there isn't a great increase in the number of nurses retiring this year.
Dr. Ora Pescovitz, CEO of the U-M Health System, has alluded to the institution's growing budgetary problems on previous occasions.
In her October "State of the Health System" address to her staff, Pescovitz announced to her staff the need for each one of them to identify and suggest ways to minimize expenses.
"Currently, like most health systems and academic medical centers across the country, our financial situation is challenged. What this means is that we have to take actions now that will improve our financial performance this fiscal year, as well as prepare us for future financial success," she said. "But each one of us needs to identify and suggest ways that we can minimize expenses, increase efficiency and generate revenue in order to improve productivity."
Speaking at a separate Medicare symposium in October, Pescovitz acknowledged her concerns with the fiscal cliff facing the federal government that could result in a $100 to $200 million annual budget gap for the health system.
The breadth of the gap is tied to the amount of National Institutes of Health funding UMHS receives. If Congress doesn't act to avoid the full impact of the fiscal cliff UMHS is facing an eight to nine percent cut in its NIH funding.
Another challenge facing the Health System is the decline in Medicare reimbursements as a result of the Patient Protection and Affordable Care Act.
In order to move the Health System's bond rating back up, there would have to be "marked improvement" in operating cash flow generation, according to Moody's.
However, if weak revenue streams continue and the university's credit strength deteriorates, the bond rating could be in jeopardy of being downgraded again.
"At the end of the day if we do not fulfill our margin, we will not be able to fulfill our mission," Pescovitz said during the "State of the Health System" address.
Amy Biolchini covers Washtenaw County, health and environmental issues for AnnArbor.com. Reach her at (734) 623-2552, amybiolchini@annarbor.com or on Twitter.