Posted on
Wed, Jul 3, 2013 : 2:58 p.m.
Downtown beat cops: Ann Arbor DDA considering options for funding increased presence downtown
By Ryan J. Stanton
Ann Arbor Downtown Development Authority officials haven't yet reached a decision whether they'll help the city pay for new police officers in the downtown.
The idea of funding downtown "beat cops" has been seriously discussed by the DDA since last winter — before the City Council made a formal plea, said DDA Treasurer Roger Hewitt.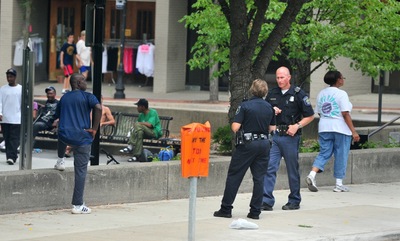 Ryan J. Stanton | AnnArbor.com file photo
"There are a number of different ways — if we chose to address policing in the downtown — of approaching that, whether it's ambassadors, whether it's community service officers, whether it's beat cops, whether it's some combination of those," Hewitt said on Wednesday.
"What are the needs? What's appropriate?" he added.
The City Council went on record in early June, after adopting the city's budget for 2013-14, asking the DDA to fund three new Ann Arbor police officers to increase presence in the downtown.
Hewitt said the DDA's Operations Committee wants to have DDA staff spend some time investigating different options and looking at what other cities are doing.
"We're not going to make an instantaneous decision to start paying for beat cops or community service officers or ambassadors," he said at Wednesday's DDA meeting. "We're going to take a reasoned approach at this and try and find out what fits best for our city, if anything."
DDA board member Sandi Smith, who stepped down from the City Council last year, said she's not in favor of the DDA funding ongoing city operations.
"It would be great if we were to talk about funding a startup program the city is doing," she said. "If we could talk about equipment needs, whether it's uniforms or radios — something like that would be far more palatable to me."
"Are you advocating for RoboCop?" joked DDA board member Newcombe Clark in response to Smith's comments, noting a robot officer could be considered a depreciable asset.
"The committee will take RoboCop under consideration," said Keith Orr, another member of the DDA's Operations Committee.
"Every committee should take RoboCop into consideration," Clark responded.
Police Chief John Seto said in June there aren't any city police officers specifically assigned to the DDA area right now, but the city does generally have about 12 to 14 officers over two shifts assigned to patrol the area bound by Huron, Main, Stadium and Packard.
Ryan J. Stanton covers government and politics for AnnArbor.com. Reach him at ryanstanton@annarbor.com or 734-623-2529. You also can follow him on Twitter or subscribe to AnnArbor.com's email newsletters.