Posted on
Sat, Apr 20, 2013 : 1:43 p.m.
Downtown Home and Garden looks forward during historical tour
By Lisa Carolin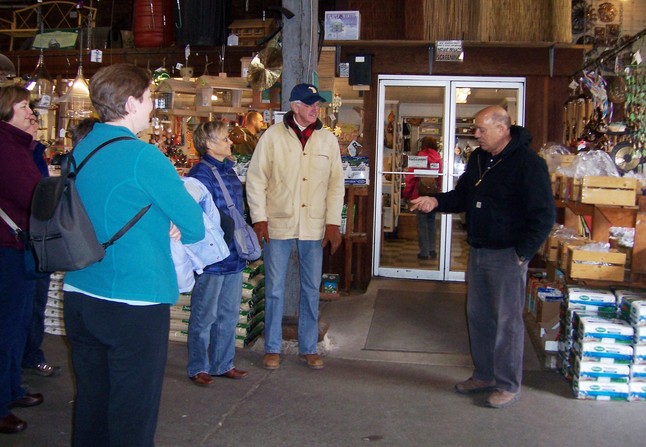 Lisa Carolin I For AnnArbor.com
Downtown Home and Garden
owner
Mark Hodesh
is "celebrating the neighborhood." Hodesh, who has owned the more than a century-old building since 1975, wants to share its history and offered tours Saturday morning to do just that.
"We are a product of where and what we are, and the history of this building comes out of the pores," said Hodesh. "The farmers are gone. Now our customers are urban gardeners and gourmet cooks. We've even taking on clothing lines for this coming fall."
The building was constructed in the mid-1890s and first named the Mann and Zeeb Elevator, which supplied field seed for farmers and grain for the poultry many residents on the West Side kept. Some of the original shelves and wood floors are still there along with an old grain elevator.
The barn was built in 1906 and used as a livery stable where people coming downtown could park for the day. A reminder of that time period is the buggy that hangs there. It was manufactured at Walker's Carriage Factory on Liberty, which is now the home of the Ann Arbor Art Center. The buggy was purchased by the Washtenaw County Historical Society and is estimated to have been built in the 1890s.
The Hertlers bought the building in 1906 and renamed it Hertler Bros.
Lisa Carolin I For AnnArbor.com
"It is incumbent on me to keep up with modern times but not to change things too much," Hodesh told the tour group.
Hodesh still refers to the wide open space in the building as the barn, and the remaining part of Downtown Home and Garden as "the store."
Only part of the building has a basement where several horse stalls still exist. Hodesh uses the space to store Christmas trees and potatoes. He says that when he bought the building, there were seven layers of doors leading to the basement.
There also is an upstairs, which Hodesh says people have told him was a hangout for neighborhood kids. It's used to store seasonal items, and also houses his wife's art studio as well as Hodesh's office, which he refers to as "world headquarters."
Hodesh says that his mother still refers to the building as "Hertler's."
"I'm keeping an eye on the past while adapting to the future," said Hodesh, referring to Mark's Carts, which opened two years ago in the courtyard on Washington Street between First and Ashley, and to Bill's Beer Garden, which opened last year in the courtyard of Downtown Home and Garden.
"It is a labor of love and a joy to adapt this old mercantile model," he said.