Posted on
Sun, Feb 10, 2013 : 5:50 a.m.
Downtown Opportunities: Selling Ann Arbor's city-owned properties for urban residential development
By Guest Column
Editor's note: This is the first installment of "Downtown Opportunities," a two-part guest column by University of Michigan professor Doug Kelbaugh, former dean of architecture and urban planning. In this first installment, Kelbaugh offers points to consider as Ann Arbor officials ponder future redevelopment opportunities for four city-owned parking lots downtown. In the second part, Kelbaugh will discuss the potential, as he sees it, for two new public plaza spaces downtown.
Connecting William Street is the DDA study of four city-owned parking lots that are ripe for development. It's very timely as Ann Arbor rides its high quality of life and the information economy to new heights — including downtown building heights.
Most of the city can be "your fathers" Ann Arbor, i.e., leafy and low density. Preserving its beloved character requires keeping its economy flourishing, which means attracting the next generation of knowledge workers, who are more urban.
Fortunately the downtown is coming naturally into the urban century. It may seem counter-intuitive, but the more people who live downtown, the better. It benefits the economy, the environment, climate change, municipal services and infrastructure, not to mention social and public health.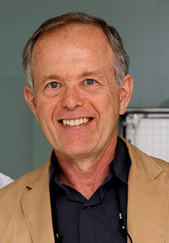 Thoreau was wrong about escaping the city: if you love nature, live in the city. Compared to rural or suburban living, on average your ecological footprint is lower: you live on less land, leaving intact more natural habitat and agricultural /open land in the hinterland; you consume less energy to heat and air condition your home; you support locally owned businesses that cluster downtown; you interact with more people and stay healthy as you walk more and drive less — burning fat rather than adding it.
Remarkably, in Ann Arbor you can approach a perfect Walk Score of 100, which means everything you want or need is within a short stroll. (Type in your address at walkscore.com, and covet our 98 "Walker's Paradise" score as residents of the Armory downtown.)
You're in quick walking and biking distance of world-class venues and destinations. And most households can manage with one car, saving of money, hassle and parking space. You can get more done in a day; there's less "overhead" in compact urban lifestyles.
There are other benefits of downtown living, such as the fiscal bounce to the city, which can more easily provide municipal services, as well as maintain a more compact infrastructure. There's a less automobile dependence and higher transit ridership, which cuts AA's energy/carbon footprint and reduces traffic. And there's a vibrant sidewalk life, for all ages and tastes, supporting and feeding off of downtown culture and commerce while building a cosmopolitan community.
So, for starters, the city should prioritize residential development over office space on these four lots. We have plenty of workers downtown — too many come the 5 o'clock rush hour! - but not enough permanent residents. We need as broad a demographic mix as possible — rich, poor and in-between, with a healthy ethnic, racial, age and size mix of households — and, like central cities the world over, some families with children. Downtown can be a 24/7 neighborhood as well as a central business district.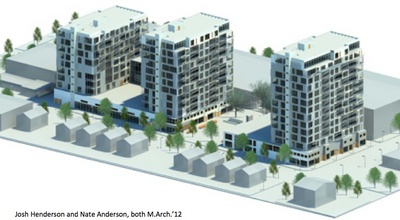 Courtesy of Doug Kelbaugh
So, sell the city lots to developers that focus on urban residential, with appropriate retail fronting the sidewalk and some office sandwiched between it and up to a dozen residential floors above. With market rate housing, mix in moderate and low-income units; some SROs to replace the 100 units lost on the former Y Lot; lease space to residents in the new parking garage to lower the required parking to less than one space per apartment or condo.
Don't rule out a hotel, as the market may want one, which would help activate the plaza day and night with public and private events like banquets and weddings. And require LEED-certified buildings with solar and green roofs and walls, as well as high-quality architecture.
Our downtown already has lively streets, none better than our prized Main Street. What we lack is true urban plazas — outdoor living rooms for both spontaneous and programmed activities that break and enrich the linear rhythm of our sidewalks. Two small ones would be enough for a downtown of our size. If they're too spacious or too open to the street, they can be too windswept, noisy and empty much of the time. They need a sense of enclosure, with user-friendly buildings on at least three sides that open onto the space, with people and wares spilling into the public realm.
These buildings should not overshadow the space, which want to be sunny as much of the day and year as possible to entice activity, whether art shows in summer or ice sculptures in winter. There are two wonderful possibilities for this kind of plaza in downtown.