Posted on
Mon, Feb 11, 2013 : 5:50 a.m.
Downtown Opportunities: Envisioning 2 new public plazas in downtown Ann Arbor
By Guest Column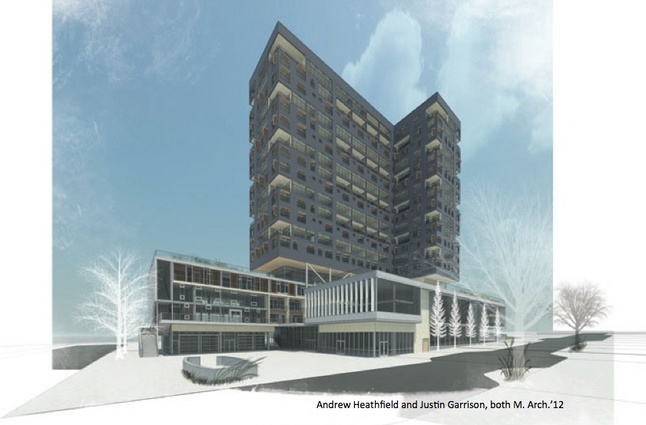 Courtesy of Doug Kelbaugh
Editor's note: This is the second installment of "Downtown Opportunities," a two-part guest column by University of Michigan professor Doug Kelbaugh, former dean of architecture and urban planning. In the first part, Kelbaugh offered points to consider as Ann Arbor officials ponder future redevelopment opportunities for four city-owned parking lots downtown. In the second part here, Kelbaugh discusses the potential, as he sees it, for two new public plaza spaces downtown.
The first possible plaza site, now staring us in the face, is on the "Library Lane lot." It sits strategically within what was an overly large block that Library Lane has sensibly cut in half. That block is strategically located at the center of the downtown core and needs careful design.
Why a plaza rather than a park here? Beyond attracting more residents and visitors to downtown, there are three reasons.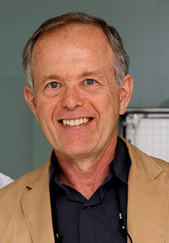 First, there is an architectural/engineering rationale: For structural reasons, the top of a parking garage is better suited for plaza than a park, which needs deep, heavy soil for trees and berms. An area or approximately 100' x 100' atop the garage has been engineered for open space rather than a building. (It can support some trees and plantings, but a plaza would have less than a park).
The parking garage is also designed to have buildings on the east and north sides, with the library south of the lane forming the third side of the plaza (which would be enlarged by 50' when Library Lane is closed from 5th Ave. for events. I'm not talking about a grand, open plaza, but a piazzetta - small enough to easily recognize a face or hail a friend, but large enough for outdoor dining, art shows, music, children's events, etc.)
The second reason is environmental — it is ecologically greener to have a dense, complete downtown than suburban sprawl, because, as noted in Part I, urban residents have smaller ecological footprints per capita. Arguably a plaza makes downtown more complete than another park. (Liberty Plaza is much more of a park than a plaza, because it is heavily planted, multi-leveled, has no shops or eateries fronting it, and is open to the streets on two sides. It is also physically possible to develop a true park on terra firma behind the "AA Spark" building owned by First Martin.)
Third, there is a fiscal rationale - the city can capture considerable cash from private development of the site rather than spend scarce public funds on a public park. The revenue from sale of this and the other three lots can be spent toward restoring fire and police cuts or whatever is deemed appropriate.
The other ideal plaza site is on S. Main Street, on the west side of the longest block. If the three small buildings (or the shops within them) immediately south of Gratzi Restaurant were moved to the "Palio lot" (the smallest of the four sites in the DDA study) or to the Ashley and William site, the corridor of Main Street could open into a well-defined public outdoor space.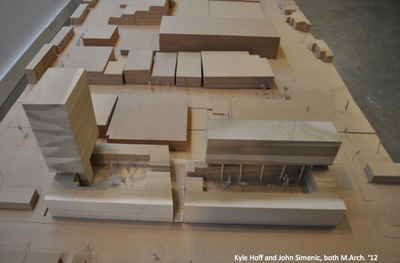 Courtesy of Doug Kelbaugh
It could easily open through to the "Ashley and William lot," and connect down to
the proposed Greenway
. It's a finite "place" that punctuates the otherwise endless streetscape, and it offers the right dimensions and sense of enclosure for pedestrian comfort.
In any case, new developments on the four sites need to remember that Liberty Street is the main link from campus to Main Street, and they need to be mindful that development on William Street should not compete with or dilute the most lively east-west corridor.
DDA has responsibly orchestrated a long process that involved voluminous community input. Their consultants' illustrative build-outs are on the timid side for our downtown core; there is no reason to keep building height below the legal D1 zoning limit of 180 feet. This typically 15 story height is not excessive if the high-rise core is clearly bounded by Huron,1st Ave, William and Division Streets.
Let high-rise buildings crisply define a discrete downtown that is distinctly taller than its environs and the campus. Keep the D1 zone on the south side of Huron, the east side of 1st, the north side of William, and the south side of Huron, which has the added, just-in-time benefit of shrinking the massive building proposed at 401-413 Huron, which completely overshadows the adjoining historic homes and Sloan Plaza. The D2 zone can transition to adjacent residential areas with buildings that can be up to 60 feet tall and relatively urban in size and character.
Like circling the wagons, a taller, more compact downtown core with plazas to complement street life will bring us smartly into the future, which is naturally unfolding as more urban land and energy prices rise along with air temperatures and community aspirations.