Posted on
Tue, Mar 8, 2011 : 12:13 p.m.
Drug felons will be prohibited from operating marijuana dispensaries, Ann Arbor officials decide
By Ryan J. Stanton
In a series of deliberations that lasted more than two hours, the Ann Arbor City Council made several revisions to a proposed medical marijuana licensing ordinance Monday night, but once again postponed voting to move the ordinance past first reading.
"I think we're taking a great deal of care to get this right," Mayor John Hieftje said in favor of delaying the vote another two weeks.
Council members amended the ordinance to clarify the rules surrounding felons who want to operate dispensaries in Ann Arbor — drawing upon state law, which prohibits drug felons from being caregivers. And so the city's stance is that drug felons cannot be dispensary owners, but other types of felons may be considered for licenses at the city's discretion.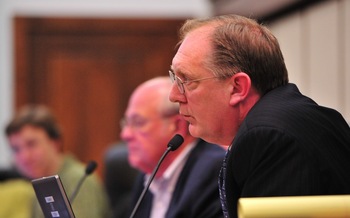 Ryan J. Stanton | AnnArbor.com
That could be bad news for medical marijuana entrepreneurs like T.J. Rice, who owns a dispensary in downtown Ann Arbor. Rice, who says he's been haunted by a past marijuana conviction for 14 years, has been trying to get the city to allow him to operate his business. (Felony drug charges have been filed against Rice. See the story.)

City Attorney Stephen Postema explained the city's rationale behind deciding to fully prohibit drug felons from operating dispensaries in Ann Arbor. Though the state law on medical marijuana says nothing about dispensaries, he said it clearly prohibits drug felons from being caregivers and so the city is extending that prohibition to dispensary owners.
"Certainly, felonies for drug convictions is covered under the statute, so they really can't be caregivers and that's determined by state law," he said.
The council also took action Monday night to redefine the terms "dispensary" and "cultivation facility," an issue that remains the subject of a pending lawsuit against the city.
"Medical marijuana dispensary means one or more caregivers operating at a fixed location in compliance with the Michigan Medical Marihuana Act, for the purpose of transferring medical marijuana at that location to one or more persons whose medical use of marijuana is protected under the Michigan Medical Marihuana Act," the definition now reads.
The definition of a cultivation facility was changed to "a structure or each space in a structure that is separately owned or leased by a person other than the owner of the structure, in which marijuana plants are being cultivated in compliance with the Michigan Medical Marihuana Act."
The council also clarified who sits on the city's dispensary licensing board, adding three at-large positions to be filled by residents. Two positions previously slotted for a caregiver and a patient were eliminated because the council decided — for the sake of privacy — not to force any prospective board members to have to identify themselves as such.
Council members debated whether to channel a portion of the revenue from dispensary license fees to local substance abuse programs. Some council members were in favor of it, citing potential unintended consequences of marijuana being available in larger quantities in the city. But the council ultimately voted against the proposal.
The council also made a number of decisions about licensing procedures and added to the rules about what information must go on a medical marijuana package.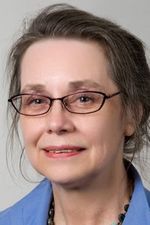 "If one were to get a package of medical marijuana, that package would contain the name and amount and source of the medical marijuana, so that's really important," said Council Member Sabra Briere, D-1st Ward, who brought forward many of the changes Monday night. "That's an important thing. If you do get ill, you need to know who to call. This tells you who."
The council was unable to come to agreement on what records — such as a list of suppliers and patients — must be kept on file at dispensaries, and whether those records should be made available to the city for review upon request. Hieftje and other council members said they wanted those records available to the city in case a patient became ill from a tainted marijuana product and the city wanted to trace the source, or notify other patients.
"I understand every dispensary keeps lists of suppliers, they keep lists of patients, they have that information for their own needs," Briere said, offering her own take on the dilemma. "The question is how available is that to the city, how available is that to a public health department, and in what condition is that information kept?"
Medical marijuana advocate Chuck Ream, who owns a dispensary in Ann Arbor, said there's an easy resolution to the debate.
"If there is any sort of public health reason, then yes, the dispensaries can turn over the names of the sources of the material to the city," he said. "But there should be no reason to turn it over unless there's a problem."
Ream offered mostly praise for the council.
"In general, I think they're trying to do a really sincere job and they're moving in the direction of protecting patients and caregivers, but this one problem is still a problem," he said.
Postema acknowledged after Monday's five-hour meeting that his office has some more homework to do before the ordinance comes back to council.
"There's a couple of issues we'll look at as to the record-keeping requirement, so we're looking at that again," he said. "The part that remained was that caregivers who provide to a dispensary, those names would be kept. And then the other question they had was further information about what's distributed to the patients."
The council also postponed voting Monday night on a supplemental resolution introduced by Briere to adopt a city policy of non-disclosure of certain medical marijuana information. The resolution outlines a list of specific personal information that — if provided to the city as part of the zoning or licensing process — would be protected against public disclosure.
After months of debate, Briere said she's happy to say the council is getting closer to passing the regulations. In fact, it almost looked like it was going to happen Monday night.
"I think that everybody on council has moved a lot closer together to where we think this is going," Briere said after the meeting. "I'm sorry that it took us two hours of really close discussion to get this far. I wish that we did this in a back room somewhere and we didn't bore our audience so much, but it's so important that we do it in public."
Briere said she hopes the council is done with tweaking the ordinance at its next meeting in two weeks. After that, the ordinance would go on to second reading and final approval.
"I'd love to see that we're done at the next meeting," Briere said. "I thought we were almost there tonight, but we still have little gaps in our knowledge of what we're going to do, so the procedures are still a little vague and we need those hammered together before we go to second reading. We need to be able to be confident that we know what we're expecting people to do in order to give them a license, and know confidently what we're expecting staff to do."
Ryan J. Stanton covers government and politics for AnnArbor.com. Reach him at ryanstanton@annarbor.com or 734-623-2529.