Associated Press:

License of drug wholesaler owned by former Ann Arbor school board member suspended

Posted on Wed, Jun 16, 2010 : 9:36 a.m.
The government said Tuesday it suspended the license of a Michigan-based drug wholesaler co-owned by former Ann Arbor school board member Randy Friedman after finding many customers in Florida were in illegal schemes to peddle powerful painkillers.
The action by the Drug Enforcement Administration means The Harvard Drug Group of Livonia is prohibited from handling controlled substances, which account for less than 10 percent of sales. It does not affect the company's ability to handle antibiotics and other medicine.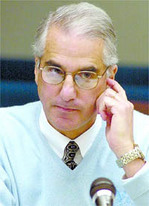 "Pharmaceutical companies have a responsibility to ensure that the drugs they sell don't end up in the hands of drug traffickers or businesses that are conducting their business illegally," the DEA's Detroit chief, Robert Corso, said in a statement. "Harvard Drug Group should have known, based on the large, frequent quantities, that their customers were diverting oxycodone into arenas that were not legitimate."
The suburban Detroit company, which describes itself as one of the top 10 wholesalers in North America, said it will seek to have its registration reinstated through an administrative hearing.
"Harvard recognizes our obligation to detect suspicious orders and diversion of controlled substances, and we have done everything in our power to do so," spokesman Michael Layne said in a statement.
"Along with the DEA, we find the diversion of controlled substances to be totally unacceptable and are dedicated to ensuring that the drugs we sell are distributed by registered, law-abiding entities," Layne said.
Friedman served on the Ann Arbor school board from 2002 until April, when he resigned for personal reasons. His children go to Detroit Country day school and he had bought a house in Birmingham.
After a hearing, the DEA will decide whether to permanently revoke the company's registration.
Harvard Drug distributed 13 million doses of oxycodone over a two-year period — a "big number," DEA spokesman Rich Isaacson said.
"The number of doses alone doesn't indicate anything nefarious," Isaacson said. "But by going through the records, we found very large amounts were going to offices where there were only a couple of physicians. That raised eyebrows."
He said 39 of Harvard Drug's top 50 pharmacy purchasers were in southern Florida.
"Our country has a huge problem with opiate painkillers in general. Florida seems to have a faster-growing problem than other regions," Isaacson said.
He said investigations were ongoing in Florida.
- By the Associated Press, with reporting by David Jesse of AnnArbor.com.