UPDATED:

Randy Friedman resigns from Ann Arbor school board

Posted on Mon, Apr 12, 2010 : 5:42 p.m.
Long-time Ann Arbor school board Treasurer Randy Friedman resigned from the board Monday evening.
In an e-mail to board President Deb Mexicotte and Superintendent Todd Roberts, Friedman said the move was made for personal reasons. In an e-mail to AnnArbor.com, he said he had no further comment.
Friedman recently listed his Ann Arbor house for sale. He owns a house in Birmingham, and his children attend Detroit County Day school.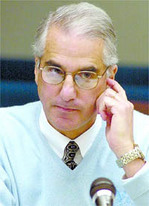 "I deeply regret to inform you of my decision to resign from the Ann Arbor School Board effective immediately," Friedman wrote in the e-mail, sent at 5:04 p.m. today. "This decision is based upon personal reasons, only. I will miss my association with you and will always carry a special place in my heart for Ann Arbor and its schools."
During his board tenure, Friedman was an advocate of looking at the social climate at the district's high schools and was influential in recruiting Roberts to become superintendent when George Fornero left.
He was first selected to the board in the fall of 2002, replacing a trustee who resigned. He was the second-longest tenured board member, behind Glenn Nelson, who was elected in June 2002.
"During the first year we were on the board, Randy and I were often on opposite ends of the issues," Nelson said. "Our relationship grew from there and became something I really valued. We found ourselves working together."
Nelson said Friedman was critical in the election of long-time trustee Karen Cross to board president, a move many say stabilized the board. Nelson said Friedman also played a "critical role" in the passage of the 2004 bond that built Skyline High School.
Friedman drew fire in November when it was disclosed that he had bought a 5,600-square-foot house to cut down on the commute between his Ann Arbor home and his children's school. At the time, he said he wanted to continue to serve on the board and said his primary residence would be in Ann Arbor.
Friedman's term was to expire in 2011.
He is the third board trustee to resign this school year, joining long-time board member Helen Gates-Bryant and newcomer Adam Hollier, who resigned months after being elected to the board.
The board appointed Simone Lightfoot and Christine Stead to fill those positions.
Board members will have to appoint a person to fill Friedman's seat until the next election, which falls in November. The person appointed will have to run then, joining Lightfoot, Stead, Mexicotte and board Trustee Susan Baskett, whose seats are also up for re-election.
Several board members said they can't remember a larger number of seats up for election at one time, even when the board had nine members.
"The November election for school board will be very critical in terms of education in the Ann Arbor school district," Nelson said.
David Jesse covers K-12 education for AnnArbor.com. He can be reached at davidjesse@annarbor.com or at 734-623-2534.