Posted on
Fri, Jun 1, 2012 : 5:58 a.m.
DTE Energy CEO on his commitment to Ann Arbor and cleaning up the MichCon site
By Ryan J. Stanton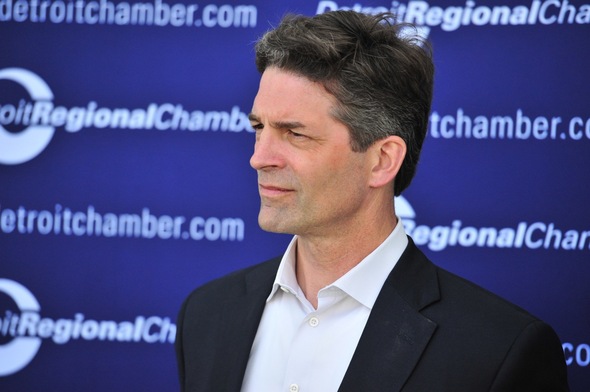 Ryan J. Stanton | AnnArbor.com
MACKINAC ISLAND —
Gerry Anderson
, president and chief executive officer of Detroit-based
DTE Energy
, says his company's commitment to Ann Arbor runs deep.
So deep, in fact, that DTE is undertaking a major cleanup of one of its properties along the Huron River in hopes that it might become a new riverfront park for the city.
Anderson, who lives in Ann Arbor and takes regular walks along the riverfront, talked about the role corporations play in the vitality of their communities during a panel discussion on Wednesday as part of the Detroit Regional Chamber's annual Mackinac Policy Conference.
Anderson has been in talks with Ann Arbor Mayor John Hieftje on how DTE can help transform the polluted MichCon site on the Huron River into a city park.
Beyond that, DTE is making major investments in Ann Arbor, where it continues to quietly expand its non-utility operations.
Michael Finney, CEO of the Michigan Economic Development Corp., touted DTE as a good example of corporate citizenship while on Mackinac Island this week.
He pointed out DTE and Consumers Energy were two of the original four partners in the state's Pure Michigan Business Connect program.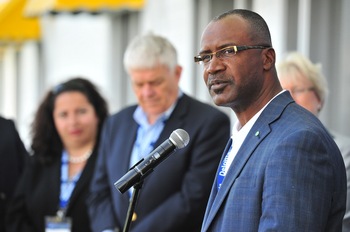 Ryan J. Stanton | AnnArbor.com
"Consumers Energy committed $250 million of new spending with Michigan-based companies and DTE did exactly the same thing," Finney said.
"What's really wonderful about the commitment we got from the utility companies is that they are both on target to exceed the commitments they've made. My understanding is DTE and Consumers have already exceeded $200 million of new Michigan spending in about one year."
They were expecting to meet their $250 million commitments in five years, Finney said, so they're going above and beyond expectations.
Anderson took a break during the conference to chat with AnnArbor.com about how he views DTE's role as a corporate citizen and its commitment to Ann Arbor.
Anderson is co-chairing the Detroit Regional Prosperity Campaign, an initiative announced this week to raise a minimum of $2 million annually in private sector funding to market Southeast Michigan to economic development and investment prospects.
AnnArbor.com: Continuing the conference's theme of corporate investment in communities, what can you tell me about what DTE is doing in Ann Arbor?
Anderson: What a lot of people don't know about DTE Energy is about 25 percent of our company now is outside of the two utilities and those businesses are headquartered in Ann Arbor. So if you go down to Main and William, that nine-story tower there is the headquarters to what we call our non-utility operations and we are operational in 24 states and employ about 1,000 people — not all in Ann Arbor, but many of them are in Michigan.
We started that in Ann Arbor back in the mid-90s and grew it from nothing to what's now probably a couple billion dollars of valuation, so kind of quietly we had our own entrepreneurship effort at DTE to expand beyond our utility services. We came to Ann Arbor because it's such a good place to attract talent and we draw people from around the country to be part of these businesses. And people want to come work where they want to live, and Ann Arbor is an easy place for us to draw that sort of talent.
It's a chance for us as a Michigan-headquartered company, with our headquarters for this part of the operation in Ann Arbor, to expand to the rest of the country, and then pull the benefits of that expansion back into the state, so I'd say that's probably the most fundamental investment that the company has made is the growth of that line of four businesses over the past decade.
We've got a renewable business headquartered there in Ann Arbor, we have an industrial energy services business, we have a natural gas pipeline development operation roughly from Chicago to New England, and then we have a trading company that goes head to head with other trading companies around the country and does very, very well.
AnnArbor.com: The MichCon site along the Huron River in Ann Arbor, which DTE is working to clean up, has gotten a lot of attention lately. The city has hopes of a portion of it becoming a new riverfront city park. What commitments has DTE made there?
Anderson: I've been working with John Hieftje and a number of other leaders on the vision for that. Interestingly, when I moved into my home, there was a parcel attached to the Arboretum called Dow Field, a beautiful field. I walked through it for years almost every day thinking it was a gift from the Dow Chemical Co. It turns out it was a gift from Detroit Edison, our predecessor, in honor of the death of the Detroit Edison CEO at the time, Alex Dow. Unbeknownst to me I was walking through a gift from my predecessor and it's a beautiful community asset.
I began to look at the former MichCon site and realized that it's a prime piece of waterfront property. It's a place that the city could front the river. We don't have many good places where you really could get a restaurant or activity like that right there on the water. So we've been working and fundamentally I came to the realization that the right use for this property is not one of our service centers. It's something different, and we're going to transition that to a multi-use property that would include natural space, that would work well with the whitewater developments that are under way there. And in addition, there would be a portion of that with details still to be determined that would include things like a restaurant and perhaps some retail that would face right down to the water itself.
AnnArbor.com: So basically everything city officials have talked about and hoped for with the MichCon site, you're on board with?
Anderson: We are working with them to make that happen, yes.
AnnArbor.com: What else can you tell me about DTE's commitment to investing in communities in terms of capital investment and renewable energy?
Anderson: We invest capital of $2 billion a year. It makes us the largest investor of capital in the state because we are so concentrated in Michigan, and most of that is environmentally driven at this point. We've got a big investment in renewables under way. We're $2 billion into an ultimate $3 billion investment to get to 10 percent by 2015. Another one is emission controls. Most people don't realize but emissions are now down to just a fraction of what they were a couple decades ago, but that comes with a lot of investment as well. It gives us a chance to play out this connection to Michigan suppliers, which has been a real positive for the company. A lot of that investment is being directed to suppliers based in Michigan.
AnnArbor.com: And a lot of this investment in renewables is in wind energy?
Anderson: The vast majority is wind. That's by far our most economic renewable resource. It's about a third of the cost of solar right now in Michigan, so that's the place to invest.
AnnArbor.com: Are we ever going to see wind farms in Washtenaw County or is that just not the place for it?
Anderson: It's not the place. It's farther north. But really the prime property now is up in the Thumb. We're getting very good results up there in terms of what they call capacity factor, what percent of the time does it spin. And we're up in the 40s now, which means 40 to 45 percent of the time. That's a great result, so that's the place.
Ryan J. Stanton covers government and politics for AnnArbor.com. Reach him at ryanstanton@annarbor.com or 734-623-2529. You also can follow him on Twitter or subscribe to AnnArbor.com's email newsletters.