Posted on
Sat, Oct 15, 2011 : 5:56 a.m.
MEDC CEO Michael Finney talks about the job of creating jobs in Michigan
By Ryan J. Stanton
When he started his new job as CEO of the Michigan Economic Development Corp. earlier this year, Michael Finney said he found out something strange.
The MEDC had protected the Pure Michigan tourism brand so much, Finney said, that other state departments shied away from it.
"As we were out selling other state departments on using Pure Michigan … we discovered that we had in fact told people that they couldn't use it," he said. "So we're trying to fix that now."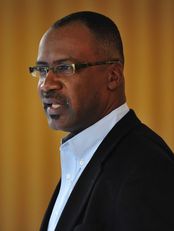 Finney addressed a crowd of about 125 people Friday during the
Ann Arbor/Ypsilanti Regional Chamber's
annual
Impact public policy forum
. He talked about the work the MEDC is doing to improve Michigan's brand, capitalizing on the familiar Pure Michigan campaign.
"We think the brand is so good that we really ought to extend it to everything that we do," he said. "So we've really adopted it as a business brand in addition to just being a tourism brand."
Finney, the former Ann Arbor SPARK CEO, gave credit to Gov. Rick Snyder and the Republican-controlled Legislature for slashing business taxes by $1.8 billion this year. He said that sends a strong message about the state's commitment to the business community.
"An 86 percent reduction in our business taxes in this state, that's huge," Finney said. "It's something that no other state has done in the past several years. In fact, many of our neighboring states are actually looking to increase the cost of business by increasing taxes."
Finney said nearly 100,000 businesses in Michigan no longer pay a business tax at all now, and that's a good step forward as the state brands itself as flexible and pro-business.
Instead of luring new companies into the state with tax credits, Finney said the MEDC is focusing on nurturing existing companies and finding ways to help them grow.
"Just think about the 100,000 companies that are no longer subject to the Michigan Business Tax," he said. "If those 100,000 companies could each add one or two jobs, we start to make a lot of impact on the 800,000 jobs that we've lost over the last decade or so."
But just reducing business taxes won't grow all the jobs Michigan needs, Finney said. He stressed the importance of developing business-to-business connections within the state.
"That's one of the things that we're doing now," he said. "I was amazed when I got to MEDC that there was no effort under way or interest in making business-to-business connections."
Finney said the MEDC started talking to companies like DTE Energy and Consumers Energy about ways to encourage them to buy more goods and services from Michigan-based companies. He said that led to a $500 million commitment from those two companies.
"My back-of-the-envelope calculation says that for every $100,000 to $200,000 of new sales to any business, that represents one new employee," he said. "So at $500 million, do the math and think about how many new employees that represents. Just because two companies have decided they're going to spend $500 million more with Michigan-based companies."
Finney said the question now is: What would happen if that gets extended to more and more businesses throughout the state?
"And by the way, we're out selling this as one of our tools that we'll have in our tool kit, and we've got a number of companies we're in negotiations with now to sign up," he said.
Finney said the state, for too many years, ignored the fact that it wasn't able to pay its bills, and so he respects the governor and Legislature for taking action to balance the budget.
"Michigan, for the first time in many years, is clearly on solid financial ground as a state," he said. "I think that actually positions all of our local units of government and other taxing jurisdictions — schools or otherwise — to actually be in a much better position going forward."
Finney said the automotive industry is still a part of Michigan's future.
"We want to take every automotive opportunity we can get, but we also have to tell the world that we can make other things," he said. "We can make aerospace, we can make medical device, we can make machine tool, we can make general industrial, and the list goes on. But somehow we've got to make sure that we're selling that as our capability."
Ryan J. Stanton covers government and politics for AnnArbor.com. Reach him at ryanstanton@annarbor.com or 734-623-2529. You also can follow him on Twitter or subscribe to AnnArbor.com's e-mail newsletters.