Posted on
Wed, Nov 14, 2012 : 5:22 p.m.
Ann Arbor's East Stadium Boulevard bridges officially open to traffic
By Amy Biolchini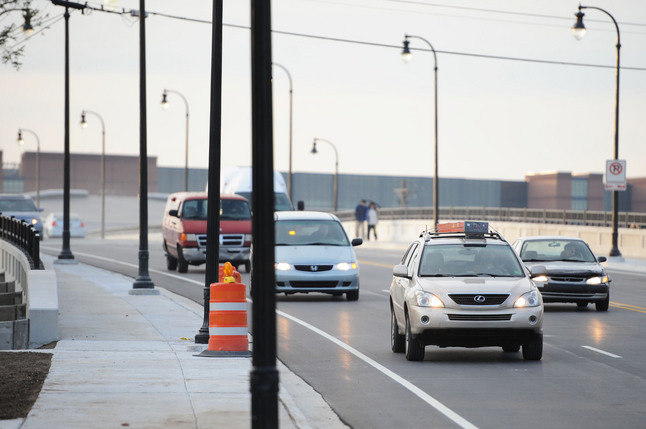 Melanie Maxwell | AnnArbor.com
Ann Arbor construction crews removed the "Road closed" signs on both sides of the East Stadium Boulevard bridges
about 4:10 p.m. Wednesday to the anticipation of many area drivers.
Automotive traffic immediately took to the newly-built structure, with many drivers honking enthusiastically as they drove across while workers who were still putting the finishing touches on the project waved back in acknowledgement.
No ceremony marked the opening of the bridge to traffic; only the removal of the signs from each side indicated to area motorists that they could drive over the bridge.
On the west side, cars lined up about three to four deep to be the first drivers to experience the bridges. On the east side, an eager motorcyclist skirted the barricades in advance of the road opening before he was instructed to turn around.
Michael Nearing, senior project manager for Ann Arbor, was on the site Wednesday to ensure that the final moments of the $22.8 million replacement of the 83-year-old spans over State Street went smoothly.
After several initial waves of cars and vans had zoomed across the 35 mph roadway for the first time, Nearing reflected on the road's opening.
"It's kind of anti-climactic," he said of the project that's been under way for about a year.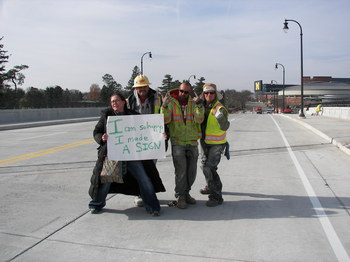 Courtesy of Kristin Sumrall
Motorists will likely experience some daytime lane closures on the new bridges, as some work still needs to be done, Nearing said.
Crews still need to clear the staging grounds for the construction that are just south of the bridge off of State Street. Additionally, the bridge needs to be cleaned of construction dust and several railings need to be installed on pedestrian staircases.
The new LED overhead street lights along the new East Stadium Boulevard bridges also need to be electronically synced. For the first several days, Nearing said they would be manually operated.
The spans of the old bridges had been crumbling and traffic was reduced to one lane in each direction from January 2009 until the bridges' demolition last year. More than 48,000 vehicles traveled on the old bridges per day, as the road is one of the main east to west corridors in Ann Arbor.
The project is funded in part by a $13.9 million, highly competitive federal grant secured in 2010 with the assistance of U.S. Rep. John Dingell, D-Dearborn. About $2.9 million of the project's funding is from the state of Michigan.
Amy Biolchini covers Washtenaw County, health and environmental issues for AnnArbor.com. Reach her at (734) 623-2552, amybiolchini@annarbor.com or on Twitter.