Posted on
Wed, Jun 19, 2013 : 5:56 a.m.
Eastern Michigan University athletics' $10.73M operating budget reliant on general fund
By Kellie Woodhouse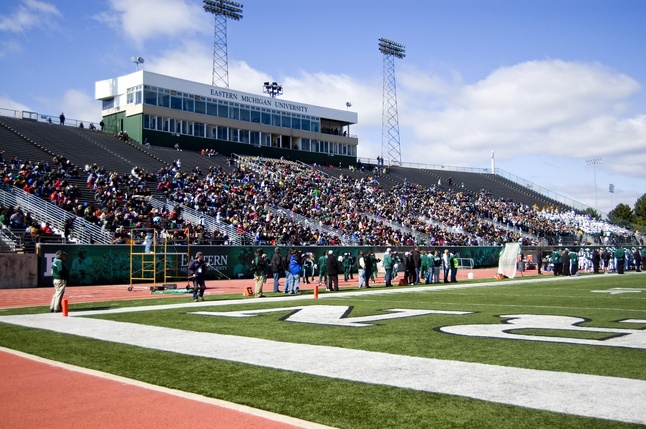 AnnArbor.com file
Eastern Michigan University
will adopt a $10.73 million operating budget for its athletic department, with $9.24 million funded using the school's general fund.
The athletic department will fund about 14 percent of its own expenses, down from roughly 18 percent in fiscal 2013 when its operating budget was $10.45 million. The amount the general fund supports the department's budget will grow by $460,000.
AnnArbor.com file photo
The operating budget does not include $7.1 million in scholarships for student athletes, which also are funded by the general fund.
EMU's eight-member Board of Regents approved the athletic budget and other budgets — including a 3.75 percent tuition hike — during a Tuesday meeting.
The dent EMU's athletic department makes on the school's general fund has long been controversial on campus. Some faculty and staff think the school should instead spend tuition dollars and state funding —which comprise the general fund— solely on academics and criticize EMU's revenue sports, which include football and basketball, as poor performing.
EMU's basketball team had seven wins and nine losses in the Mid-American Conference this year. The football team had one win and seven losses in the conference.
"I think it's clear that Eastern Michigan University spends too much money on athletics," said EMU business professor and head of the school's faculty union Howard J. Bunsis during the Tuesday regents meeting. "The dream of filling Rynearson stadium... is never going to happen."
He added: "The faculty is not against sports... but we just think it's too much money."
EMU's athletic department has the highest level of general fund support of any athletic department in the MAC, according to a USA Today database.
University President Susan Martin has been a strong supporter of EMU's athletic programs, saying sports create a dynamic college experience for students and are on their way toward becoming more self-supporting.
"We're a Division I program and we do spend money on athletics, but certainly it's fair to say that we hope the revenue-generating sports can generate more revenue," Martin said, also projecting changes to the MAC will bring in more money from TV spots.
"Everybody has an opinion about athletics. A lot of students come to schools that have athletics because they want that experience, whether to play or to participate as a fan," she said. "So you'll never have complete agreement about athletics on any campus, but I believe it's an important part of the college experience."
The most expensive team to operate on EMU's 21-sport roster is the football team, which annually costs $2.47 million. The least expensive team? Women's swimming, which costs $92,200 a year.
The department is expecting $1.68 million in revenue, down $185,000 from the 2013 fiscal year. That's in part because, per EMU's contract with Pepsi, the company pays EMU $150,000 every other year and on alternate years buys about 50,000 football tickets so the school can comply with NCAA attendance requirements.
EMU expects to receive $550,000 for playing Penn State during the 2013 football season, $850,000 for playing Rutgers University and $150,000 for playing Army. That money is counted outside the operating budget and is used for capital projects, MAC membership dues, marketing and select athletic expenses, such as bowl costs and a women's basketball tournament.
EMU basketball coach Rob Murphy annually makes a base salary of $210,000, with the possibility of bonuses, and football coach Ron English is the highest paid individual at EMU, bringing in $367,920 in 2011.
Kellie Woodhouse covers higher education for AnnArbor.com. Reach her at kelliewoodhouse@annarbor.com or 734-623-4602 and follow her on twitter.