Posted on
Thu, Oct 20, 2011 : 5:59 a.m.
Eastern Michigan University struggles to increase football attendance
By Kellie Woodhouse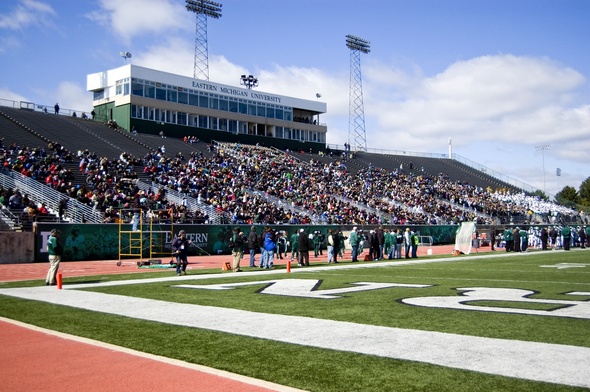 Joseph Tobianski | AnnArbor.com
Eastern Michigan University
has long struggled with poor attendance at its home football games.
And despite a surge of efforts from EMU's athletic department, EMU's three home games so far this season have averaged an attendance of 3,903 - well below the 15,000 required by the NCAA.
This year's most promising chance of a highly attended game will come Saturday when the Eagles match-off against Western Michigan University at EMU's homecoming game.
After a win against Central Michigan University last weekend, the Eagles are 4-3 going into their game against the Broncos. EMU football hasn't had such a winning start since 1995.
Additionally, EMU won't have to compete with its Ann Arbor neighbor for attention. Tens of thousands of University of Michigan fans won't be flocking to the Big House, as it's a bye week for the Wolverines.
The question is, will all these ingredients mix to give EMU the attendance it seeks?
Since 2005, the school has been thrice ranked last among fellow NCAA Division I Football Bowl Subdivision teams for attendance levels per game. Other years, EMU has ranked in the bottom 15 percent.
In fact, for the past decade EMU has kept its FBS status by selling tens of thousands of tickets to Pepsi —one of the corporate sponsors for the athletic department— during NCAA count years, which are every other year.
Last year, an NCAA count year, average attendance was about 6,400. To reach the 15,000-attendance level required for an FBS team, EMU sold Pepsi 50,000 tickets at $3 apiece. Tickets are normally sold at $9 apiece. EMU students receive free entry.
EMU also sold tickets to Pepsi in 2008 and 2006. Both years were NCAA count years.
EMU's entire athletic department made $133,000 in ticket sales last year and just $2,400 in concessions, according to NCAA figures. $16.5 million —or 83.4 percent— of athletic department funding comes from EMU's general fund, the highest percentage of general fund support among all 13 athletic departments in the Mid-American Conference. "We have a big stadium, and we have not been that competitive," said EMU President Susan Martin. She remarked that last year's 6,400 per-game attendance average was a 25 percent increase from the year before —when levels were at 5,000 per game— but not where the university wants to be.
"For some of the big games we should be doing better than that," Martin said. "We're seeing that build. We have a lot more work to do, but I'm confident that we're going to see increased attendance."
To increase attendance, EMU has begun offering money to local school systems to get fans filling the seats at Rynearson Stadium, which can hold 30,200 fans.
Last fall the university launched a ticket stimulus program that offers free tickets to students, faculty and staff from more than a dozen local school districts. In addition to the free entry, EMU donates a dollar to a student's school district every time they attend a game.
"We thought 'How could we help teachers? How could we help students? And how could we help get more people to the games?'" said Ted Coutilish, who is in charge of marketing EMU's athletic programs.
Coutilish said that last year EMU sold about 3,000 tickets through the stimulus program.
The school also has moved from a traditional marketing scheme consisting of billboards and media ads to a grass-roots method that thrives on events.
Every Thursday, EMU's athletic department hosts a lunchtime tailgate party on campus with music, food and giveaways. Every sports season the school has athletes serve EMU students and faculty at a picnic.
"We've switched the way we do things, and we saw a big push up in the attendance last year with both basketball and football from that approach," Coutilish said. "The story I think is a positive one: That we were able to increase attendance… we put in a lot of effort."
But even though the Eagles are undefeated at home this year, attendance levels at the next three home games will need to increase if EMU doesn't want a repeat of 2009, when EMU's attendance levels were at record-lows and game averages were at least 5,000 fans fewer than all other FBS schools.
Coutilish in part blames this year's low attendance on the weather.
So far this year, each of EMU's home games has coincided with rainy weather. The first game, against Howard University, was canceled and postponed to the next day. Coutilish estimates that 6,700 people showed up to attend the rainy opener Sept. 3, the day it was canceled. But attendance levels shrunk to 3,563 during the rain date, Sept. 4.
The next game, on Sept. 10, saw 4,771 fans. But attendance at the Oct. 1 game slipped to the lowest level of the year, 3,375.
"At the last two games, we had severe thunderstorms and raining for at least part of the game," Coutilish said. "The weather plays a big role in attendance."
Coutilish said that EMU's proximity to the University of Michigan —which is consistently among the top ranked universities in football attendance and has the largest football venue in the nation— is not helpful.
"There's no other university in the state that has another university 6 to 7 miles away," he said. "Certainly that is a factor, but we don't try to get involved in what they're doing."
Three of EMU's six home games are scheduled on the same day as U-M home games this year.
Below is the average attendance at EMU football games for seven of the past eight years, according to NCAA attendance figures:
2010: 15,885
2009: 5,016
2008: 18,951
2007: 7,448
2006: 14, 734
2005: 5,219
2004: not available
2003: 11, 258
Kellie Woodhouse covers higher education for AnnArbor.com. Reach her at kelliewoodhouse@annarbor.com or 734-623-4602 and follow her on twitter.