Posted on
Tue, Oct 30, 2012 : 2:59 p.m.
Eastern Michigan University to open 3 new charters in Ypsilanti and Detroit
By Kellie Woodhouse
Eastern Michigan University is adding two charter schools in Detroit and one in the current Willow Run school district near Ypsilanti to its growing stock of public academies.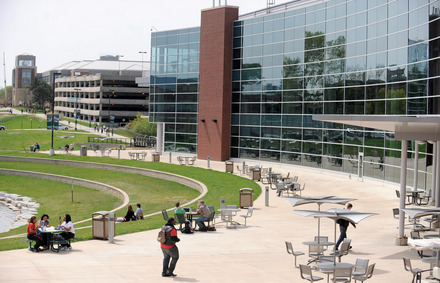 File photo
The schools are slated to open next fall.
They mark the first new schools to be chartered by EMU since 1999, four years after it began opening charter schools.
EMU regents approved the new schools during their meeting Tuesday.
The new school — at 1715 Forest St.— in the Willow Run school district will be named Global Tech Academy. It will be the second EMU charter in Washtenaw County. The school will offer kindergarten through fifth-grade education for 250 students.
Malverne Winborne, director of the Charter School Program at EMU, called the charters "an ideal option for providing a quality education for the youth of Michigan."
Charter schools are publicly funded schools that operate independently from the public school districts in which they are located. They are governed by a charter, held by a chartering authority. In Michigan, those authorities include universities and community colleges and school districts.
The approval of the new schools comes a week before residents of the Ypsilanti and Willow Run school districts will take to the polls to decide whether to consolidate the two struggling school districts. In addition to their financial problems, these districts have lost hundreds of students in the past five years — most to charter schools.
In the 2010-11 school year, Willow Run saw more than 400 of its students enroll in a charter school. More than 800 children with addresses in the Ypsilanti district attended a charter school.
Global Tech Academy would be the sixth charter school to open in the Ypsilanti area.
Angela Cesere | AnnArbor.com
This fall, South Pointe Scholars Academy, a K-6 charter, and WSC Academy, a high school charter, opened. South Pointe received 1,274 applications this fall and turned away 670 students. About 30 percent of the school's students have addresses in the Ypsilanti and Willow Run school districts, South Point officials said.
Washtenaw Intermediate School District Superintendent Scott Menzel said, given the impact the existing charters have had on the Ypsilanti and Willow Run districts already, he is disheartened to learn of the new charter.
"It will certainly be a disappointment and a concern. It accelerates the continued drain of students from the two districts and continues to take taxpayer dollars away from these districts, which are already in debt," Menzel said.
Winborne is not new to such criticisms.
"We run into those who favor it and those who oppose it. Our concern is the students and families," he said. "In the charter school world parents vote with their feet. If they're not receiving services they will leave."
Meanwhile, in an effort to help the Ypsilanti and Willow Run public school districts, state Rep. David Rutledge, D-Superior Township, has introduced legislation that would require a three-year moratorium on any new charter schools opening within a newly consolidated school district.
The three schools opening include:
Boggs Education Center, which will be located within the Detroit Public School District and have a total of 304 students. The school has selected to implement a Place-Based Education Program, a nationally renowned and research-based model that immerses students in local heritage, cultures, landscapes, opportunities and experiences, using these as a foundation for the study of academic subjects. Boggs Education Center will offer grades K-3 initially and K-12 at capacity, and will be located at 1501 Canton St., Detroit.
Detroit Public Safety Academy, also located within the Detroit Public School District, which will have 250 students upon opening and a total of 500 students at capacity. The academy's focus will be educating and training students who are interested in police and firefighter technology, specifically addressing under-represented populations in these careers. Local and state federal police agencies and municipal firefighters will assist with tutoring, mentoring and life skills development. The academy plans to provide provide school-to-university-to career readiness as well as teach the essential pillars of character education. It will offer grades 9 and 10 for the first year, and increase to grades 9-12 at capacity. The school will be located 1250 Rosa Parks Blvd., Detroit, MI.
Global Tech Academy, which will be located in the Willow Run School District. The school will an after-school program as well as a universal breakfast and lunch program. With Eastern's Office of Urban Education Educational Equity (OUEEE) as a partner, Global Tech Academy will become a professional development school for the preparation of urban teachers. The school will offer grades K-5 and a capacity of 250.
The charter contracts will be effective July 1, 2013.
When EMU announced intentions to open more charter schools, 21 potential schools applied. The pool was whittled down to 10 applicants and three were selected.
Once the three schools come on-line, EMU will operate 11 charters located in Wayne, Oakland, Washtenaw and Genesee counties.
Staff reporter Danielle Arndt contributed to this report.
Kellie Woodhouse covers higher education for AnnArbor.com. Reach her at kelliewoodhouse@annarbor.com or 734-623-4602 and follow her on twitter.