Posted on
Sat, Oct 15, 2011 : 8:06 p.m.
Eastern Michigan scores in final minute, wins 35-28 at Central Michigan
By Joseph Tobianski

Updated
MOUNT PLEASANT -- The Central Michigan football team finally gave its homecoming day crowd something to cheer about with a furious late rally to tie its game with Eastern Michigan.
But as fast as the Chippewas had the majority of the 17,158 fans on their feet and cheering, Eastern Michigan dropped their jaws in disbelief, scoring on a drive that took 32 seconds for a 35-28 win at Kelly/Shorts Stadium on Saturday afternoon.
Eastern Michigan quarterback Alex Gillett scored on a 30-yard run with 37 seconds remaining to give the Eagles their first road win of the season.
And the Eagles (4-3, 2-1 Mid-American Conference) did it in the fashion coach Ron English has stressed he wants to win -- by running the ball and stopping the run.
Eastern Michigan outgained the Chippewas 350-98 on the ground, with the Eagles' "Greene and White" tandem doing much of the damage.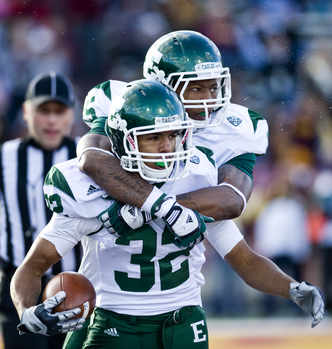 Joe Tobianski | AnnArbor.com
Sophomore
Javonti Greene
finished with 104 yards and three touchdowns on 19 carries while junior
Dominique White
ran for a game-high 161 yards and one score on 19 attempts.
"The 'Greene and White' did a nice job today," English said. "Javonti practiced well this week and I knew he was going to play well. And Dominique came out early and really made some nice runs."
But it was Gillett who had the biggest run of the game, capping a late scoring drive after it appeared the Chippewas (2-5, 1-2) had rallied to force overtime.
The Eagles held what looked like a safe 28-13 lead with 5:39 left in the game, but Central Michigan quarterback Ryan Radcliff threw two late touchdown passes and a two-point conversion to tie the game at 28-28 with 1:09 left.
Gillett accounted for every inch of Eastern's game-winning drive, hitting Trey Hunter for a 14-yard pass before covering the final 50 yards with two runs.
"We were disgusted," Central Michigan coach Dan Enos said. "We had momentum, and thought if the game went to overtime, we had a good chance to win. But their quarterback scrambles for 20 yards, and then goes untouched for the touchdown. That really hurt, and the guys were dejected."
Central Michigan threatened to answer right back, advancing its ensuing possession to the Eastern Michigan 28-yard-line before junior cornerback Marcel Rose intercepted Radcliff on the final play of the game.
English said he wasn't surprised by the Chippewas' comeback attempt.
"The one thing about rivalry games is you have to be able to win them in the end," English said. "There are tremendous highs and tremendous lows, but what happens is both sides usually keep playing because it means so much to everybody."
The Eastern Michigan ground attack was most dominant in the third quarter, when the Eagles held the ball for the majority of the quarter, including a 16-play, 80-yard drive that took a little more than seven minutes.
"I told our team (Friday night), the team that rushes for more yards would win," Enos said. "And you have to give them credit, because they handled us up front. Basically, they handled our defensive line and linebackers, and it's hard to win when that happens."
But the Chippewas still had a chance to win thanks to Radcliff, who finished with 351 yards passing and three touchdowns.
"In the third quarter, we had the ball one time, and it's hard to establish a running game when that happens," Enos said. "It's hard to do that when you are down and its the fourth quarter already."
The Grand Rapids Press contributed to this report.