Posted on
Wed, Jul 17, 2013 : 5:59 a.m.
Ann Arbor superintendent finalist stresses communication, isn't fan of zero-based budgeting
By Danielle Arndt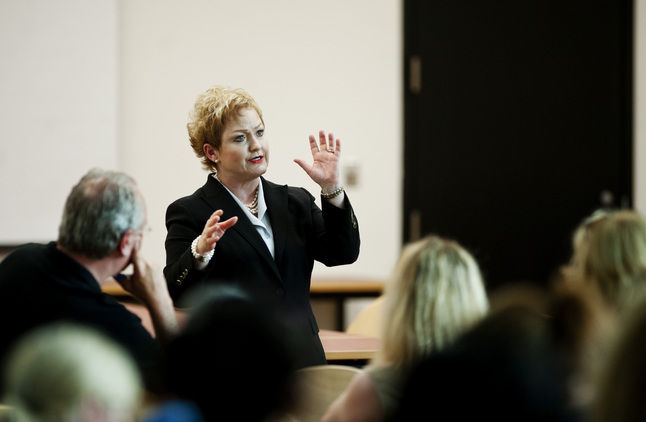 Daniel Brenner | AnnArbor.com
Related coverage:
Transparency, an open door and frequent communication — that's what superintendent finalist Jeanice Kerr Swift says Ann Arbor would get if the Board of Education picks her as the district's next leader.
The Ann Arbor school board is hosting both Swift and fellow superintendent finalist Brian Osborne in the district this week for a final round of interviews and opportunities to meet with Ann Arbor schools employees and community members.
Swift had her turn in the hot seat Tuesday, whereas Osborne will have his site visit and interviews Wednesday.
During two public meetings, Swift outlined her leadership philosophies and experiences in her current position as assistant superintendent of instruction, curriculum and student services that have prepared her for a role in Ann Arbor.
An important topic of discussion during the board's final interview portion of Tuesday brought out a difference between Swift's philosophies and the current direction of the district. Vice President Christine Stead asked about Swift's budget practices and financial controls that Swift would implement, if the need arose.
The discussion revealed Swift has experience with both zero-based budgeting, which the district is transitioning to, and department-driven cuts, which the district has, in part, been using. Swift said her preference, and what has worked best for her current district, is the latter method of asking each division or department in the district to "generate a top-3 to -5 list of ideas for both generating revenues and reducing expenditures so you form a menu of options."
"Then you take that menu and vet it through staff, through the board and through the community," Swift explained. "The important component is to get the menu of options out into the community. That's when you begin to understand what the ideas would do on the ground and begin to analyze what are opportunities, what are the threats, what are the potential problems and likely solutions. ... As you move through that process, you'll begin to dismiss some ideas and some will rise as being worthy of pursuing."
It is a process that is similar to the one now-retired Superintendent Patricia Green has been warning the district against. Swift said she is not opposed to zero-based budgeting, but sees the menu approach as being more efficient and as taking less staff time.
She said if she is hired as Ann Arbor's superintendent, she would move forward with implementing zero-based budgeting if it were the will of the board and the community.
Board President Deb Mexicotte said after Tuesday afternoon's meeting, that it's the district's intention to continue progressing with zero-based budgeting, no matter who the new superintendent is.
"The idea that we are moving in that direction to understand our budget better is not mutually exclusive with many of the other pieces that may be brought to us by new (superintendent) candidates," Meixcotte said. "That's the great thing about interviews and bringing in a new superintendent is that they are going to bring their experience, their ideas, but that doesn't mean we aren't still on a path to moving toward line-item (accountability) and ZBB."
At Tuesday's Q-and-A session with the community, Swift impressed many of the nearly 40 attendees with her kind demeanor, passion and heart.
"I thought that she was very bright and on task with what she was covering," said Carolyn Grawi, the director of advocacy and education for the Ann Arbor Center for Independent Living. "I would have loved to have had more detail though."
Grawi said she felt like Swift's heart is in the right place and that she wants to do the right thing.
"She wants to keep the school district (exceptional) and wants to bring the community together … so if this is who we pick, and I don't know the other guy yet ... great," Grawi said. "We have a very diverse community. We need to find a way to use our diversity to build inclusion, not divisiveness and to make ourselves stronger."
Grawi felt Swift could accomplish this.
A few parents and teachers were concerned that Swift may not fully understand or appreciate the situation she is walking into, however.
Lawton Elementary School teacher Laurie Moore said the leadership displayed by both the board and Green, who retired July 9, during the past two years has been "less than exceptional."
Moore said staff morale is incredibly low; Ann Arbor is in a state where the sitting governor doesn't value public education; the current board and former administration seemed to operate the district by enlisting fear, rather than respecting the professional opinions of all employees; and the board also, about a year ago, identified a lack of trust as being an issue among trustees, leading to inefficiencies and long meetings.
"I'm excited because I really think she (Swift) did a nice job," Moore said, adding she is just worried because she doesn't get a sense that Swift is fully aware of the unstable environment she would face when entering the district, especially if the district continues to pursue redistricting for the 2014-15 school year, which is the plan.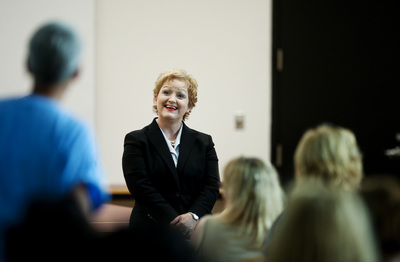 Daniel Brenner | AnnArbor.com
But Swift has extensive experience with taking the heat from the public and with taking the heat for redistricting, especially. In her final interview with the board Tuesday afternoon, she talked about how closing school buildings is incredibly difficult and brings out an ugliness in people, but only because people are deeply connected to the history of their schools and want what's best for their children. She says she has handled this before and could handle it again.
Her district in Colorado Springs closed eight elementary schools in 2008-09 and just recently closed a comprehensive high school.
As for building trust on the board, she said in an interview after the evening Q-&-A session that it's a balancing act because she would be the board's employee. However, she said she still believes that together, "the great process of improvement can be continued."
"It's in all of our best interests to be as efficient in every way that we possibly can. I understand the long meetings when long meetings are getting to the bottom of issues. … But I believe in setting an example of communication, particularly from the superintendent side," Swift said.
Swift acknowledged that moving from a No. 2 position to the No. 1 position would require more board interaction than she has had previously, she but did stress that she has worked closely with her board in Colorado Springs, especially during the school building reutilization process the district recently completed. Swift said there are three things she would do right away to try to learn more about the district, it's strengths and weaknesses, accomplishments and struggles.
"The first is to lead by listening. That is my leadership approach. I will provide transparent and open and frequent communication," she said. "I've always been that way. I'm someone who likes to engage with the community in forums and the schools. I have to be engaging with folks on a regular basis. And you can rely on me to follow up if you ask me a question."
The other aspects of Swift's process for successfully getting acclimated with the district are outlined in the 90-day entry plan that she presented Tuesday to the board and public.
The second finalist, Osborne, current superintendent of South Orange-Maplewood School District in New Jersey, will have his second interview with the board at 1:15 p.m. Wednesday at Skyline High School. He also will present a 90-day entry plan to trustees. At 7 p.m. Wednesday at Skyline, he also will engage in a community Q-&-A session, where members of the public can ask him about key issues related to AAPS and his experiences.
AnnArbor.com will be live blogging from both events.
Danielle Arndt covers K-12 education for AnnArbor.com. Follow her on Twitter @DanielleArndt or email her at daniellearndt@annarbor.com.