Posted on
Sat, Jan 12, 2013 : 7:25 p.m.
All Ann Arbor, Willow Run and Ypsilanti school buses pass inspection for 1st time since WISD consortium
By Danielle Arndt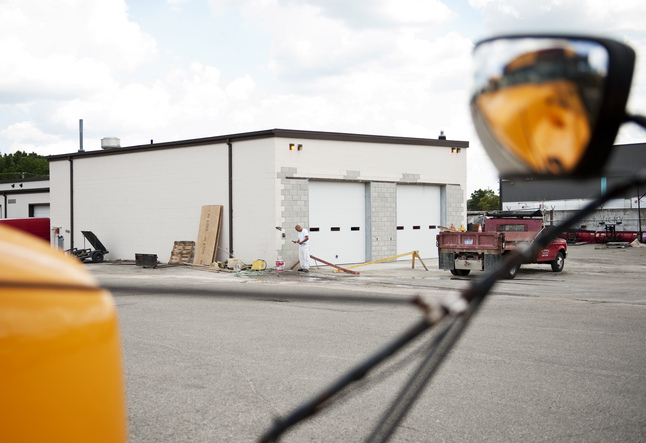 Daniel Brenner | AnnArbor.com file photo
Students will not find any duct tape holding together the seats of the
Washtenaw Intermediate School District
's buses, according to the results of a recent
Michigan State Police
inspection.
WISD Transportation Director Thomas Moore said police found all 183 WISD buses to be in tip-top shape during the WISD's inspection, which began in mid-November and wrapped up Jan. 4, .
The fleet received a 100-percent passing rate.
The WISD has conducted student transportation for Ann Arbor, Ypsilanti and Willow Run schools since the three districts formed a consortium and agreed to share services in 2010. The transportation consortium initially was expected to include all 10 traditional public school districts in the county, but the remaining districts backed out.
Police inspect all of the school buses in the state on an annual basis. This is the first time since the WISD launched its transportation collaborative with Ann Arbor, Ypsilanti and Willow Run schools that all buses have passed the inspection. Last year, three buses were red-tagged, which means the vehicles cannot be used to transport students until the infractions are corrected.
In total for the 2011-12 academic year, state police red-tagged 1,275 buses out of 16,911 inspected.
Moore said having all of the WISD's buses pass their inspection is a "huge accomplishment," especially considering its fleet is pretty old.
"Our newest buses are three years of age and our oldest are 15," he said. "The state recommends the life of a bus at 10 to 12 years of age."
Moore said all of the WISD's buses are safe.
"If they weren't safe, they would have been red-tagged and parked to sell for parts. But with older buses it's challenging. They require more maintenance."
Moore said police tag buses for a variety of reasons — brake concerns, tire depth, cracked or leaking hoses, the engine light on, a taillight out and more.
A big focus is bus seats, Moore said, explaining that because buses don't have seatbelts, their seats are designed as a passive restraint system so in the event of a crash, the students bounce around in between the seats and remain unharmed.
If the seats don't have enough give or have tears in the seat covers or padding, the police inspector can red-tag the buses, Moore said.
The WISD has eight full-time mechanics that are responsible for keeping the fleet "road-ready." At any given time, 155 of the WISD's 183 buses are assigned to routes, so technically the intermediate school district has 28 "spare" buses.
But Moore said the spares must be in proper working order as well because on an average day, between the two bus garages, mechanics will have about 30 buses come in and out of the garage to be repaired or evaluated.
"Buses are mechanical beasts when they break down. Our mechanics have done a fantastic job this year staying on top of preventative maintenance," Moore said.
Drivers are required to conduct pre-trip inspections of their buses each time they go to take their bus out of the garage for a route.
The WISD has struggled with driver turnover since the start of the Ann Arbor, Ypsilanti and Willow Run transportation consortium. New bus drivers or constantly changing drivers, shouldn't have a negative impact on bus maintenance, however, Moore said.
"There really shouldn't be a difference in a new driver or an old driver on how the buses hold up," he said. "If anything, the newer bus driver is paying more attention to details because they are not as familiar with the smells and sounds of their particular bus. So they're bringing them into the garage more often. … It's just a matter of becoming familiar with your vehicle."
Danielle Arndt covers K-12 education for AnnArbor.com. Follow her on Twitter @DanielleArndt or email her at daniellearndt@annarbor.com.