Posted on
Fri, Aug 31, 2012 : 5:57 a.m.
WISD takes on biggest challenge: 50 percent turnover of bus drivers
By Katrease Stafford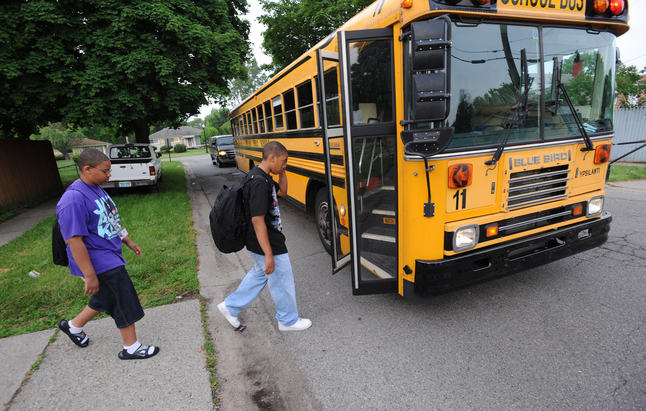 AnnArbor.com file photo
Since the Ann Arbor, Willow Run and Ypsilanti schools entered into a transportation consortium two years ago, the districts have experienced a more than 50 percent turnover in bus drivers.
"That's due to changes and retirement," said Washtenaw Intermediate School District Transportation Director Thomas Moore. "Changes driven by decisions made up in Lansing, but it's normal and people do retire."
During the 2009-10 school year, all 10 school districts in the county agreed to study the feasibility of sharing transportation services. In the summer of 2010, it was agreed that Ann Arbor, Ypsilanti and Willow Run would form the consortium.
"We created this new department and we've hired and trained a number of drivers," Moore said. "Of the current drivers we have, more than 50 percent are new. ... That's been our biggest challenge."
Challenges also have occurred because of changes made within the districts, Moore said.
One bus route each was eliminated from Skyline, Huron and Pioneer high schools. Moore said students affected were given passes for the school year to ride Ann Arbor Transportation Authority buses.
Bryant Elementary and Pattengill Elementary students now will be riding the same bus.
AnnArbor.com reported Monday that Ypsilanti Public Schools students will start classes Sept. 5 from 10 to 40 minutes later than last year in a move designed to save money.
The start time change will save nearly $500,000 by reducing the total number of buses and drivers on the road.
"We went from a three-tier busing plan to four tier which allows us to reduce the size of our fleet by 10 buses, therefore saving the school district money," Moore said.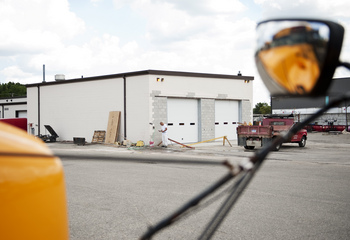 Daniel Brenner I AnnArbor.com
Ypsilanti and Willow Run have
combined transportation
facilities and the WISD will spend $405,745 to renovate the existing Willow Run transportation facility, the Sampson Building at
145 Spencer Lane
.
Moore said he met Thursday with the construction team and the renovations are expected to be completed by the start of school.
All together, the WISD has 169 bus drivers, 60 monitors, 8 mechanics and 14 staff members.
There are 120 drivers in Ann Arbor, 30 in Ypsilanti and 19 in Willow Run. Included in those numbers are substitute drivers who are on call and used as need.
WISD bus drivers can work between 20 and 37 hours a week and wages start at $13 per hour.
As the economy continues to improve, people start to look for full-time positions, Moore said, and some people leave their part-time jobs.
"People looking for supplemental income, who love kids and enjoy driving, it's a great job for them," Moore said. "Those looking for 40 hour jobs, this job is not going to meet their needs."
"We found that during high periods of time, people came to us for work and when the economy got better, they left," he said. "This led to the turnover and it's just the local, state and national condition."
While the WISD has enough personnel, including the substitute drivers, to meet the demands of the three school districts, Moore said it's become "increasingly difficult" to find suitable candidates.
Moore is looking to add six additional drivers.
"It's a challenging mission and it's an everyday challenge we face in recruiting and retaining people," Moore said. "We advertise aggressively in every form."
Despite the looming budget issues and recent changes implemented in all three districts, Moore said he isn't worried.
"Our job is to transport the students and we want to do that effectively," he said. "As long as we do our job well we're not worried and we expect to have a very good start up and school year.
"What happens beyond that is beyond our control and we're looking to save the district as much money so they can return it to the classroom where it can be used most effectively."
Katrease Stafford covers Ypsilanti for AnnArbor.com.Reach her at katreasestafford@annarbor.com or 734-623-2548 and follow her on twitter.