Posted on
Thu, Jan 31, 2013 : 9 a.m.
Ann Arbor Huron high schoolers to debut reality TV show-inspired competition this weekend
By Danielle Arndt
It may not have the acclaim of British entertainment mogul Simon Cowell's "The X-Factor," but it certainly has the heart.
A group of Ann Arbor teenagers will bring a reality TV show-inspired talent competition to the Huron High School stage Saturday night.
Youth Factor is the brainchild of junior Andy Hsiao, founder of Youth Impact, a new Huron after-school club. The community event will begin at 8 p.m. and feature a panel of celebrity judges and 13 competitors from five Ann Arbor high schools — Community, Huron, Pioneer, Skyline and private high school Greenhills School.
The final 13 contestants represent various categories of talent. There are singers, dancers and musicians. The final 13 will perform in a concert with judges making comments and giving feedback after each act, Hsiao said.
Tickets for the show cost $10 for students and $15 for adults. The audience will select the winner of the competition using a text-to-vote method after all of the finalists have performed.
Hsiao and the Youth Impact organization are trying to raise $6,000 for the Take Heart Association's Hearts for Kids project. The Take Heart Association strives to provide life-saving surgeries, support, resources and hope to families of underprivileged children in Kenya and East Africa who suffer from heart defects and disease, the website says.
The student-run club conducted a Pizza Showdown in November, also for the Take Heart Association, and raised $1,800 toward its goal. Youth Impact has been collecting jars of change in Huron's classrooms as well to benefit their cause.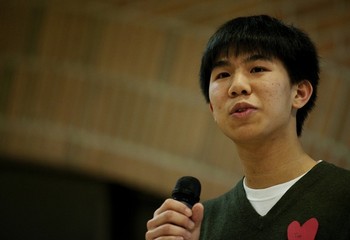 Daniel Brenner | AnnArbor.com
To become a finalist in the Youth Factor competition, students had to submit a video of themselves performing. The videos were uploaded to the Youth Impact group's
website
. On the site, community members could vote for their favorite acts. Hsiao said the group originally received 26 submissions.
People could click the "thumbs up" button to vote for which acts they would like to see in the final show.
"Many people voted for their friends," Hsiao said. "And it really got the contestants involved in advertising for the event because they'd post it on their Facebook pages and other social media to get people to vote them in."
The thumbs-up system was set up so only one vote per video could be tallied per wireless router. Hsiao said this was so people couldn't skew the results by voting multiple times via their computer, iPhone and iPad, for example.
He said the voting brought increased awareness to the club and its cause. Youth Impact's website received 35,000 hits in a week during the voting period, and some acts' videos generated more than 400 thumbs up, Hsiao said.
The Youth Factor show and concept is very similar to another local high school talent competition FutureStars, which took place this year on Jan. 19 at Pioneer High School. The PHS Theatre Guild presents this annual show.
Hsiao said the biggest difference between Youth Factor and FutureStars is FutureStars' primary purpose is entertainment, whereas Youth Factor's purpose is to raise money for a cause.
"FutureStars is a great event and in no way are we trying to compare to that or to make Huron look good or anything," he said. "We just wanted a fun way to raise some money and involve more students in our cause."
The text-to-vote finish, where audience members choose the winner, also differentiates the two talent shows.
"We wanted it to be more like those TV singing shows like 'The X Factor' or 'American Idol'," he said.
While Hsiao is happy with how this year's debut event has gone so far, there are some elements he intends to change for next year, the first being the timing. He said a number of the other high schools in the area have events on Saturday and the preliminary round was very close to FutureStars and final exams, which he said might have affected how many students were able to participate in the competition.
Visit Youth Impact's website to reserve tickets in advance. Tickets may be purchased at the door.
The 13 finalists in Youth Factor are:
Juliane Berger, Pioneer High School
Morgan Bugard, Pioneer High School
Diana Chen, Skyline High School
Maya Dalack, Huron High School
Mai Endo, Pioneer High School
Carmen Flesher, Skyline High School
Jacob Johnson, Community High School
Adam Kahana, Pioneer High School
Overtones, Huron High School
Zoie Palan, Skyline High School
Emma Rickman, Greenhills School
Styles Unknown, Pioneer High School
Type Three, Pioneer High School
Danielle Arndt covers K-12 education for AnnArbor.com. Follow her on Twitter @DanielleArndt or email her at daniellearndt@annarbor.com.