Posted on
Fri, Jul 19, 2013 : 5:59 a.m.
Ann Arbor Public Schools to call back 1st of 233 laid-off teachers
By Danielle Arndt
The Ann Arbor Public Schools will call back its first group of laid-off teachers Friday.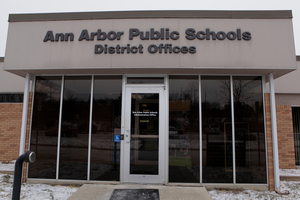 AnnArbor.com file photo
The
Board of Education
voted in May to
issue pink slips
to 233 teachers to help address the district's about $8.7 million budget shortfall for the 2013-14 academic year.
Most of the 233 teachers gradually will be called back before the start of school in September, but about 37 teachers are expected to be out of a job as a result of the budget the board passed in June, which calls for the reduction of 27 undesignated teachers, 3 FTEs from Skyline High School, 4 physical education teacher FTEs and 3 reading interventionists.
This is the first time in the district's history of financial struggles that it's had to follow through with laying off teachers. Typically, the board and school administration has been able to reduce teachers through attrition: retirements and resignations.
"It violates a long-held practice and philosophy in this district," board President Deb Mexicotte said in April, talking about how having to issues layoff notices saddened her. "It is something we have prided ourselves on. It is a partnership we have had with our teaching staff because we value them so highly. We don't want to lose a single one of them."
This year AAPS saw fewer retirements than in previous years. At the end of the school year, the number of retirements totaled about 37. Generally, AAPS has 40 to 50 retirements a summer.
District administrators will bring a list of at least 60 names before the Board of Education for approval at Friday's meeting, which starts at 5:30 p.m. at the Balas Administration Building.
AAPS Communications Director Liz Margolis said after the board approves the callbacks Friday, a letter will go out Monday to those teachers who have been asked to return to their positions. The teachers on the list also will receive a personal phone call from human resources, Margolis said.
The callbacks are being made by seniority, so the teachers with the highest seniority of the 233 laid off will be called back first, Margolis said.
Officials explained more layoff notices were required than the number of people who actually will lose their jobs in order to allow the district to analyze where — which buildings and grade levels — the teaching positions can be cut from.
This involves looking at where the retirements and resignations were and measuring those against projected student enrollments at those schools, as well as looking at teachers' teaching certificates to see which courses and grades they are allowed to teach and looking at teachers' seniority statuses.
Friday's Board of Education meeting was called for the purpose of potentially naming a new superintendent of the Ann Arbor schools. The two finalists for the top leadership position — Jeanice Kerr Swift, an assistant superintendent from Colorado, and Brian Osborne, a superintendent from New Jersey — completed site visits and final interviews with the board and the public Tuesday and Wednesday.
The board will deliberate on the merits of the two individuals Friday and is expected to vote to offer the position to either Swift or Osborne.
Margolis said there is no set time frame for calling back the rest of the teachers. She noted that the district continues to receive retirements and resignations throughout the summer some years, and most families do not start enrolling their elementary children until middle to late August.
Danielle Arndt covers K-12 education for AnnArbor.com. Follow her on Twitter @DanielleArndt or email her at daniellearndt@annarbor.com.