Posted on
Sun, Sep 2, 2012 : 5:58 a.m.
Ann Arbor schools will have larger class sizes in 2012-13
By Danielle Arndt
The past two weeks have been filled with new additions and reassignments at the Ann Arbor Public Schools.
And while the district says every classroom will be staffed on Tuesday morning for the first day of school, officials said large class sizes at some schools could result in still more changes.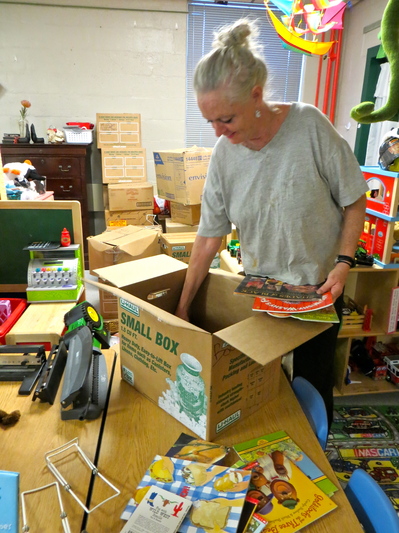 Danielle Arndt | AnnArbor.com
District Spokeswoman
Liz Margolis
said classrooms district wide were finalized as of a staff meeting Thursday.
She said that while class sizes are larger than last year, they are within the AAEA's contract specifications.
The district watches enrollment data "like a hawk" the final weeks before school starts to monitor which buildings and grades may need more teachers, Margolis said. About six teachers submitted late resignations in August, which caused some additional reassignments and late new hires.
Linda Carter, president of the Ann Arbor Education Association, said she received a "handful" of phone calls from teachers throughout the district, informing her that their class sizes were a concern.
Some felt the sizes were above the targets and maximums established in the AAEA's contract, she said.
"From what I'm hearing, it's clear that there are many instances where we will have to look at what needs to take place. … It's sounds like we have to hire more teachers," Carter said.
Per the AAEA contract, the class size targets for elementary rooms are 20 pupils per kindergarten class, 22 students for first/second grade, 24 students in third grade and 27 students in grades 4-8, Carter said. Subject courses at the middle school level vary, she added, explaining there can be a maximum of 30 students in math, science, English, social studies and art classes.
The contract specifies technology and shop-based classes can only have as many kids as there are workspaces, she said.
In high school, the targets are more complicated. Carter said the maximum for any one class is 33 students, with a number of exceptions.
Carter said she will be advocating on behalf of teachers for smaller class sizes. She said teachers have been hired and added weeks into the school year in the past, causing classrooms to be restructured. But often parents don't mind because they like smaller class sizes too, she said.
"If we are going to educate all children fairly, we have to have more hands on deck to lower those class sizes. Our members can do a much better job with smaller class sizes."
The AAEA's bargaining team and the district's bargaining team meet monthly for a "problem-solving meeting."
"We really need to keep that issue of class sizes on the front burner at those (meetings)," Carter said.
But despite wanting smaller class sizes, Carter called it a "wonderful celebration, not a problem" that the district is growing in size, citing Ann Arbor's reputation for excellence as the cause.
The total number of new hires and last-minute reassignments was not available as of Friday. Requests for preliminary enrollment data by building also could not be met.
The district enrolled 16,589 students last fall. It opened enrollment to another 170 Schools of Choice students this year.
Margolis described the first few weeks of the school year as "fluid," stating enrollment numbers change daily. More reliable enrollment data will be available on Student Count Day, which is Oct. 3 this year.
Margolis said overall, the number of reassignments and shifts in enrollment that some schools are experiencing is not abnormal.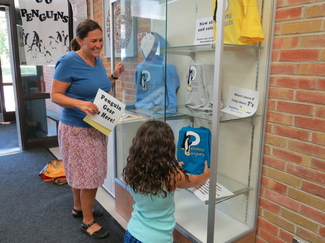 Danielle Arndt | AnnArbor.com
Clague Middle School
and feeder elementary schools
King
,
Logan
and
Thurston
are seeing the greatest increases in enrollment, according to district leaders.
Logan Principal Terra Webster said her school saw its increase in enrollment in grades that previously were low, resulting in no split classrooms this year.
"Last year, our fourth grade numbers were low. But this year, we saw greater enrollment in fifth grade … making it a stellar year for us," Webster said. "Everything fell right into place — which is not the norm, nor can you ever really predict this."
Northside, which also feeds into Clague, experienced a drop in enrollment, preliminary reports indicate. Its decline is not inconsistent with previous years. Between fall 2009 and fall 2011, Northside enrolled 43 fewer students.
However, it appears Thurston is bucking the trend of recent years and adding students.
Preliminary reports from staff also indicate Pittsfield Elementary School will have fewer kids this fall, while Wines Elementary grew and needed to add a third section of fifth grade. A fourth-grade teacher was moved from Pittsfield to Wines to accommodate the fifth-grade growth, and a longtime second-grade teacher at Pittsfield was reassigned to fourth grade.
While the Pittsfield community was sad to lose its fourth-grade teacher, "we're happy to be able to help out a school on the other side of town," said kindergarten teacher Cathy Babcock.
The building's lower enrollment also led to a split, first- and second-grade classroom, Babcock said. She added it originally was thought the first-grade teacher would "loop," or follow her kids on to the second grade.
However, the numbers "didn't work out" and there were fewer pupils in first and second grade than expected, Babcock said.
Margolis explained any staffing changes — grade or building reassignments, loops or splits — made in the final month before school starts are due entirely to enrollment numbers. She said the district checks this data on a daily basis as the first day nears to ensure there is a teacher for every class and enough sections of each grade.
Switching grades last minute is a challenge for teachers.
"They have to learn all new curriculum and new lesson plans," Carter said.
However, teachers with a teaching certificate in elementary education are trained and qualified to teach any grade K-5, Carter said. The same is true of teachers with a certificate in secondary education, she said, explaining these individuals can teach any grade 6-12 in their subject.
"The administration has the right to move people where they are needed," Carter said. "There is nothing in the contract preventing this."
Danielle Arndt covers K-12 education for AnnArbor.com. Follow her on Twitter @DanielleArndt or email her at daniellearndt@annarbor.com.