Posted on
Thu, Sep 6, 2012 : 5:58 a.m.
Ann Arbor school board approves first purchases from $45.8 million technology bond
By Danielle Arndt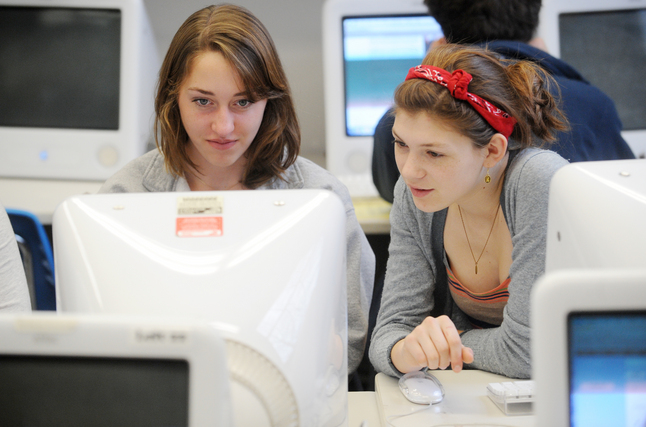 Melanie Maxwell | AnnArbor.com
It's out with the clunky and in with the new at
Ann Arbor Public Schools
, as the district begins to roll out its plan for spending a
$45.8 million technology bond
that voters passed in May.
But school officials warned the speed at which they'll roll out the plan will not match the speed of the district's new beefed-up Internet connection.
The Ann Arbor Public Schools Board of Education approved two first purchases of the 10-year, three-phase $45.8 million bond at Wednesday's regular meeting.
The purchases were $76,436 for wireless infrastructure and server equipment and $54,540 for 30 15-inch MacBook Pro laptop computers.
The infrastructure upgrade and installation of the new server will improve the district's network and firewall security and reliability, said Randy Trent, director of physical properties for AAPS. It also will increase the district's internal and external bandwidth and scalability for future needs, he said. Bandwidth is defined as the rate at which data can be made available.
Students have contributed to the current bandwidth problem at AAPS by carrying personal technology devices such as cell phones and tablets that can, at high-traffic times, bombard the district's public and private networks, causing frequent crashes, Trent said. The new infrastructure will help prevent this.
Other infrastructure, wiring and equipment improvements will be coming this fall. Central administration plans to bring a complete report on the technology bond plan before the school board sometime in October, and they will have more purchases ready for approval in November.
Administrators wanted to bring the technology infrastructure item to the board for early approval so the installation of this equipment could take place as soon as possible. Trustee Glenn Nelson said he supported the move because AAPS currently is "at risk of the larger part of the system shutting down. And that would be quite a consequential thing for 17,000 students."
Board of Education President Deb Mexicotte echoed his sentiments.
"I see it as a modest move forward for a very important and missing piece," she said. "Our ability to do multi-media has become prudent and necessary. And I think this would be approved in several weeks anyway, so I'm very interested in 'getting a jump on it,' as Trustee Nelson said."
The second purchase approved Wednesday also was placed on the board's agenda ahead of the other technology bond items for a specific reason.
The 30 laptops will be given to members of the district's information technology department to pilot, prior to the district potentially purchasing thousands of them in fall 2013.
Trent said the MacBook Pros have a new operating system called Mountain Lion. IT staff will need to test the operating system against the district's current software applications to ensure a smooth transition as computers are replaced district wide.
"The entire staff will have to be trained on the software compatibility of (the Macs)," Trent said. "If you were to set one down on a desk tomorrow, a large portion of our existing software wouldn't run on it. … We have to work through (the new system) and see where some of the problems are … and work through all of the bugs before putting this in the hands of students and teachers next fall."
As an educational institution, Apple gave the district a 13-percent discount and threw in two other computer models, an iMac desktop and a MacBook Air laptop, for the district to try out for free.
Several school board members praised Trent and his team for their deliberate actions in structuring the technology bond plan and rollout.
"I really appreciate the sequential planning that has gone into this, Nelson said. "It really has been designed to get the most out of the tech bond money, rather than to rush out and get a whole bunch of stuff right on day one."
Trent said district officials learned from their 2004 bond, which had about $20 million going toward technology.
"We're working closely with (the) instruction (services department), trying to make sure we know what they want and need so we can deliver," Trent said. "We learned that last time… when they couldn't run some stuff. We want to make sure it doesn't happen this time."
Danielle Arndt covers K-12 education for AnnArbor.com. Follow her on Twitter @DanielleArndt or email her at daniellearndt@annarbor.com.