Posted on
Thu, Jan 17, 2013 : 12:38 p.m.
Ann Arbor school board elects officers at first meeting of 2013
By Danielle Arndt
Deb Mexicotte, who won re-election to the Ann Arbor schools Board of Education in November, will continue as president through 2013.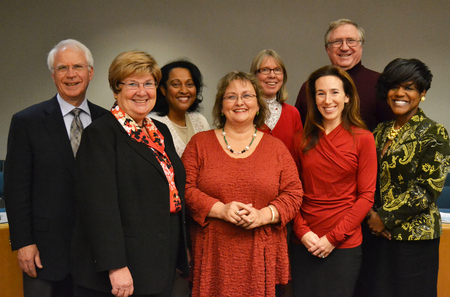 From Ann Arbor Public Schools
The school board conducted its first meeting of the New Year Wednesday night. The meeting traditionally serves as the board's organizational meeting, at which members elect officers for the year, discuss the meeting schedule and board committee structure and re-appoint board representatives to various community and county committees.
Mexicotte was sworn in for her fourth Ann Arbor school board term, which will expire in 2016. She won the November election with 63 percent of the vote over challenger and former Ann Arbor businessman Dale Leslie.
Trustee Susan Baskett nominated Mexicotte to the presidency; the board unanimously approved. Christine Stead nominated herself to continue as the vice president, which board members also approved 7-0.
Andy Thomas will continue as board secretary after being nominated both by himself and Stead and garnering a unanimous vote.
The only officer position to change hands was that of treasurer. Trustee Irene Patalan served as treasurer last year. For 2013, Glenn Nelson will carry out the duties. Nelson also was appointed unanimously, after nominating himself.
The board's policy states nominations may take place by an interested trustee submitting his or her name to the superintendent at or before the organizational meeting or by a trustee placing another trustee's name into the ring for consideration at the board table during the organizational meeting.
Danielle Arndt covers K-12 education for AnnArbor.com. Follow her on Twitter @DanielleArndt or email her at daniellearndt@annarbor.com.