Posted on
Wed, Jun 12, 2013 : 5:59 a.m.
Ann Arbor school board expected to vote on 2013-14 budget Wednesday
By Danielle Arndt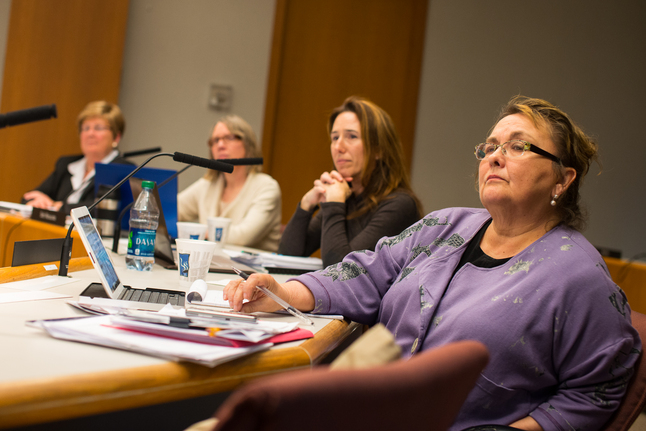 Courtney Sacco | AnnArbor.com file photo
The
Ann Arbor Public Schools Board of Education
is preparing for a second public hearing and discussion Wednesday on the proposed budget cuts for the 2013-14 academic year.
Board president Deb Mexicotte expects the conversation to be a "lively" one, with trustees weighing in on some of the final "moving pieces," she said.
But by the time the clock strikes midnight, Mexicotte does expect trustees to vote on and approve a final budget, she added.
"I think trustees are cognizant that we do need to get some closure on these issues not just for our staff, but also for our parents and students," Mexicotte said, explaining that a great deal of tweaking, planning and communicating must be done during the summer months to carry out the cuts the board approves, and to actively engage the public so there are no surprises come fall.
To pass a balanced budget for the upcoming school year, the board must finalize about $8.7 million in expenditure cuts and new revenue.
Traditionally, the board will hear any remaining comments from community members, go through the proposed cuts for one last time and approve a new budget, but with the severity of the cuts this year, as Mexicotte said, there are many proposals that have not been thoroughly vetted or agreed upon yet.
Additionally, the budget document prepared by AAPS administrators for the board's consideration Wednesday has not been updated to reflect some of the previously agreed upon cuts board members stated they could stomach.
There also has been no word yet from the Ann Arbor Administrators Association — the collective bargaining unit for principals and assistant principals — on whether they will take a 3 percent pay cut like Ann Arbor's teachers and central administrators did. There is nothing on Wednesday's school board meeting agenda indicating that a tentative agreement has been reached, and board members say they have not heard anything either.
Vice President Christine Stead said there are a few more informational pieces on some of the proposed cuts that she would need to see from administration before she would be prepared to pass a budget on Wednesday.
"If I can have some reassurance on some of the areas I have questions in, … then, yes, I would vote to approve a budget," she said, adding that for her, the greatest reassurance she would need would be for central administrators to better explain how the proposed 32 FTE (full-time equivalent) teachers would be actualized and impact instruction.
Stead said she wants some reassurance that administrators will not be cutting all 32 FTE at the elementary level and the proposed reduction is not a one-per-building strategy, which could leave large class sizes and overcrowding concerns at some schools.
Central administrators said previously, most of the teaching FTEs would be reduced from the high schools. However, Stead said the Board of Education has heard from both high-schoolers and counselors who are worried about the reduction in teaching staff limiting course options, and who say student schedules are on hold for next year until this piece of the budget gets ironed out.
Stead also wants to know how the district intends to anticipate and cover some of the "incurred costs" as the result of laying off teachers — such as unemployment costs, added teacher assistant costs and cash paid to teachers for classroom overages.
Contractually, if a classroom exceeds the target class size stipulated in the collective bargaining agreement for a particular grade, that classroom teacher is eligible for either extra pay or a teacher assistant. In February, the board learned AAPS was $2.5 million over budget and 29 employees over target for the 2012-13 academic year due to more teachers than expected requesting TAs.
"I do feel like we've got some good history, at least to me, that cutting teachers is not always a good way to save money like we think," Stead said. "... The net savings is not usually as advertised."
Stead expects each trustee will have items personal to them that they will need more information on prior to making a decision, and items they will be rallying to place on or off the table, she said. Other areas Stead thinks the board needs more information about are: charging students for seventh-hour courses, the extra physical education credit and cuts to special education and support services staff, which could have federal grant money implications if the district is unable to meet special needs students' individualized education plans (IEPs).
If the district charges students up to $500 per semester for a seventh class, Stead wants to know how many students would be eligible for a scholarship from the district for receiving free or reduced-price lunch, she said. The district would offer seventh-hour scholarships to those students who qualified as low income through the free and reduced-price lunch program.
"How many students would we end up paying for anyway ... and are we not really saving what we thought we would?" Stead asked.
Ann Arbor currently requires high-schoolers to take an extra semester of physical education beyond the state's one-year requirement to graduate. The board has considered doing away with this requirement to save around $450,000. But Stead said the board has heard extensively from physical education staff in the AAPS since this budget reduction was proposed about the affects of physical fitness on academic success and childhood obesity rates.
"Of course, the data is on their side," she said. "So we'll see how that plays out at the board table. ... There may be a way in a year or so to bring in more private partnerships to provide some of (students' physical fitness opportunities) for a savings. ... Because it was more than the state requirement, it seemed like a no-brainer to just cut, but maybe it's really not."
Stead said she also does know that a budget is fluid and it's difficult to know everything that could come up during the year for AAPS financially.
"We're not going to know everything Wednesday," Stead said. "Sorting out (the how and the impact) is part of our administrative team's duties over the summer. It's going to demand a lot of work. And even then, we likely won't have all the answers."
Mexicotte said a budget is really "your best guess at what you're going to do."
"It's your honest best estimate," she said. "... You have to honestly look at what you are going to get from the state, look honestly at what you are going to cut, ... be wary of cutting too deeply and not going deep enough or being too cavalier."
The board also will weigh how to budget for a small increase in per-pupil revenue from the state that is not finalized yet, but could range from $5 per student to $30 per student, Mexicotte said. That could mean an additional $82,500 to $495,000 for AAPS.
"That's what you have seven people on the board for. We as trustees range from those who are more optimistic to those who are pessimistic (about the budget). We weigh our personal feelings against our expectations and experiences in the district and what we think Lansing might do," Mexicotte added. "We've been discussing this for months, and now here we are: we know we have to pass a budget."
In addition to cutting 32 teaching FTE and the extra physical education requirement, other budget reductions on the table are: cuts to middle school athletics, eliminating the seventh-hour option at Huron and Pioneer high schools, moving Skyline High School from a trimester schedule to a semester schedule, closing the middle school pools and cutting high school busing.
Read a complete list of the cuts.
Danielle Arndt covers K-12 education for AnnArbor.com. Follow her on Twitter @DanielleArndt or email her at daniellearndt@annarbor.com.