Posted on
Mon, Jun 3, 2013 : 5:58 a.m.
Mum's the word: Ann Arbor principals union yet to negotiate new contract, pay cut
By Danielle Arndt
With two weeks remaining until the end of the school year and the Board of Education in the final stages of hashing out its 2013-14 academic year budget, the Ann Arbor Administrators Association has yet to negotiate a new contract.
They are the last of the district's employees to come to the table with a salary reduction to help the Ann Arbor Public Schools close an $8.67 million budget shortfall for the upcoming school year.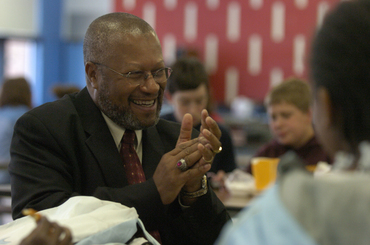 Negotiations between the district's administration and its collective bargaining units began in late January to early February. But across-the-board salary reductions have been discussed for even longer.
In December, central administrators presented a preliminary list of possible cuts to help the district reduce expenses for fall and balance its approximately $189 million budget. A 1 percent salary cut for all employees was targeted to save AAPS about $1.3 million.
The Ann Arbor Education Association's teachers, paraprofessionals and office professionals unions approved new contracts in March — each taking a one-year 3 percent pay cut to save AAPS $3.4 million.
Non-affiliated employees, including central office administrators, staff and department directors, announced their 3 percent pay cut at the beginning of May, a total cost savings of $114,290.
There has been no word yet on a salary concession from the 48 members of the principals union.
"The negotiations are ongoing," said Dicken Elementary School Principal and Quad-A President Michael Madison. "We hope to have a contract approved before the end of the school year."
Neither Madison nor district officials would speak to the tone or spirit of the contract negotiations. Communications Director Liz Margolis explained not talking about collective bargaining discussions until contracts have been finalized is the "agreed upon practice of both parties."
"We honor that agreement regarding the negotiation process," she said.
The Quad-A's contract expires on June 30, but there is much at stake in this contract as the school board gets down to the wire with having to make a number of painstaking cuts to the district's staff, programs, course and athletics offerings and transportation and other services.
At least one trustee has publicly criticized the Quad-A's delay in reaching an agreement. Vice President Christine Stead said a 3 percent pay cut, if the principals agree to something similar to the other unions, would generate a savings of $266,000.
"Right now, the board is days away from passing its budget," Stead said. "It's possible we wouldn't reach an agreement on June 12th (the next regular meeting and final public hearing on the budget) but it's also very possible that we would...
"That ($266,000) is a significant amount of money and knowing is an important piece in terms of teachers and programs that we could save."
She said if the agreement comes after the board passes its budget, "it just doesn't help."
Stead added it is surprising to her that a group that has been so vocal and quick to act in issuing statements to the board and the public, asking for concessions from the administration and teachers, would be so slow to step up to the plate with its own concessions.
"I believe they were saying, 'Lead us administration, and cabinet, and take cuts first,'" Stead said. "And that's a fine thing to say ... but it's disappointing that our building principals — who we rely on and look to for leadership in our buildings and with our students every day — that they still haven't exhibited that leadership here, or at this point it would be more follower-ship."
The AAAA in March called for Superintendent Patricia Green to reduce her $245,000 salary by $50,000, the equivalent of a 20.4 percent cut. The union also recommended 31 cuts to the board, many of which would affect various other employees and employee groups, such as:
Eliminating Deputy Superintendent for Human Resources David Comsa's position.
Eliminating the director of technology position and promoting someone from within to assume the role with an additional $25,000 in salary.
Eliminating elementary noon-hour supervisors and replacing it with required teacher supervision.
Opening the Ann Arbor Education Association contract and cutting excessive language.
Privatizing grounds maintenance, such as snow removal and lawn care service.
The Quad-A union will need to vote on a new contract before to the contract can come before the board for approval. The next Board of Education meeting starts at 7 p.m. on June 12 at the downtown Ann Arbor District Library.
According to W2 tax information from 2012, 31 of the district's principals earned more than $100,000 in base pay last calendar year. This figure includes lead and assistant principals from the preschool, elementary, middle and high school levels.
Their salaries ranged from $100,132 to $124,000 and their total compensation packages were valued at $134,035 to $174,486.
Danielle Arndt covers K-12 education for AnnArbor.com. Follow her on Twitter @DanielleArndt or email her at daniellearndt@annarbor.com.