Posted on
Thu, Jun 13, 2013 : 5:59 a.m.
Ann Arbor school board saves high school busing, reading intervention in harried budget decision
By Danielle Arndt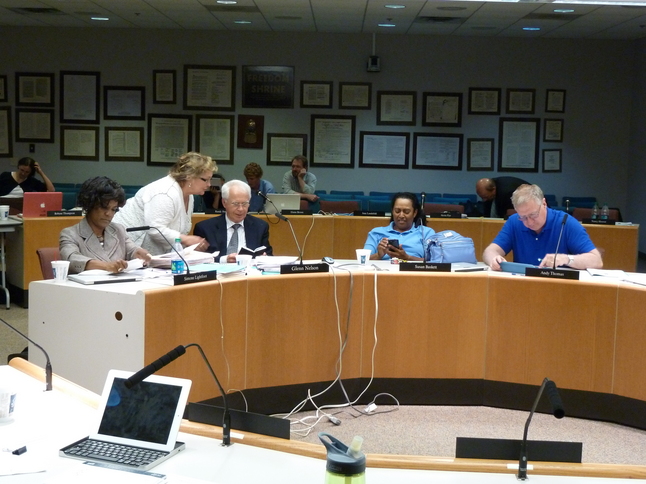 Danielle Arndt | AnnArbor.com
Previous coverage:
Editor's note: The amount of money the district plans to use from its fund balance for 2013-14 has been corrected in this article.
Ann Arbor school board members Wednesday saved high school busing from elimination and seven of 10 reading intervention specialists for next year, but finalized cuts to about 70 other employees — including 30 teachers.
The budget approved by the board early Thursday calls for using $1.18 million from the district's dwindling fund equity, or primary savings account, to balance the $183.56 million in expenditures with projected revenues of $182.38 million.
The board had an approximately $8.7 million shortfall it was attempting to close through a combination of reductions and increasing revenue, such as by raising pay-to-participate fees for athletics.
The budget accounts for a net per-pupil foundation allowance increase from the state of about $60 per student, for about $1 million more in revenue than district officials originally thought. That was the compromised revenue projection the board could agree upon.
The district is projected to receive a $70 increase per pupil for meeting state performance metrics. However, school trustees were skeptical of this promise considering last year the Ann Arbor Public Schools also was supposed to receive that amount, but it only ended up receiving $40 per student after more districts than the state anticipated qualified for the performance incentive. So some trustees thought the district should budget a little more conservatively to prevent a second-quarter or third-quarter financial surprise as AAPS experienced this year.
It is not clear yet how many of the 233 teaching staff who received layoff notices last month will be let go and how many will be recalled.
More teacher retirements have trickled in since May, and building leaders still are developing staff reduction plans, district officials said. Total staff retirements are now at 37 employees, compared with 19 two weeks ago.
The Ann Arbor Board of Education pushed through its budget for the 2013-14 academic year at about a minute before 2 a.m. Thursday. The end of the meeting could only best be described as harried and ragged, as trustees worked to crunch numbers on the fly while they pulled off items from the budget that they previously had approved.
If the board had left everything on the chopping block that it previously targeted as amenable cuts, then the Ann Arbor schools would have had a small 2013-14 budget surplus of about $90,000, which it could have put back into its fund balance. This would have included moving forward with cuts to five reading intervention teachers and the elimination of high school transportation, however.
The board moved rapidly through each figure trying to agree upon how to look at the projected revenues and expenditures administrators presented, as well as the savings figures attached to each proposed cut. The majority of board members were determined to pass a balanced budget no matter what by the time the meeting was adjourned.
Trustees heard from 43 community members on budget-related issues during public commentary. The board's budget discussion began at about 10:15 p.m. Trustees voted to remove four first-briefing items on Wednesday's agenda and reschedule them for the next regular board meeting on June 26.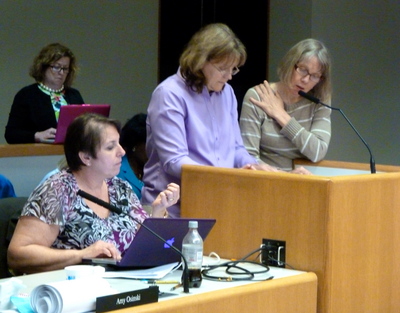 Danielle Arndt | AnnArbor.com
Under new board policy, AAPS trustees must keep their meetings to
five hours total
, requiring them to finish before to midnight. However, President
Deb Mexicotte
moved four different times throughout the discussion to extend the meeting — twice by a half-hour and twice by 15 minutes.
About 1:40 a.m. Mexicotte polled the Board of Education on which cuts trustees wanted to add back into the budget. Trustees' opinions varied greatly, but the board went with whichever items at least four trustees could agree upon and then attempted to add up the budget on impromptu excel spreadsheets and using pencil and paper to find out if they had in fact balanced the budget for 2013-14.
Mexicotte spent about 10 minutes up at the lectern helping Chief Financial Officer Nancy Hoover sort through which of the proposals the board wanted to approve after the lengthy and intricate discussion.
After the board passed the budget in a 6-1 vote, Mexicotte adjourned the meeting. However, she then had to reconvene the meeting and call departing trustees back into the room so trustees could vote on the forgotten-about millage resolution for the 2013-14 budget.
"We forgot about the consent agenda. … This is kind of a ragged end. So sorry guys," Mexicotte said, apologizing.
School boards are required to approve a resolution annually authorizing the 18 mills of non-homestead property taxes that the Michigan Legislature expects districts to levy for operational expenses. The taxes are a component of what districts receive in their foundation allowances.
Vice President Christine Stead was the lone "no" vote on the budget. She could not accept dipping further into the district's fund balance, nor was she in favor of the board's decision not to save more teachers, she said.
Stead called the budget process that played out Wednesday "shenanigans," saying: "I think this whole thing is irresponsible."
"I recognize that people here believe we have endless amounts of fund equity ... but if we're using it up every time we have an overage, in the future we're actually going to have to pass a balanced budget without it. So while we're able to meet the technical level of the law, it's not a balanced budget if we're using equity. ... This is just — whatever," she said, recognizing she was outnumbered.
School officials project AAPS will end the 2012-13 academic year with $6.87 million in its fund balance. After using $1.18 million to balance the budget, the district's fund balance will be at $5.69 million, just more than 3 percent of the district's operating expenses.
Budget documents prepared by the district claim it is AAPS' long-term goal to have an amount equal to 15 percent of its annual operating budget in its fund balance, which would be about $28 million.
Hoover said she and other central administrators are hopeful they will be able to add some money back into the fund balance at the end of June after enacting a spending freeze for the past four months. The Ann Arbor Public Schools has been trying to eliminate a current-year budget deficit of about $3.8 million.
Mexicotte said she too has grave concerns about fund equity, but she believes the economy is improving.
"When the tide starts to turn like that in Michigan, you hope that one way or another the schools will start to see an increase in revenue," Mexicotte said.
An additional $80,000 expense was added to the budget Thursday at the request of Stead to conduct a performance audit of the district's financial, human resources and instruction departments. Superintendent Patricia Green has advocated for this type of external checks-and-balance audit to be done since coming to AAPS.
Green explained a performance audit would be able to compare financial practices across multiple departments in a way the district's annual Plante Moran audit does not. School officials said a performance audit is more of a systematic review and while the district may be compliant and legal, it may not be as efficient as it could be or using best practices in all areas.
Of the 30 teaching positions that the board approved cutting Thursday, 3 FTE would be from required from Skyline High School. Initially, it was expected these staff members would be cut by moving Skyline from a trimester schedule to a semester schedule. However, the board said Skyline could keep its trimesters as long as it reduced 3 FTE from somewhere.
The remaining 27 FTE are undesignated teachers (down from the 32 undesignated FTE that originally was proposed) that would be eliminated based on needs analyses. School officials say they are looking at whether the district can continue to offer some of its lower enrollment classes and may make reductions that way. It is expected a majority of the 27 FTE will be cut from the high schools.
The remaining new or amended pieces of the budget reduction plan that the board approved Thursday are:
Eliminate 3 FTE of reading intervention specialists (instead of the initial proposal of 10 FTE, for a savings of $300,000)
Charge students $100 per semester to take a seventh hour at Huron or Pioneer high schools (projected savings of $100,000)
Cut 4 office personnel FTE (about $180,000)
Eliminate 4 to 4.5 teacher consultants, 2 to 2.5 teacher assistants and 1 speech and language pathologist (half of what originally was proposed for $125,000 in savings)
Keep the Pioneer theater technician position, but shift the cost responsibility to the theater guild to fund (still a savings to the general fund of $50,000)
Eliminate the Board of Education's $5,000 discretionary food fund
Keep middle school baseball, softball and boys and girls seventh-grade basketball and make up the projected savings by increasing pay-to-participate fees from $50 to $150 (an expected $150,000 in revenue)
Also in the budget that was approved, the board decided not to permit the three digital billboards that Adams Outdoor wanted to install at Pioneer High School, Huron High School and Wines Elementary School for additional revenue to the district of $100,000 per year. Trustees felt there was too much opposition in the community for these billboards right now.
The budget that was approved also includes an estimated $270,000 in concessions from the Ann Arbor Administrators Association as well as the curriculum coordinators and tech support staff collective bargaining groups. However, to date, no tentative agreements have been reached in the contract negotiations with these groups. So if concessions do not occur, the board will need to cut an additional $270,000 from the budget before fall.
Jill Zimmerman, an Ann Arbor Open School parent who stayed until the end of the meeting, said she was "pleasantly surprised" to see the board add high school transportation back into the budget and not eliminate it.
"I also was a little bit frustrated and concerned by a lot of the last-minute debate and adding up of the savings that was going on. ... I'm worried about how the numbers will pan out and if they (the board) will actually be able to realize the savings they think," Zimmerman said.
Mexicotte said the primary reason for pushing the budget through early Thursday was a need to begin planing how to implement the cuts and to do so in a way where plans are thoroughly vetted, communicated and incidental costs are minimized as much as possible.
Danielle Arndt covers K-12 education for AnnArbor.com. Follow her on Twitter @DanielleArndt or email her at daniellearndt@annarbor.com.