Posted on
Thu, Apr 25, 2013 : 5:59 a.m.
Ann Arbor schools proposed athletic cuts include pay-to-play increases, middle school sports cuts
By Kyle Austin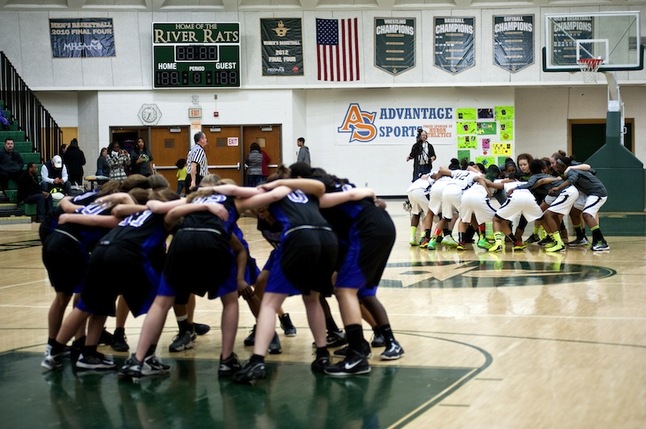 Joseph Tobianski | AnnArbor.com file photo
Related: Ann Arbor school budge proposal could result in teacher layoffs
The Ann Arbor Public Schools administration is proposing to increase pay-to-play fees, eliminate certain middle school sports and cut transportation as it struggles to deal with an $8.67 budget deficit.
The planned athletic budget presented at Wednesday night's Board of Education meeting includes $287,000 in cuts and $225,000 in increased revenue for the 2013-14 school year. The athletic budget was part of the $180.59 million expenditure budget that Superintendent Patricia Green and her team of cabinet members proposed Wednesday.
Reductions totaling $8.67 million are needed to balance the budget for the 2013-14 academic year. Administrators also proposed instructional cuts that could result in teacher layoffs, as well as other budget reductions.
The number is approximately half of the original estimate in December. Since then, the total projected budget deficit has been reduced from $17 million to $8.7 million.
The board isn't expected to approve a budget until late May.
The athletics budget for 2012-13 is just over $3 million, approximately 2 percent of the district's overall budget. Roughly $1.6 million was eliminated from the athletic budget for 2009-11. Among the cuts then were coaching salaries and the unfunding of lacrosse, bowling and most freshman sports.
In drafting a proposal for this year's cuts in cooperation with district administration, Ann Arbor's three high school athletic directors were able to avoid unfunding sports, opting instead for cuts that affected the athletic department as a whole.
"The public made it very clear last time that they were not happy about it, and they wanted more broad-based cuts, and more things that kind of affected everybody," Skyline athletic director John Young said. "Most of what you saw out of us kind of goes across the board. It doesn't matter who you are or where you're from, it's going to affect you."
But the recommendation does propose eliminating middle school baseball and softball and seventh grade basketball. The proposal would also eliminate five middle school club sports offerings from the 28 that are currently offered.
Under the proposal, high school pay-to-play fees would increase to a one-time fee of $250, which would cover all sports. High school athletes currently pay $150 for the first sport and $75 for their second sport. They also often pay additional fees to booster clubs.
Middle school pay-to-play fees would increase to $100 from $50.
According to numbers compiled by AAPS, $250 for the first sport would be tied for the second-highest pay-to-play fee in the Southeastern Conference, behind only Saline's $325. But of the seven other league schools that charge fees, five charge fees for second sports and two charge fees for third sports.
This marks AAPS' first pay-to-play increase in three years.
"We still are one of the cheapest tickets in town," Huron athletic director Dottie Davis said.
Fees would increase more for sports that use facilities outside of the schools. Boys ice hockey fees would increase to $600 per student and golf fees would increase to between $225 and $400 to help cover facility rentals.
AAPS currently pays $72,000 per year in ice fees and $21,000 per year in greens fees. Athletic directors said the three Ann Arbor schools are the only ones in the SEC that cover ice time.
Pioneer athletic director Eve Claar said hockey parents are used to paying increased fees for ice time, and that overall parents have said they prefer more fees and reduced transportation to sports getting cut.
Young said one of the reasons the athletic directors wanted to avoid unfunding more sports is that the district has seen participation in unfunded girls sports fall off faster than it has in unfunded boys sports.
"When you have to go out and raise the money for the sports and you have to find a coach and all that, we've just seen a trend where girls aren't as successful doing that as the boys," Young said. "That continues to be a concern."
The proposed budget has options to either reduce busing to events outside of Washtenaw County or eliminate athletic transportation altogether. Students are already responsible for their own transportation within the county, with the exception of track and football.
Reducing out-of-county busing would save the district $120,000, and reducing all transportation would save $300,000. District officials said having students find their own transportation does not expose AAPS to liability.
Equipment reduction would also save the district $30,000. AAPS Chief Financial Officer Nancy Hoover said that would not include safety equipment.
Kyle Austin covers sports for AnnArbor.com. He can be reached at kyleaustin@annarbor.com or 734-623-2535. Follow him on Twitter @KAustin_AA.