Posted on
Fri, Jul 19, 2013 : 5:59 a.m.
Ann Arbor school board to name next district superintendent
By Danielle Arndt
The final interviews have been completed and the feedback collected, now the Board of Education is preparing to name the next superintendent of the Ann Arbor Public Schools.
After narrowing the list down to two from a pool of 61 applicants, the board will choose between Colorado Springs School District No. 11 Assistant Superintendent Jeanice Kerr Swift and South Orange and Maplewood School District Superintendent Brian Osborne, of New Jersey.
The board will begin deliberating on the strengths and personal leadership styles of the two out-of-state candidates at a regular meeting scheduled for 5:30 p.m. at the Balas Administration Building.
Trustees will work with Bill Newman, the national executive director of search firm Ray & Associates, on building consensus around who the board is interested in hiring as superintendent, said board President Deb Mexicotte. She said she expects the board will do some straw polling to see where individual trustees are at with their thought processes around one candidate or the other.
Courtney Sacco | AnnArbor.com
Mexicotte said in an interview Thursday evening, she has not yet had the opportunity to review all of the feedback the board collected from the various forums and the question-and-answer sessions it conducted this week with the candidates. "So there is still a lot of work to be done before (Friday)."
"I am looking forward to the discussion about these two excellent candidates that have opted to consider Ann Arbor," she said. "I think they both had done their homework around the district. Both spoke of their willingness and enthusiasm for engaging with the life of the community and with the life of the schools … and for communicating wholly, in as many ways as possible, with all of the various aspects of the community available, … including the media."
She said Swift and Osborne come to this candidacy with the prerequisite skills, experience and passion for public education and both possess the education and skills that are going to move this district forward.
"They are excellent examples of the kind of professionalism and intelligence that is brought to bear in public education and we as a district are lucky to have them," Mexicotte said.
Among the strengths Mexicotte personally noted of the candidates was their examples of strong decision-making and collaborative working styles. She said she was pleased both Swift and Osborne expressed understanding of the community's need to know about, to understand and to participate in key decisions in the district.
"I can't stress enough that they both came to us with portfolios that make them well suited to the work of the superintendency."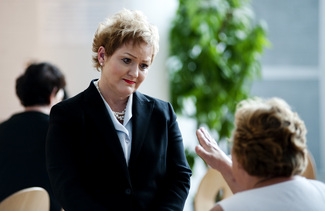 Daniel Brenner | AnnArbor.com
Mexicotte added that Swift and Osborne bring different personal leadership styles, senses of humor, educational philosophies and unique outlooks and thought processes that set them apart. Those will be the things the board likely will weigh and look to the feedback for guidance on, she said.
Trustee Susan Baskett said after the second day of finalist interviews Wednesday that she has not made a determination yet on which candidate she thinks would be a better fit.
"I will be making my call really on the feedback that I get from the community, so it's important to get that," she said. "I think both of them did well (in the interviews) and were well received by the community, but I'm going to be relying on the feedback from the public to kind of document that."
Of her personal impressions, Baskett said the budget has taken center stage in the search and while the district is in a financial crisis, "like Dr. Osborne, I think we'll get past that, I really do." Osborne mentioned during his Q-and-A session that he believes the education funding situation in Michigan will recover.
Baskett said Swift has managed a budget before, but it has been a smaller budget because she has not been superintendent.
"But she has done some real creative things in the district and has managed to motivate and move people in her district in ways that I have not seen in our district before," Baskett added. "… Everyone is focused on the financial, but we have to look at programing and educational needs of students first."
Baskett was one of two trustees who traveled to both Swift and Osborne's current districts to check references firsthand and learn about their accomplishments and leadership abilities. She said Swift doesn't have experience in working with a board as closely as Osborne, but that Swift's board in Colorado Springs "all just love her."
Baskett said Osborne would "put us through our paces" and work with the board on better governing practices and efficiencies. "We will struggle. There is no doubt some of us will really struggle with that. But I think it's great he would do that. ... We have to find a way to be on the same page truly."
Swift comes from a district much larger than AAPS, while Osborne comes from a much smaller district.
"Sometimes you may be more successful with fewer people, so it's really hard to say which experience (is more beneficial). They do bring different strengths," Baskett said.
Ann Arbor Education Association President Linda Carter told reporters following Wednesday's second finalist interview that she liked that both candidates stressed visiting the schools, but she added she felt Swift would be out in the buildings even after the 90-day entry period.
"I feel that's so important because you get to see what's really going on," Carter said. "(Swift) has got that teacher mentality, that teacher heart — it's in her DNA."
But Carter said despite really enjoying her conversation with Swift, the whole process is moving too quickly.
"I'm feeling as if we need to take another school year, to take our time," Carter said. "We're going down the fast track, which I don't think we want to do. This is so important. This is about our drum major…
"The process has been rushed for me. … It just does not feel right to me."
Carter said a year would give the district time to "re-engage" and take another look. "Sometimes you only have to look outside your backdoor."
The Ann Arbor Public Schools has been engaged in four superintendent searches since 2002. If the Board of Education selects a new superintendent Friday night, he or she will be the district's sixth leader in a decade, if you count interim superintendent Robert Allen, who served for a year between superintendents Todd Roberts and Patricia Green.

Previous coverage of the superintendent search:
Download the candidates bios, resumes and entry plans:
Swift:
Osborne:
Danielle Arndt covers K-12 education for AnnArbor.com. Follow her on Twitter @DanielleArndt or email her at daniellearndt@annarbor.com.