Posted on
Tue, May 21, 2013 : 5:58 a.m.
Ann Arbor schools considers closing tuition-based preschool programs
By Danielle Arndt
Editor's note: This story has been altered to clarify how the parent in the article learned about the possible closing of the preschool program.
Ann Arbor Public Schools' two tuition-based preschool programs are at risk of closing this fall, unless the district can secure enough full-time seats, school officials said.
Parents interested in enrolling their 4-year-olds must sign up this week, according to the district's website and emails sent around by administrators.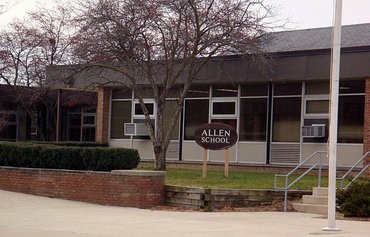 From A2schools.org
Ann Arbor's
Community Education and Recreation Department
has operated a tuition-based preschool at
Allen
and
Thurston
elementary schools since about 2006, said district spokeswoman
Liz Margolis
. Additions at the schools to accommodate these programs were built using a portion of the district's $255 million comprehensive school improvement bond, which passed in 2004.
Two classrooms were added to each building, and each classroom has the capacity for 18 slots. These slots can be filled with a combination of full- and part-time students, said Jenna Bacolor, executive director of Rec and Ed. For example, a morning-only student and an afternoon-only student creates one full-time slot, she said.
Children from throughout the district, not just those living in the Allen and Thurston communities, can enroll in the tuition-based program. Ann Arbor officials had hoped the preschools would help attract and retain kindergarten students. This was when the district only offered a half-day kindergarten option and AAPS was losing some kindergarteners to other local full-day programs, Margolis said.
She said for a number of years, this idea worked and the cluster preschool programs did help retain kindergarteners, but the preschools still were under-enrolled and as of this year, AAPS now has an all-day kindergarten program.
Bacolor said of the tuition-based preschool, "We run an excellent program that parents love, but face competition from numerous other Ann Arbor preschools, many of which start at age 3, run through the summer months or offer a special focus."
Records indicate there has not been a year with full enrollment in both preschools since the program's inception in the 2006-07 academic year. Currently, both classrooms are running at two-thirds capacity. But for fall, enrollment has dropped significantly.
"We have requests for three full-time slots at Allen and two at Thurston, plus a handful of part-time requests at each school," Bacolor said.
The tuition-based preschool program does not receive money from the district's general fund, which is facing a projected deficit of $8.67 million for the upcoming school year. Rec and Ed has its own operating budget with two separate funds: the Rec and Ed fund and the child care fund. Bacolor said the preschool program is run through the child care fund, which, for 2012-13, is $1.7 million.
For the upcoming school year, projected revenues for the tuition-based preschool program are estimated at $193,590, while projected expenditures are estimated at $259,189. So the program is expected to operate on a $65,599 deficit next year, if it continues.
"No decision has been made," Margolis said. "We're still just looking at it and we're working with both schools to see how we can increase enrollment. ... But frankly, we can't afford to run deficit programs anymore."
Thurston Principal Natasha York sent an email out to the school's parents informing them of the possible closing and urging them to spread the word.
"... Our satellite preschool program is in jeopardy of closing. If we cannot secure 14 full-time seats by May 24, they will seriously consider closing the program," York wrote. "If you are interested in enrolling your child or you know of someone who is interested, will you please share the timeline so they can contact Thurston Preschool and we can get students enrolled. We have watched numerous children benefit from the Thurston Preschool Program and hope that we will be able to keep this program in our community. Thank you for your support."
The website for the preschool program lists the deadline as Tuesday, May 21.
Ann Arbor parent Truly Render said she found out about the tuition-based preschool program possibly no longer existing when she visited Allen to consider enrolling her daughter in the school's preschool class. She said she learned of the program from a colleague and was really impressed by the "stellar" curriculum.
"We're saddened to see something that appears to be a really quality program for a price we could really afford — because I felt it had a very quality curriculum that you would see at some of the more expensive private institutions — going away," Render said.
She said the original deadline to apply was mid-July, so she is worried the program won't exist now due to the sudden and unrealistic shift in deadlines.
Danielle Arndt covers K-12 education for AnnArbor.com. Follow her on Twitter @DanielleArndt or email her at daniellearndt@annarbor.com.