Posted on
Tue, Sep 10, 2013 : 5:59 a.m.
Ann Arbor schools coping with standing-room-only classes, smaller staff
By Amy Biolchini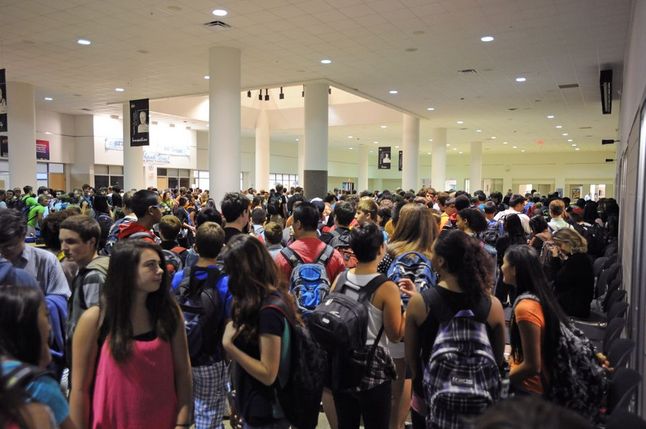 Brianne Bowen | AnnArbor.com
It's standing room only in some
Ann Arbor Public Schools
classrooms after
36 teachers were cut
for this school year.
Classes pushing 40 students have resulted in shared desks and standing room only for some subjects at Pioneer High School, said James Svensson, parent of a freshmen at the school.
"I'm afraid my daughter won't get the quality education that she needs," Svensson said.
AAPS officials have been hustling to adjust class sizes and sections following budget cuts in June.
Though district officials are continually monitoring class sizes, there will likely be classes that will have 35 students throughout the whole year, said spokeswoman Liz Margolis.
'Packing them in'
High school classes are seeing the biggest capacity strains.
Svensson, a clinical social worker at the University of Michigan, said his daughter came home from the first day of school "shocked" at how many students she was sharing class with.
In her accelerated geometry class, there are 38 students in her section, Svensson said. In another section, there are 41 students. History and German classes at Pioneer are also seeing class sizes larger than 38 students.
"There's only so much time a teacher has," Svensson said, stating he fears that the quality of education at AAPS will slip as a result of the staff cuts.
In general subjects like English, social studies and math, "…they're packing (students) in," said Linda Carter, president of the Ann Arbor Educational Association.
Large class sizes are the biggest concern for teachers, Carter said. She's been touring AAPS buildings this week with her team.
"I understand where we are financially as a district … but you really want to have a manageable, smaller class size," Carter said. "You don't need 29 kids in the first grade. You want to be able to service and teach all the kids."
Cuts to staff
The Board of Education approved cutting about 40 positions from the district's staff in June. It accounted for 45 percent of the district's overall $8.7 million cut to operations.
After 233 teachers were put on layoff notice over the summer, district officials scrambled to match open positions with their available staff. At least three of the teachers that received layoff notices resigned for other jobs, Carter said.
A total of 20 employees resigned over the summer and 35 employees retired.
In many instances, teachers retired and they weren't replaced, Carter said.
However, the district wasn't able to avoid its first-ever layoffs: Two employees—an equivalent of 1.2 full-time employees—were laid off.
"We have not been through this before," Carter said. "This was new ground."
One was a .2 FTE dance instructor at Community High School, and the other was a full-time business education teacher at Skyline High School, Carter said.
Adjusting class size
Any class size that's larger than the maximum in teachers' contracts are being evaluated, Margolis said.
"We are monitoring class size every single day across the district," Margolis said.
In particular, district officials are monitoring two large classes at Community High School: Spanish II and Latin I. Additional sections may be added, Margolis said.
At high schools, enrollment figures continue to fluctuate as district staff drop students from the roster that haven't shown up for the new school year. Margolis estimated that process should be complete by Sept. 11.
Teaching positions remain open within AAPS. At Pioneer High School, there are three substitute teachers in classrooms that the district is still working to hire full-time teachers for.
"You want to have the kind of positive public relations that comes from the Ann Arbor Public Schools district: 'Come to Ann Arbor. We have smaller class sizes.' …We can't really say that right now," Carter said.
The district needs more teaching assistants as well.
In kindergarten classrooms, if there are 23 students a teacher is assigned a part-time teacher assistant automatically.
If there are more than 28 students in first or second grade, a teacher has the option of accepting $300 per student per semester in their paycheck, or requesting a teaching assistant in the classroom. That threshold for grades 3 through 8 is 30 students in a classroom.
In the high school, if there are more than 32 students in a classroom a teacher has the option of getting $60 per student per semester in their paycheck or requesting help with grading.
"We wouldn't keep the classes at 40 (students)," Margolis said, stating that a likely cap this year may be at 35 students for some high school classes.
Counselor positions that have been eliminated have resulted in two counselors traveling between buildings for the first time.
Staff are moving between Clague Middle School and Huron High School, as well as between Tappan Middle School and Skyline High School. Forsythe Middle School also experienced a reduction in counselor positions from 3 to 2.5, resulting in a counselor traveling between Forsythe and Slauson Middle School.
The absence of a full-time counselor for some of the grade levels is "huge," Carter said.
Amy Biolchini is the K-12 education reporter for AnnArbor.com. Reach her at (734) 623-2552, amybiolchini@annarbor.com or on Twitter.