Posted on
Fri, May 17, 2013 : 10:54 a.m.
Ann Arbor school district launches survey on qualities wanted in next superintendent
By Danielle Arndt
The Ann Arbor Public Schools launched a community-wide survey Thursday to learn what parents, teachers, administrators, students, support staff and the general, tax-paying public would like to see in its next superintendent.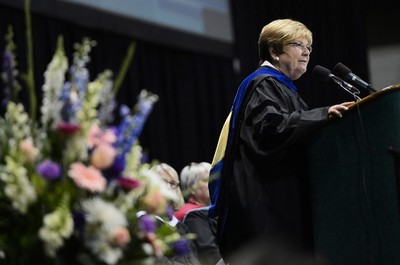 Melanie Maxwell I AnnArbor.com file photo
Ann Arbor Superintendent
Patricia Green
will leave the district July 9 to retire after a 43-year career in public education. She has been with AAPS for just under two years. She submitted her resignation
after 1 a.m.
at a school board meeting on April 11.
The district's survey, posted on the Ann Arbor Public Schools website, is simple, consisting of only two questions. The first asks participants to identify themselves and their relationship to the district, and the second asks people to select 10 characteristics from a list of 33 qualities that they believe are most important in choosing a new superintendent.
The survey does not give participants the opportunity to prioritize their selected qualities in a ranking order.
The Board of Education posted the open superintendent position on May 10 and the application period ends June 14 — the same day the online community survey ends. The job has been advertised as paying $180,000 to $220,000.
Three days after the posting for the leadership position went up, the Ann Arbor Administrators Association released a list of 17 traits its membership hopes to see in the next superintendent, and a doctoral degree was not one of them. The AAPS community survey does ask about candidates who possess a Ph.D., giving the public a chance to weigh in on whether that is important.
The Ann Arbor school board also approved a "profile" or set of characteristics it was looking for in a new employee. The superintendent is the sole employee of a Board of Education.
The Ann Arbor Public Schools is in the midst of a financial crisis, with a $3.8 million deficit for the current school year and a need to cut $8.67 million from next year's budget. Green's tenure in the district was marked by controversy and a perceived lack of transparency and communication with the community.
Which of these 33 qualities would you deem most important when selecting a new superintendent? Have another suggestion not listed here? Leave it in the comments.
Is willing to listen to input, but is a decision maker.
Demonstrates ability to integrate instructional and administrative technology.
Possesses the leadership skills required to respond to the challenges presented by an ethnically and culturally diverse community.
Is able to work with legislators on key topics and can lead an organization throughout the legislative process.
Possesses an earned Ed.D. or Ph.D. degree.
Inspires trust, has high levels of self-confidence and optimism, and models high standards of integrity and personal performance.
Is a strong communicator; speaking, listening and writing.
Demonstrates a commitment to community visibility with high interest in a broad range of community groups and organizations.
Is able to work cooperatively with the board and keeps members informed.
Has successful experience in sound management practices, including appropriate participation of others in planning and decision-making.
Is able to build consensus and commitment among individuals and groups with emphasis on parental involvement.
Has experience dealing with employee representative groups/unions.
Is able to delegate authority appropriately while maintaining accountability.
Has experience in the management of district resources and knowledge of sound fiscal procedures.
Possesses excellent people skills and can present a positive image of the district.
Is a non-traditional or "hybrid candidate" with background in the military or business community in addition to an educational career.
Is strongly committed to a "student first" philosophy in all decisions.
Is capable of developing both short and long-range district goals.
Can develop and communicate a vision of quality education for the future to the board, staff and community.
Has experience in the selection and implementation of educational priorities consistent with the interests and needs of students, staff, board and community.
Is committed to the importance of both the academic and activity programs.
Promotes positive student behavior conducive to a healthy learning environment.
Provides leadership in the planning, implementation and assessment of relevant professional development for all staff members.
Has demonstrated strong leadership skills in previous positions.
Is able to identify and select building and central office administrators who are capable of advancing the district vision.
Has work experience in a similar district.
Is comfortable leading innovation and reform efforts.
Is able to lead a large organization dedicated to goals of continuous improvement.
Has the ability to develop and maintain a mutually beneficial relationship between the business community and the school district.
Possesses ability to enhance student performance, especially in identifying and closing or narrowing the gaps in student achievement.
Demonstrates ability to work with the media.
Makes recommendations and decisions that are data-driven.
Has knowledge of emerging research and best practice in the area of curriculum/instructional design and practice.
Danielle Arndt covers K-12 education for AnnArbor.com. Follow her on Twitter @DanielleArndt or email her at daniellearndt@annarbor.com.